Chow, Baby retroactively apologizes to Ronin, long gone from Montgomery Plaza, for complaining two years ago about its sky-high sushi prices — $2 for a piece of tuna, and that was on "special night." Chow, Baby was appalled. But partly from being in the West 7th development so much in the last few weeks, Chow, Baby is learning to consider location as establishing not just attitude but also rent prices, which of course must be passed on to us.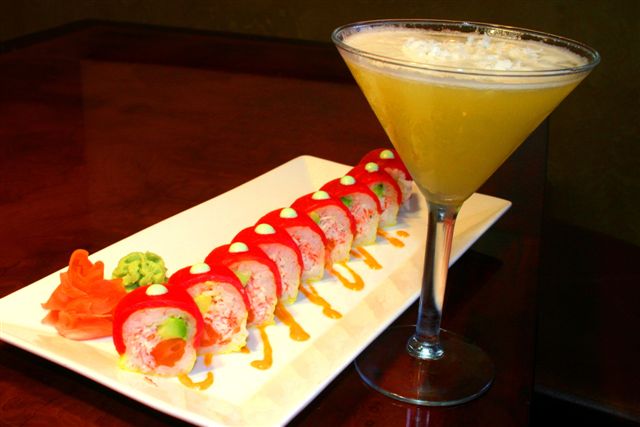 And that may be why, in Montgomery Plaza, you'll pay a whopping $10.45 for a chicken-salad sandwich at Mac's and another whopping $11.99 for a three-taco dinner at Gloria's; not to mention that at Merle Norman, a teeny tube of — well, never you mind how Chow, Baby comes to look so "well rested." But it ain't cheap.
Now in Ronin's old space in Montgomery Plaza is the newest location of Sushi Axiom (2100 W. 7th St.), where a single piece of tuna sushi costs $2.50. This made the lunch bento box ($11, which seemed high at first) the deal of the century, with $10.95 worth of sushi — the good stuff, like shrimp and white tuna — plus $6 worth of salmon sashimi, a fresh California roll ($5.50 a la carte), a sesame-sprinkled salad, and very rich miso soup. The salad and soup come with all the lunch entrées; Chow Baby also tried the Special Roll Box ($9.50), which that day held a California roll and a much more thrilling shrimp tempura roll; and the chicken with mandarin sauce lunch special ($8.50), very pleasant, with crispy-coated chicken slices in a sweet-tangy sauce and a side of sautéed veggies that weren't just peppers.
Like its counterpart on Donnelly Avenue (behind Central Market), this Sushi Axiom has a wall-o-water, subdued techno-lite Muzak and great service (this time from Anna). The two locations have mostly the same menu and the same prices, which for Montgomery don't seem that bad. Dinner entrées start at $12.95, so you could probably have a fine supper for less than $20 — if you don't go crazy on the sushi. Chow, Baby is sticking with the bento box.
Mamaw's Heat Lamp
Dead-animal heads, whimsical signs, cutesy-named homestyle standards ("The Train Robber") — surely we'd get great chicken-fried at Old West Café (Sanger, Denton, and now at 600-A W. Northwest Hwy., Grapevine). But Chow, Baby's plans were derailed by the "Breakfast All Day" sign — meaning 6 a.m. (7 a.m. on Sunday) to 2 p.m. Alas, Chow, Baby was robbed — you can get breakfast all day, but that doesn't mean they make it all day. The banana-nut pancakes in Chow, Baby's Lucky Ace ($7.49) were tasty if a tad dry, but the scrambled eggs and the fried potatoes seemed to be left over from normal people's breakfast time, some four hours earlier. Bleh.
In fact, Chow, Baby suspects that Old West makes everything first thing in the morning and lets it sit around all day: Mamaw's Meatloaf (half order $5.99) was dry and tough, with a "red-eye gravy" unlike any Chow, Baby has ever tasted; Ma's Pot Roast (full order $7.99) was certainly tender but madly oversalted and missing essential pot-roast ingredients such as carrots, potatoes, onions, and flavor. Too-gooey frozen-berry cobbler ($1.29) was a sadly appropriate ending. Where's that stagecoach? Chow, Baby wants to get the heck out of town.
Contact Chow, Baby at chowbaby@fwweekly.com.