"Art is my passion," said local metal wire sculptor Henri Pierre Mayakapongo. "If I have an idea, I need to make it."
His English is remarkably good for a man who only arrived in the United States in 2007, six years after fleeing political persecution in Africa. Misfortune has followed the tall, quiet man since he departed his native country, but all the bad luck in the universe couldn't stop him from pouring his soul into a wire-sculpted menagerie of detailed cars, airplanes, lotus flowers, cats, frogs, elephants, and helicopters.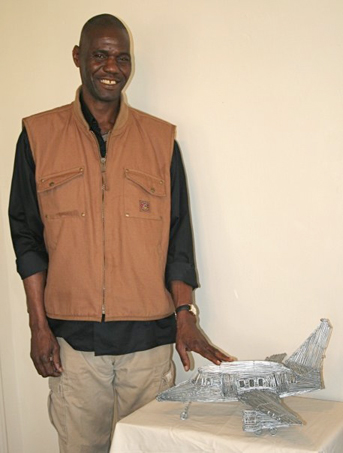 When Mayakapongo arrived in Fort Worth with his wife and several sons, he didn't really know what to do about a job or his art. An adaptable hustler by nature, he eventually used his art to find a place in this country. "He walked across the street with a big plastic bag," remembered Debra Rohlfing, who works at Artful Hand, where some of Mayakapongo's work can be found. "There was an elephant head [sticking] out of one end and flowers in the bottom."
Mayakapongo's work in 22-gauge wire is impressive. Inside his two-foot airplanes lie cabins with seats and gears. Scales on the sides of fish are easily discernible, as are the ripples in the musculature of his steer. He fashions everything by hand. You also can give Henri a snapshot, and a few days later, he will return with a wire replica of the image. In addition to Artful Hand, Mayakapongo's work can be found in the gift shop at the Modern Art Museum of Fort Worth.
Mayakapongo, 48, has struggled to earn every ounce of his success. When he was a young man in Kinshasa, the capital of what was then Zaire, times were better. His mother worked in President Mobutu Sésé Seko's government. But in 1997, in defiance of an order issued by Mobutu, a group of Tutsis launched a revolt. As the rebellion encroached on Kinshasa, Mobutu was overthrown. His replacement, Laurent-Désiré Kabila, made life difficult for everyone associated with his predecessor.
Because of Mayakapongo's mother's former job and his family name, he became a political outsider, even though he was a mechanic and uninvolved with the turmoil brewing in his country, whose name had been changed to the Democratic Republic of Congo. "One day the military came to my house, took me to jail for one week," he said. "They came again to find me. People said for me not to live there, I might get killed."
In 2000, Henri, his wife, and two nieces left Kinshasa on a boat. For a week, they didn't leave the small cabin they shared. When the coast was literally clear, they went to start a new life in the Ivory Coast. By the time their son Joseph was born in 2002, the Mayakapongos had a home and some sense of stability, but it didn't last.
That year, a civil war erupted in the Ivory Coast, forcing the Mayakapongos to relocate to a refugee camp, where another man from the DR Congo taught Henri how to make art with wire. Mayakapongo applied for asylum in the United States but was at first denied. The Mayakapongos had three more sons –– Henri Pierre, Yanneck, and Christopher. But Joseph, who'd had health problems since birth and could not walk or talk, was miserable and struggling with life in the refugee camp.
In 2007, the U.S. government cleared the Mayakapongos to immigrate. Henri literally carried Joseph all the way to Fort Worth, a city they chose because an older sister lived in Bedford. "It changed everything," Henri said. "Joseph wasn't very, very sad like in Africa. He laughed a lot."
Joseph went to Jo Kelly Special Education School, where teachers and specialists showered him with love. Henri found a job working in receiving at Wal-Mart. He began selling art and expanding into wire jewelry. Mayakapongo was impressed by his new neighbors. "Americans are generous," he said. "Look at how they have helped Haiti. The first country to bring food to the refugee camp was America."
After seeing his youngest son's social security card, Mayakapongo couldn't believe his good luck. "I told my wife I need to die and be born here again," he joked.
Even life in America couldn't solve all the family's problems, however. In 2006, Joseph went into sudden respiratory distress at school and died. Mayakapongo left Wal-Mart. Due in part to all of the stress, Mayakapongo's wife took the boys and moved to Dallas. Recently, Mayakapongo moved into the Union Gospel Mission on the South Side. "I'm trying to restore my life now," he said.
He still has his art as a refuge. "It's good for me," he said. Mayakapongo recently completed a four-foot replica of the Statue of Liberty and has plans to make an eagle. He would love to parlay his art into a full-time career, although he is currently looking for other employment, too, to support himself and his children. People buy his creations all the time, but it's not all about the money. "I just want people to enjoy," he said. "I think about relationships with people. Maybe I can make people happy." l