Fittingly, the main character of the volatile, uproarious, and deeply disturbing Mother has no proper name, so she's pretty much defined by her role as a mother.


Our anonymous anti-heroine (Kim Hye-ja) scrapes a living as an herbalist and unlicensed acupuncturist in one of South Korea's smaller cities. Her work is all for her mentally retarded son, Do-joon (Won Bin), who in his late 20s still lives with her and sleeps in her bed. One night, Do-joon is seen loitering in an area where, the next morning, a high-school girl is found bludgeoned to death. The local cops — who, it must be said, are astonishingly bad at their jobs — quickly manipulate him into signing a confession. It's up to Do-joon's mother to get her boy out of prison by finding the real killers.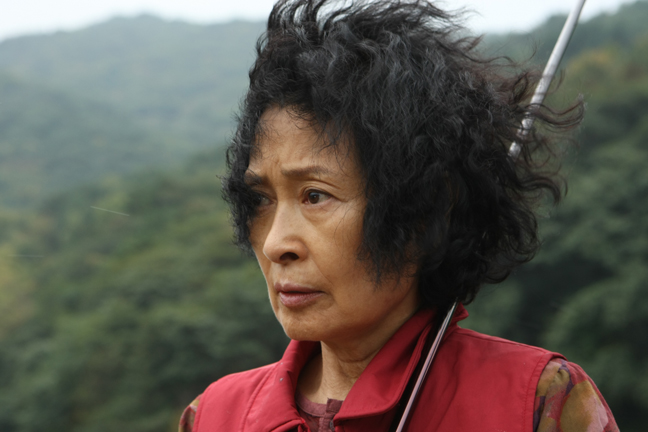 This sounds like the setup for a detective thriller about one woman's crusade for justice, and at times that's exactly how this movie plays out. Yet the opening credit sequence — in which the mother breaks into a demented solo dance number in the middle of an open field — signals that Mother won't be following a conventional gameplan. The film is by the exceptionally talented Bong Joon-ho, who previously made the genre-busting 2007 sci-fi thriller The Host. Much like The Host, this movie laces its serious story with interludes of slapstick comedy and vicious satire. Mother hires a useless lawyer (Yoon Jae-moon) for her son and later meets him at a bar, where he takes time out from drunkenly singing karaoke to tell her that he's struck a plea deal for Do-joon. Many Korean films deliberately whipsaw you between comedy, action, and melodrama, but Bong has achieved a mastery of this sort of play, keeping the audience constantly unprepared for what will happen next.
A key element of this is the mother herself, who comes seriously unhinged in the crisis. She winds up committing some unspeakable crimes of her own in her quest to prove her son's innocence, and though she's initially horrified when she kills an unarmed man late in the film, the clinical manner in which she disposes of the evidence is disquieting in the extreme. Kim Hye-ja has spent her acting career playing warm motherly types on Korean TV, so it's not surprising that she sinks her teeth into her portrayal of this maternal monstrosity, investing the character with fury and desperation. Made aware of what her crusade is costing other people, she still pathetically clings to her uncomprehending son. Ending on a ferocious note of moral ambiguity (and another dance sequence), Mother emerges as a testament to the all-encompassing, all-forgiving nature of a mother's love and how horrifying that can be.
–
Atom Egoyan won his reputation in the early 1990s making art-house fare that treated sex more frankly than Hollywood did. (Given how Hollywood has caught up these days, he'll probably be one of the last directors to be able to say that for a while.) His films' narrative ellipses and air of frigid seriousness gave them a patina of artistry, but I always thought that there was less than met the eye to his movies, even The Sweet Hereafter, the one that everybody totted up as a masterpiece. Now comes his erotic thriller Chloe, a more conventional, more obviously flawed, and more interesting piece of work than anything he's made in the last 10 years.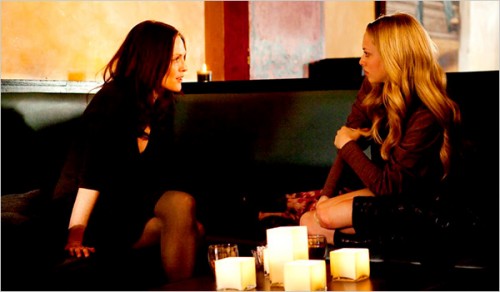 Julianne Moore plays Catherine, a Toronto ob/gyn who suspects her handsome music-professor husband David (Liam Neeson) of cheating on her. After a seemingly chance meeting with a hooker named Chloe (Amanda Seyfried) in the ladies' room of a fancy restaurant, Catherine hires Chloe to come on to David and report back on what happens. The result is the infidelity that Catherine's been half-dreading and half-hoping for, though Chloe is properly remorseful toward the woman whose marriage she's just wreaked havoc on. Maybe that's why Catherine decides that the best payback is a night of revenge sex with Chloe herself.
For reasons that I can't get into without giving too much away, the movie focuses on Catherine's adultery rather than David's. Even before the sex has started up, one of her friends calls her out: "You've got 'affair' written all over you." The film owes a good deal of its power to the insightful, sympathetic script by Erin Cressida Wilson (who previously wrote the bizarre minor masterpiece Secretary).
It owes even more to its lead performance. Moore famously played a cheated-on wife in Far From Heaven, but this performance is different, filled with layers of rage, neglect, anxiety, and mounting erotic attraction to Chloe. (Catherine discovers what many men already know: If you're stressed about getting older, sex with a hot young woman will tend to make that feeling go away for a little while.) Egoyan's camera frequently dwells on Moore's face as Catherine deals with Chloe, and every little microscopic reaction holds up under this relentless scrutiny. I especially liked her exhaling "Jesus" under her breath during Chloe's description of sex with David. This roiling, resentful, angst-ridden performance ranks with the best of Moore's career.
Too bad the movie flies so spectacularly off the rails in the last third or so, when Chloe suddenly starts acting like a spurned girlfriend, stalking Catherine and seeking retaliation by seducing Catherine and David's teenage son (Max Thieriot). Not only does this render the character of Chloe completely unintelligible, it also leads to an inappropriate thriller ending that plays to none of Egoyan's strengths as a director. It's dismaying to see this fine, acutely observed adultery drama turn into a clunky Fatal Attraction knockoff. Yet regrettable as it is, there's still enough substance here to make the film worth a look.
–
The only movie in wide release this week that screened in time for our deadlines is The Last Song, which is notable for having Miley Cyrus play an alienated, sarcastic teen, the sort of girl who would undoubtedly have an allergic reaction to Hannah Montana. It's a brave attempt by Cyrus to stretch her acting capabilities. It doesn't work, but it's brave.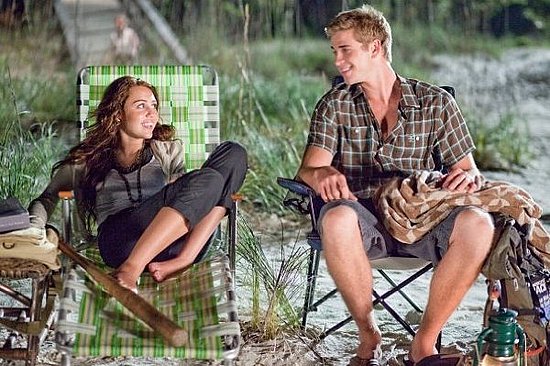 She plays Veronica Miller, a piano prodigy-turned-adolescent troublemaker after her father (Greg Kinnear, doing the best he can) left the family in New York for a quieter life at a beach house in Georgia. In the wake of a shoplifting incident, her mom (Kelly Preston) ships Ronnie and her unbearably precocious little brother (Bobby Coleman) to Dad's place for the summer.
This is based on a Nicholas Sparks novel, so you know that somebody will die of a wasting disease, as if the word "last" in the title didn't already give that away. Even without Nicholas Sparks, you know that Ronnie's going to fall in love with a hot guy (Liam Hemsworth, an Australian newcomer with a killer American accent) who loves animals, has tragedy in his past, and will inspire her to start playing the piano again. I already addressed Nicholas Sparks adaptations in my review of Dear John a couple of months ago, and this movie, which unfolds exactly as you'd predict, gives me nothing to add.
If nothing else, Cyrus has the character's slouchy walk down. She gets a good whack at the part, but her line readings are flat and she has no chemistry with Hemsworth even though the two have apparently become a couple offscreen. Her performance is weak, but that's OK if you consider this overplotted, undercooked material beyond the power of any actor to salvage.
I was going to devote this space to Harmony, the other Korean-language flick currently playing at AMC Grapevine Mills. However, this weeper, starring Kim Yun-jin (from TV's Lost) as a convict who starts up a women's choir in prison, is soppy enough to make The Last Song seem hard-boiled by comparison, so let that serve as a warning.