Sure, there are free outdoor shows everywhere in the summer in the Fort. And there are free benefit outdoor shows. But don't workaday local underground artists qualify as charitable groups? Of course they do. And for a measly $5, you can support a killer lineup of local underground artists on Saturday at The Grotto (517 University Dr. in the Cultural District, 817-817-882-9331).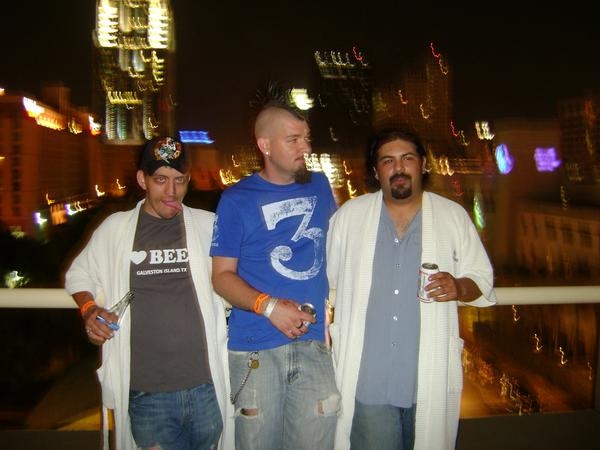 Doors open for SDR&R (Sex, Drugs, Rock & Roll) at 1 p.m., and slated to play (in chronological order, as of now) are Peru, Jefferson Colby, Great American Novel, Jody Jones, Transistor Tramps, Sally Majestic, Jean-Thomas, Solcide, and headliners Merkin, the River Oaks trio that's celebrating the release of Scatology, a new CD, the band's first in, like, 10 years. Sure, the name is silly, but the music is anything but: serious, hard-driving, muscular, melodic, and finely arranged and performed. Handy approximations are Tool, Queens of the Stone Age, and Nirvana. "Under the Water" burns slow and is totally head-bangable –– and bong-tastic –– and the album's most piercing track, "3 Strands of DNA," is also the prog-rocking-est. Knotty yet fluid and soothing guitar lines and abstract, semi-jazzy drumming boil into a chugging rhythm before exploding in a huge chorus: drums sputtering, guitar cranking, bass thundering. "Danny Phantom" alternates between jangly acoustic and wall-of-sound guitars, everything tied together by frontman Joe Fuente's smoky, distant, rust-tinged voice. If there's any justice in the world, tracks like "A-Z" and "3 Strands of DNA" will soon be spinning on mod-rock stations across the country, including here in North Texas on The Edge. But there is no justice. Just workaday underground artists plugging away in obscurity –– and on Saturday at The Grotto for a measly five-spot.
Americana singer-songwriter Keegan McInroe has a new CD coming out, the follow-up to his moody, haunting solo debut, Mozelle, a nominee for album of the year last year in our annual Music Awards. From the Wall & In the City was recorded in Fort Worth with producer Evan Jones (who's done some work with KatsüK, Darrin Kobetich, and My Wooden Leg), and just about every musician in town contributed to the album, including Kobetich, Ginny Mac, Daniel Katsük, Justin Pate (The Orbans, Pablo and the Hemphill 7) Scott Copeland, Catfish Whiskey (Johnny Goodson, Michael Maftean, and Travis Dixon), three guys from Rabbit's Got the Gun (Forris Massey, Kewaithian Freeman, and Justin Baisden), Matt Skates (Shuttle), Mark Lettieri, Ronny Ellis, and Sarah Blacker, a singer-songwriter from Boston. "Thematically," McInroe said, "the album is fairly different from Mozelle: more social and political commentary kind of threads as well as spiritual elements. It's still pretty rootsy but has lots of electricity, lots of varied sounds, and is a little darker in places." The album's official release party/show will be on Sat., May 29, at Lola's Saloon-Sixth (2736 W. 6th St. in the West 7th Street corridor, 817-877-0666). McInroe's next Fort Worth show will be on Fri., April 23, at The Grotto.
Contact HearSay at hearsay@fwweekly.com.