Once upon a time, I had amusingly fanciful aspirations of becoming a homebrewer. I bought Homebrewing for Dummies and read about hops and yeast and dunkels and IPAs and formed opinions about what was good and what was garbage, and given the chance I'd pontificate about all I'd learned after I'd had a few fancy beers. In other words, I spent Sundays at the Flying Saucer drinking Sierra Nevadas and pretending to know why dropping $16 (or whatever it was) on a bottle of Chimay was better than dropping $16 on a case of Busch Light.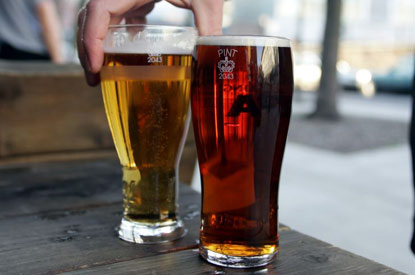 I gave up on homebrewing when I realized that it sounded like a huge hassle, and about a year later, I had pretty much fallen back into guzzling macrobrews. Whatever progress I made in developing my palate was drowned in an ocean of bro-sodas. Pedestrian? Sure, but all that cheap shit left me money to buy a round of shots. Not that I ever bought anyone shots, but you get what I mean.
All that changed last week when my friend Katy came to visit. Now I wasn't trying to impress her. We've known each other since high school, and if I had suddenly become epicurean about beer, she might have asked me if I'd been kidnapped by aliens. Thing is, she loves beer and not only because she likes getting drunk. Katy is, in fact, a beer geek, the kind of person who refers to a particular brew as "life-changing" with total sincerity. Not only that, she also manages an upscale beer bar in San Francisco, and she'd been to several breweries in Colorado on her way to Fort Worth. Given those variables, I wanted to show off a little, even if that meant going to bars I seldom frequent, even if that meant going to a part of town –– downtown –– that I normally avoid.
Of course I took her to the Flying Saucer.
Now I like the Saucer. I can honestly say that I've never had a bad time there. I guess I just rarely head downtown when I'm hankering for a beer, and if I want a premium beer (even rarer), I go to Two Bucks or Central Market. But it was early in the afternoon and the Saucer has free Wi-Fi, so that's where we went.
Katy was visibly impressed with the beer selection. I'd even say she was excited. Largely out of my element, I got out of the way while Katy ordered, and she returned to the table with a flight of beers I'd never heard of nor cared to try. But damned if most weren't delicious — as I sampled, I did my best to taste rather than drink, but after the fifth or sixth one, I gave up and just started gulping the ones I liked best. Katy enlightened me the best she could, and she was pretty stoked that I preferred her favorite (Orval Trappist Ale, if you're curious or buying the next round).
She was a little less impressed with the service, but that's only because the bartender didn't have the same encyclopedic knowledge of beer that she does. I pointed out that it was at least fast and friendly, and she later discovered that Flying Saucer employees aren't really allowed to try the merchandise while on the clock, so she gave him a pass and the bar high marks.
We went to Dallas the next day. I don't really have anything to say about that trip other than that Katy really liked the Libertine Bar and I really like meat and cheese plates in the afternoon. The next night found us at the Ginger Man. I apologize, but I really don't remember what we drank; all these gourmet beers have high alcohol content.
If her stay had been a little longer, I might have taken her to Rahr Brewery for a tasting — I'm a fan, and since her favorite type of beers are American IPAs (India Pale Ales), I really wanted to see what she thought about Rahr Stormcloud. But like the Orval I nursed at the Libertine, all good things must come to an end, and Katy hit the road on Thursday morning.
Lord knows I don't have the palate to accurately judge the quality of a beer nor do I have the wallet to actively pursue that hobby. And frankly, I still really like High Life — I'm not a picky man, you see, no matter how awesome an Oskar Blues Gubna Ale might be. Nevertheless, for a few days, it felt good to broaden my horizons and stumble off into the sunset with a good friend. –– Steve Steward
Contact Last Call at lastcall@fwweekly.com.