Early in the last century, Mandola's started out as a family-owned market in Houston. And now, about 110 years later, third-generation chef/restaurateur Damian Mandola and his extended family co-own several other Italian joints, including Carraba's Italian Grill with nephew Johnny Carraba –– both co-host the PBS show Cucina Amore. Mandola's first North Texas location, in the Arlington Highlands Lifestyle Center, and third overall is part market, part catering company, and part restaurant.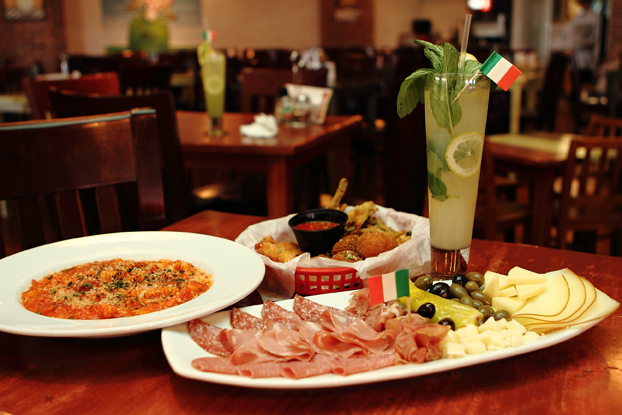 If you go in to eat, place your order at the counter, then wander over to get drinks, silverware, and fresh complimentary foccacia bread. Bathed with olive oil, salt, and herbs, the bread is so good that you almost don't need to add the herbed olive oil and balsamic vinegar that are also provided. However, the combination of all three is absolutely divine. You'll never be happy with a plain hospitaliano breadstick again.
The frito misto appetizer roughly translates as "bits of fried yumminess." Julienned strips of zucchini came coated in a bland, crunchy batter, served with a marinara sauce that was less than spectacular. Fortunately, the plate also included arancini: beautiful little globes of rice, peas, and prosciutto rolled in slices of magnificent homemade mozzarella and deep-fried to a crispy crust. The mozzarella was decadently gooey, and the peas provided a surprisingly nice bit of texture and flavor. The final item on the plate was a group of fried mozzarella triangles: good enough to leave everyone at the table speechless.
The affettati –– cured meats along with several kinds of cheese, olives, and outrageously good stuffed pepper "shooters" –– was large enough to double as a meal. The bologna-like homemade mortadella, made in the traditional style with pistachios, was mildly spicy and had a sweet edge. The salumi wasn't as good as the sopressata, which was leathery but full of zesty flavor. The formaggi selection included Parmesan and provolone cheeses, which were both delightfully salty. The "shooters" –– mildly sour and spicy banana peppers stuffed with prosciutto and mozzarella –– were addictive.
A dining companion who hails from Philly was overjoyed with the Italian sausage-and-pepper sandwich. Apparently down here, "sausage and peppers" usually means a Johnsonville brat topped with jalapeños. So we were all pleasantly surprised with the fennel-tinged homemade sausage accompanied by grilled red and green peppers on a crusty po-boy-type roll. It was a delicious, mildly spicy, two-fisted mess of a Philly-approved sammy.
Except for the spaghetti, all of the pasta –– including the gnocchi –– is made fresh. The perfectly shaped, perfectly cooked, delicate potato dumplings arrived with only a tomato purée accented by pork, pancetta, white wine, onions, garlic, and basil. The meat-heavy tomato sauce, topped with more mozzarella, was insanely rich and tasty, a far different animal from the weak appetizer marinara sauce. (In my opinion, a basil-and-brown-butter sauce on the gnocchi would have been awesome.)
The desserts proved to be a mixed bag. The tiramisu featured a light, delicious mascarpone custard top. However, the ladyfingers beneath apparently hadn't been soaked in espresso or rum and thus were drier than normal. The mascarpone chocolate cheesecake was fine but probably not worth the excessive amount of calories.
Fortunately, Mandola's also offers a spectacular selection of gelato, the traditional Italian ice cream that has a slightly lower fat content than regular ice cream (and certainly lower than the mascarpone cheesecake). A half-hazelnut, half-lemon cup proved to be the best dessert of the night. The lemon gelato was light and definitely not as strong as, say, a lemon ice. The hazelnut side had an almost smoky richness to it and featured some chunky hazelnuts in the mix.
The market side of Mandola's has a few things that you can't get at Central Market, including caper-brined anchovies and homemade gnocchi and mozzarella. Mandola's also sells the "shooters," along with other ready-made dinner items like meatballs, at the market counter, which comes in handy if you don't have time to dine in.
Mandola's Italian Market
241 I-20, Arlington in Arlington Highlands Lifestyle Center. 817-468-4444. 11am-10pm Sun-Thu, 11am-11pm Fri-Sat. All major credit cards accepted.