Chow, Baby's main reason for being, or at least for being here in this column space, stems from its near-holy-roller conviction that holes-in-the-wall serve great food. The divier the place, the better the burger/pho/tacos/whatever.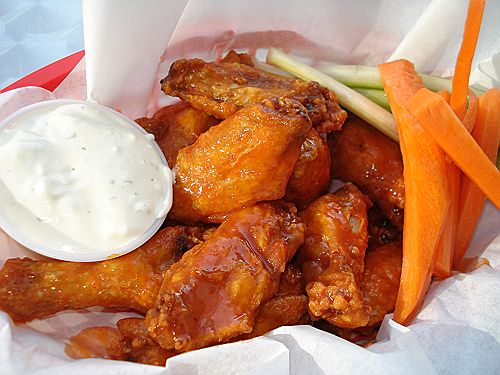 Thus Chow, Baby was tingling with anticipation as it walked into Atomic Subs & Wings (1615 W. Park Row Dr., Arlington) — walked a bit gingerly, as the cracked linoleum had a malicious gonna-getcha look to it, though it coordinated nicely with the Mavs posters tacked crookedly on the walls. Tables and chairs could have been abandoned by the previous occupant, a glorious burger-dive called Wally's. Except for the huge flat-screen, what a dump! Yay!
So now that Chow, Baby's low-places expectations are sky-high, let's dig into an Enforcer (large $6.99), which sadly proved to be an utterly pedestrian 12″ sub of packaged deli turkey and provolone that was not at all awakened by the house "atomic sauce." This highly misnamed condiment is a blend of habaneros, jalapeños, and three other peppers that the owner coyly refused to name — yeah, like Chow, Baby is going to want to steal this recipe — and while it does provide a pleasant mouth-warmth, there was definitely no explosive action. Okay, let's lose the sauce and try a Meganator (small $3.99), in which "small" means you get a single see-through slice of provolone atop your flavorless deli-style roast beef. Chow, Baby's favorite part by far was the olive-oil-and-vinegar dressing.
Though some redemption arrived with the wings (6 for $4.29) —the salt-and-vinegar-flavored nuggets had a neat tartness and a good crunch — Atomic Subs & Wings has blasted a big hole in Chow, Baby's "dives are the best" views. Leaving Chow, Baby no choice but to do what all evangelicals do when an actual fact threatens their philosophy of life: Ignore it. Atomic what, you say? Never heard of it.
Politics of Stew
It's not often that politics play a role in Chow, Baby's culinary choices, but it did have to rush to Old Poly Grill (1417 Vaughn Blvd.) to find out what their "Obama Stew" could possibly be made of. Rushed a bit too much, in fact; at 11 a.m., the kitchen ladies were still mixing it up. Chow, Baby passed the time with a Poly Grill omelet ($5.99), a kitchen-sink dish of smoky meats and diced veggies cooked up on Poly's flavor-infusing grill, then covered with eggs and plenty of cheese. And then passed more time grooving to the Rev. Al Green on the stereo and cracking up at the last line on the sign that warns potty-mouthed customers: "Bad Words 25¢/N-Word $1/No Credit."
Poly Grill is a decades-old Fort Worth Institution, serving down-home fluffy-biscuit breakfasts and cheap yet soul-satisfying sandwiches and baskets (under $5). Daily specials are the way to go, especially when it's their fall-apart, thick-gravied beef tips (known in the Chow, Baby household as "Stop Six Stroganoff," $7.50 with two sides). Ah, here we go: Obama Stew ($4.50 with crumbly hot cornbread) is a hearty and colorful melting pot of four kinds of long-simmered beans with corn, tomatoes, and ground turkey. Not sure if either the beans or the turkey is a political statement, but no matter — this is a damn (whoops) fine stew.
Contact Chow, Baby at chowbaby@fwweekly.com.