Street cred isn't all it's, uh, cracked up to be. High-profile rappers sentenced to significant prison terms –– Mystikal, Shyne, Slick Rick –– have watched their careers wither. Part of the reason is that promoting a record –– performing live or doing radio or print interviews –– is kind of difficult from a prison cell.
But rapping really isn't. Veteran Fort Worth rapper Tommy Burns, a.k.a. Twisted Black, recently performed his vocals for his new album, Hustle or Go Broke Vol. 5, over the phone from a federal detention facility in Beaumont. Burns was sentenced in 2007 to 30 years in prison for conspiracy to deliver crack cocaine and delivery of 1,022 grams of crack cocaine.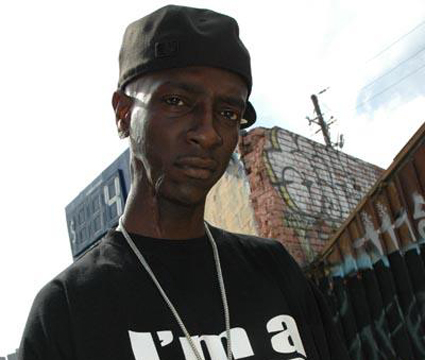 The long-distance recording process began about a year ago and took only a couple of weeks to complete. The album –– which features archived material and a couple of guest performances, including one by Houston's nigh-legendary Lil' Keke –– was released through the joint work of two Fort Worth labels: Scarred 4 Life, which Burns owns, and Polywreck Shop Records, a label created by Wayne Carter specifically to release the album. Carter, who also owns the 9-year-old Polywreck Shop record store in Southwest Fort Worth, has another Twisted Black album in the works. Carter also hopes to use the label to continue releasing music by Burns and other North Texas rap artists.
Co-produced by Burns, Carter, and Fort Worth's T Weezy, Hustle or Go Broke Vol. 5 was assembled at Sessionworks Studios in Hurst. Of the 22 tracks, 11 are new, including "I Don't Wanna Touch the Work," the album's first single and the one that Carter is promoting in nightclubs here and in other major markets such as Atlanta, Los Angeles, and New York City. (Most successful underground rap songs typically break in nightclubs before being picked up by commercial radio.)
One track is an oldie, "Fool Wit It," inarguably Burns' most popular single from a previous album. Burns and Carter had good reason to include the song. "It was from a pivotal point in his career, when he first went mainstream," Carter said. The song is a reminder of sorts that Burns is an established artist who has been quiet of late, naturally, but has never really gone away.
Burns has experience in working from prison. Right after he was incarcerated, he released his fourth album, Street Fame, on TVT Records (now owned by a company called The Orchard), a major independent label based in New York City that is home to marquee artists such as Guided By Voices, Snoop Dogg, and Naughty By Nature.
Burns also had earlier experience with prison. About 10 years ago, he landed a three-year sentence for assault entailing serious injury.
You would figure that the rough side of Burns' life would be at the heart of his lyrics, especially in a genre dominated by street cred. But Burns, who's married with children, has a lot more to offer. He is as frank about his past as he is about his present. On the spoken-word piece "Crack Shit," Burns issues a warning. "All I'm sayin'," he says, "is that all y'all out there tryin' to move some dope: I'm sayin' don't do it. You know, but I ain't no preacher, and I can't tell you what to do, but I can only give you the game. If you got to be out there doing that, man, learn the law, learn what you up against."
The music on Hustle or Go Broke Vol. 5 is pretty straightforward –– trebly, swishy, and punctuated by synths and the occasional funky or jazzy guitar –– and almost every song is introduced by the cheerful DJ Wildhair, a marketing genius. Before one song, he yells, "Funkytown, stand the fuck up! We doin' this shit live from the fuckin' fed! One-four-five, the kid," he goes on, referring to one of Burns' nicknames ("145," his alleged weight), "We ain't stoppin' his music. We makin' it crunk! Funkytown. Stand. The fuck. Up!" On another song, Wildhair exhorts, "Polywreck Shop, twenty-nine-oh-nine Evans Avenue off of Berry! If you want this CD, don't go buy a bootleg. Don't go buy it burned. Don't go do that shit. Give it to my boy!"
As with previous albums, the main selling point on Hustle or Go Broke Vol. 5 is clearly Burns' smooth but nasally, serpentine vocal style. Like a classical pianist gliding from note to note in legato fashion, Burns strings words together effortlessly. "Buck fifty-five soakin' wet, and I'm cool wit it," he raps on the track "Going In," "Bigger niggas know little bro is a fool wit it … niggas talkin' down 'cause I'm gone, but they dead wrong / Once they pass the crack law, I'm on their domes like headphones."
His freestyling is equally impressive. In the latter half of the song, Burns takes one deep breath and exhales a long, circuitous string of rhymes, the words and phrases collapsing into one another like dominoes.
The phone static that slightly muffles his voice throughout the new tracks is a dialectical coup, reinforcing his street cred and also lending his words, especially his cautionary ones, an air of gravitas. At one point in the track "June 28," Burns pauses and then asks, "Keep goin'?"
Wildhair replies, "Keep doin' that shit, nigga! Get it!"
"I will," Burns says, as if he's being tempted.
"Let's go!"
On the album's intro, Burns gives thanks to everyone who's helped him come back. Most of all, he says, "thanks to the Lord for giving me my mic back, for allowing me to get my voice back, y'know, because when they took this from me, that was all I had. I want to say thanks for that and soon for my freedom back."
In 2008, Burns was granted a petition for re-sentencing as a result of changes in sentencing guidelines regarding crack cocaine. (No word yet on the appeal's court date.) Carter, who speaks to Burns almost daily by phone, said the rapper is "upbeat" in light of the new album –– and the chance for a lighter sentence. "He could be out within the next year or so," Carter said.