Chow, Baby got to Billadelphia's (2110 W. Berry St.) about 30 seconds before the lunch bell rang at next-door Paschal High School, so it had already ordered and had an outside seat staked out when the chemistry-class-numbed hordes began their sluggish approach. Like Dawn of the Dead, it was, except instead of "Brains … brains," they seemed to be in lumbering yet desperate need of "cheese fries … cheese fries" ($3.75 for large, satisfies three growing teenagers).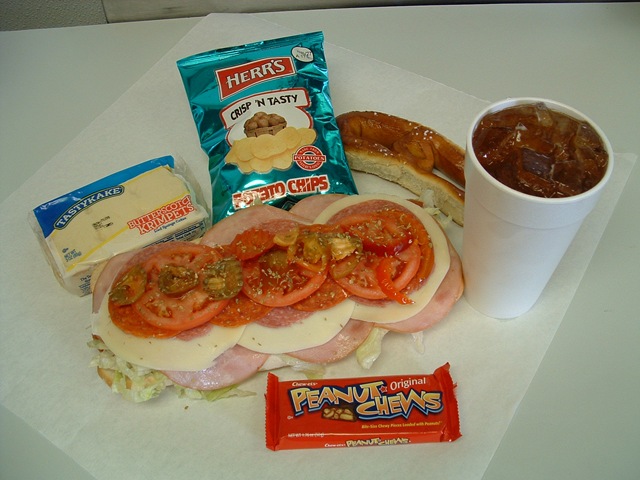 The gooey yummies seemed to do the energy-restoration trick; within moments Chow, Baby's table was crowded with flushed cheeks and vibrant, flirtatious tossings of the rare uncoated fry. Chow, Baby will have to try those fries sometime, but its own desperate need was for its usual Billadelphia's order: First, as authentic a Philly cheesesteak ($7.05) as you'll find outside of Philly, complete with grilled onions, sweet peppers, and Cheese Whiz, though you're free to pervert this perfect hoagie with whatever cheese and toppings you want. Second, a cool-off with Italian cold cuts ($7.05): an open-wide stack of ham, pepperoni, salami, and capicola, perfect with provolone, tomatoes, and oil and vinegar. For a midnight snack, it's the Philly roast pork ($6.60), where "Philly-style" is a mound of juicy pork chopped up fine with lots of fennel, herbs, and black pepper.
There's other stuff on the menu, which Chow, Baby (and everybody else) really ought to check out sometime, like wings, meatball hoagies, soft pretzels, and imported Tastykakes. Though Billadelphia's has closed its Collins Street location, it's gobbling up some new sites: here, in the old Burger Street, as well as the former Paradise Café spot in the Shell station at 7601 Mid Cities Blvd., North Richland Hills. And there's still the original shack in the parking lot at the intersection of Highways 157 and 183 (4105 Airport Fwy, Bedford). No, the locales ain't pretty, but Billadelphia's real-Philly food is invigorating enough to make the near-dead wake up and ask for seconds.
Take Your 'Cue from the Slicer
Somehow, probably from a Food Network shout-out, Chow, Baby had gotten the idea that North Main BBQ (406 N. Main St., Euless) was one of those can't-miss Texas Barbecue Institutions, so much so that Chow, Baby was getting embarrassed that it had never been. But the defense is, North Main BBQ is open only Friday (11 a.m.-9 p.m.), Saturday (same), and Sunday (11 a.m.-4 p.m.), and Chow, Baby has been trying to take weekends off from massively overeating. Until some lazy Dallas friends insisted Chow, Baby meet them halfway, and we rendezvoused in this barbecue joint as seen on TV, with all the whimsical signs, great aromas, picnic tables, red-checked tablecloths, and friendly folk you could wish for.
And very good, though Chow, Baby wouldn't say great, barbecue. North Main BBQ is buffet-only ($12), so it was disappointing but not surprising that the chicken, on this night anyway, was brutally dry. The smoked sausage, too. Oh, and the brisket. (The trick, Chow, Baby figured out on its third plate refill, is to time your trip to when the meat-slicer guy starts carving afresh.) The flavorful pulled pork managed to stay super-moist, though, and the best-in-show ribs were meaty, smoky, and leap-off-the-bone tender. No, Chow, Baby wouldn't put North Main BBQ in the "destination" category, but if you're in a pig-out mood, it's worth the trip.
Contact Chow, Baby at chowbaby@fwweekly.com.