Over the last 15 years, playwright Martin McDonagh — born in England to Irish parents — has pioneered a one-man theater of cruelty. His most famous plays feature desperate, amoral people languishing in contemporary Ireland who commit sadistic acts when their perverse sense of honor is violated.

Shows like The Beauty Queen of Leenane, A Skull in Connemara, and his best work so far, 2003's extraordinary The Pillowman, are fired by the seemingly limitless possibilities of barbarism. McDonagh fans are a little like some NASCAR spectators: hooked on high-speed spectacle and waiting for the next gruesome smashup.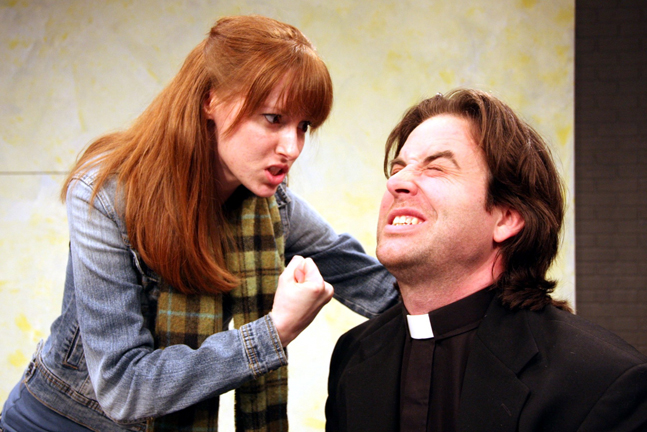 The Lonesome West, currently being produced at Stage West, is the epitome of a McDonagh script: Rivers of profanity flow, guns and knives are drawn at the slightest provocation, and a variety of gleeful (offstage) punishments is administered, including a pencil pushed to the back of a throat and a pair of canine ears brutally removed. Director Jim Covault has opted to apply a more deliberate, almost reflective pace to the script's bloody recriminations, perhaps in an effort to turn the piece into a kind of drawing-room comedy of very bad manners. (The marquee outside "the Ol' Vic," Stage West's home, pointedly declares that The Lonesome West is "an Irish comedy.") When all of the fast talking and animal urgency are siphoned from McDonagh's characters, though, they turn out to be a lot less compelling.