The title of Titanmoon's new album We All See Stars could easily refer to the songs: glittery, buoyant, and flowing with a seductive sonic generosity. Sounds incorporated into the tunes include ones captured at a revival at an African-American church in East Texas and stray bits of music recorded on the streets of Pakistan and Japan. The global reach of these samples offers the real key to the album's title.
"We tossed around 20 or 30 different names," said Tyler Casey, Titanmoon's vocalist, keyboardist, and main songwriter. Lead guitarist Rene Floyd came up with We All See Stars. That image of a sky shared by everyone not only reflects the philosophy of universal human experience that fuels the band's music but also the world travels undertaken by the band last fall.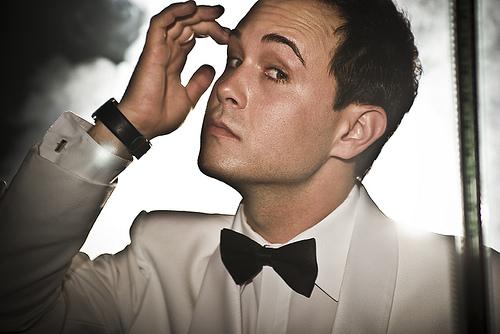 In late September and October, Casey, Floyd, bassist Zack Felton, and drummer Trey Ware spent time in two foreign cities –– Karachi, Pakistan, and Nagaoka, Japan (Fort Worth's sister city) –– on a combined mission of band promotion, charity work, and diplomacy. Casey, an avid traveler, has always been fascinated by other cultures. After he read Greg Mortenson and David Oliver Relin's book Three Cups of Tea, which is about Mortenson's struggles to build schools in Pakistan, Casey set about helping Pakistani children on a small scale. Karachi is Houston's sister city, and Casey met with then-Houston mayor Bill White to begin the necessary bureaucratic dot-connecting. After that (and after Titanmoon's performance on MTV Pakistan), the band got to meet with the Karachi mayor and several potential investors about creating and financing a small school. Plans have since been drawn up for Inshallah House (the word is Urdu for "God willing"), an orphanage that would house and educate 10 girls and 10 boys at a time.
If Inshallah House is completed, "it will be a grassroots effort funded and operated by Pakistani citizens," Casey said. "They don't want handouts [from foreign countries]. They want to help themselves."
After a layover in the infamous port city of Dubai –– "it looks like Mos Eisley from Star Wars," Casey said with a laugh –– the band flew to Japan, where they brought a gift from Mayor Mike Moncrief to the mayor of Nagaoka. According to Casey, the Japanese city's deputy mayor attended a Titanmoon performance and wound up dancing quite vigorously during the show.
The band doesn't make dance music per se, but that's as good a description as any of Titanmoon's epic, joyous sound rooted in anthemic choruses and powerful strains of synth and guitar. Parts of We All See Stars lean especially hard on an '80s-style love affair with the synthesizer, thanks to the influence that indie bands like Passion Pit have had on guitarist Floyd. The new album is considerably brighter and poppier than 2008's Film Black, which was just as moody and densely orchestral as you'd expect from a concept album.
You might think all of this far-flung exposure would at least help the band get a record deal. Since forming several years ago, Titanmoon has played new-music showcases in New York City and even met with major-label reps on several occasions. Each time, corporate interest flamed up only to fizzle out. Last year the band decided to form its own label, Dizzy Culture Music, and self-release We All See Stars. Casey said the band members have had to acclimate themselves to the post-major-label world of commercial music.
"We started out with a 10- or 15-year-old business model in our heads," he said, "where A&R people went out to local scenes and called their bosses and said, 'We've got to hire these boys!' It doesn't work that way anymore. Musicians have to wear a lot of hats now. Perseverance is more important than ever."
Right now, the members of Titanmoon are focused on what they want to accomplish this year. They've done three coast-to-coast U.S. tours in the past, so they're ready to expand their fan base to Mexico and Argentina –– besides booking club dates there, they've made contact with producers to appear on Spanish-language radio and TV shows that feature international indie acts. Bandmembers also plan to continue shepherding Inshallah House until it's a brick-and-mortar reality in Karachi. As for Casey, he's not worried that Titanmoon's philanthropic work is somehow draining energy away from the pursuit of breakout success.
"We're trying to figure out how to do both at the same time," he said. "If we hadn't been musicians, I don't think we'd have met the people we met in Pakistan. But I've never wanted to just be in a band. It's always been important to me to go different places and see different cultures, because it changes the way you look at the world."
Titanmoon
6pm Thu w/Kyle Sherman at Central Market, 4651 W Fwy, FW. Free. 817-989-4700.