Garliq is a newish, family-owned, family-friendly eatery in Southlake. The menu is full of interesting factoids about the herb, which is apparently also considered a vegetable. Unusually, for a cheerfully decorated strip-mall restaurant, there are some unique creations on display. Case in point: The Portobello a la Garliq appetizer features a saucer-sized portobello half stuffed with medium-spicy sausage, basil, more chopped mushrooms, and lovely roasted Roma tomatoes, all bathed in marinara sauce and covered in a blanket of mozzarella cheese with hints of garlic. The Italian herb-infused sausage was neither too spicy nor too greasy and could be found in every bite.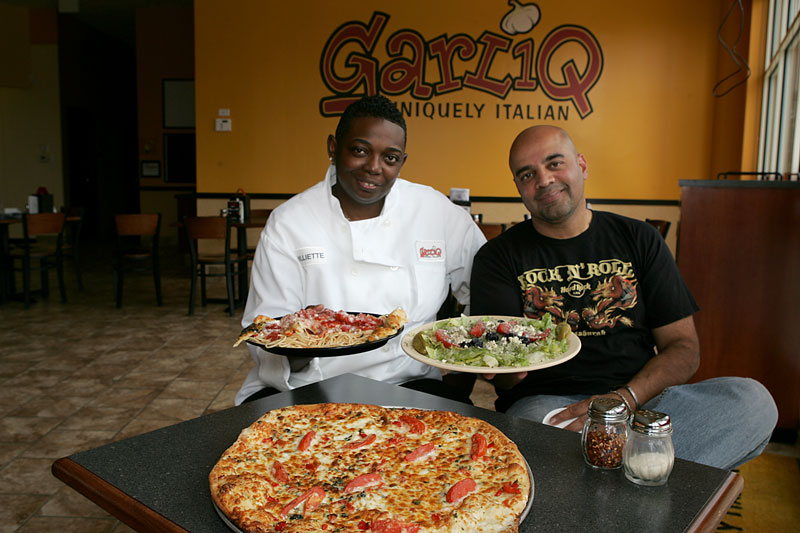 The Greek salad included a basic mix of romaine lettuce and "croutons," which quirkily turned out to be more like bits of soft breadsticks than crunchy bread. The salad was glammed up with ripe tomatoes, sharp feta cheese, oregano, plump Kalamata olives, juicy pepperoncinis, and some amazing, zesty house dressing.
Garliq offers pizza with two types of sauces: blanco, which is a light garlic-tinged ricotta, and traditional tomato sauce. Any way you dressed it up, the pizza had a thin, fold-over crust but wasn't dripping with toppings. Or grease, which was a plus. The Margharita was a white pie with a delicately creamy center, topped with mozzarella, basil, lightly grilled Roma tomatoes, and grilled red peppers. As with most of the dishes sampled, this one wasn't overly redolent of the "stinking rose." The tomatoes were a great touch. The hint of grilling brought out a lovely sweetness in them. But the pie could have used more salt and more spice. And, oddly enough, more garlic flavor.
The Garliq pizza –– a red pie with herbs, roasted garlic, and mozzarella and provolone cheeses –– was pleasant, but it lacked oomph. (More sauce would have been appreciated on both pies.) The restaurant also offers the option of picking your own toppings or sampling the chef's-choice pizza by the slice.
Garliq also has sandwiches (or, according to the menu, "sammawiches") in addition to pasta and calzones. The sammawiches are presented on giant ciabatta-like hoagie rolls, one of the few products not made in-house. The bread was just right: not too flaky, not too soggy, not too crunchy.
The sandwich sizes could best be described as "portion-controlled." And there was something very odd about the taste of the Yo Rocky, which is meant to be a nod to a Philly cheesesteak. The one named after the Sly Stallone character has all the right ingredients, starting with shaved rib-eye, which is fancier than what is normally found in a Philly-style sandwich. Garliq adds on sautéed onions, peppers, mushrooms, and the requisite Cheez Whiz. However, a Philly-raised dining companion who ordered the Yo Rocky swears that the gooey yellow stuff was more Texas-style nacho cheese than the real fake deal.
The chicken pizzoto sandwich was a wonderfully messy mass of sliced chicken, very lightly sautéed spinach, and mushrooms, topped with provolone and mozzarella cheeses. The spinach and assorted seasonings and spices were delicious.
The desserts at Garliq are a blend of homemade and store-bought. One that's definitely homemade is the cannelloni: two cinnamon-kissed, crunchy pastry shells stuffed with a ricotta/sweet cream mixture loaded with teeny chocolate chips. The ricotta filling wasn't overly sugary, so if you're craving something more for your sweet tooth, try the double chocolate gelato. Less rich than ice cream, Garliq's version of Italian ice cream packed a clean, pure chocolate flavor.
Garliq offers a few gluten-free options, and the service was fairly leisurely for a later-than-normal lunch. The restaurant also offers delivery service within a limited area.
Garliq
250 Randol Mill Ave, Southlake. 817-337-9100. 11am-7pm Sun, 11am-9pm Mon-Thu, 11am-11pm Fri-Sat. All major credit cards accepted.