How cool is it that we've had so many notable documentaries showing at our multiplexes lately? There's even better news: Racing Dreams is the best of the lot.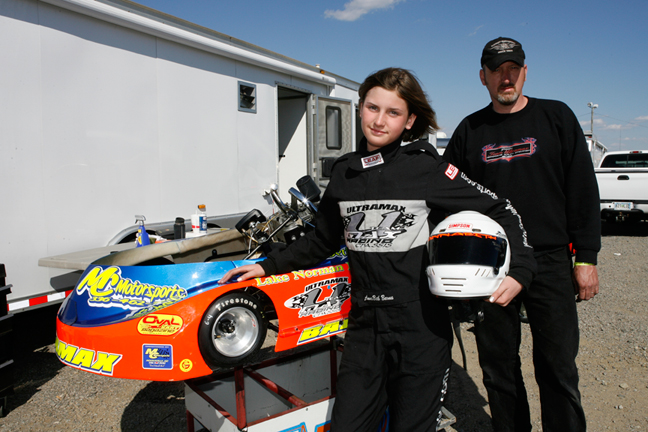 The movie takes place on the junior and senior circuits of the World Karting Association's National Pavement Series, which is contested by drivers aged 13 and under. Racing go-karts may sound rinky-dink to people who don't know much about auto racing, but Jeff Gordon, Tony Stewart, Michael Schumacher, and other top drivers started out that way. The vehicles travel at 60 to 70 miles an hour on a paved oval track, with barely an inch of clearance between the driver's seat and the ground. Winning takes no small amount of skill for these racers who are several years away from getting their state driver's license. NASCAR looks to kart racing as a breeding ground for new talent, and many of these kids dare to imagine themselves lining up at Daytona one day.
The movie follows three racers. Thirteen-year-old Brandon Warren is chasing a national championship on the senior circuit; his aggressive style of driving frequently pays off, but his temper has already caused one national title to slip through his fingers. His mercurial personality contrasts sharply with that of Annabeth Barnes, a remarkably self-possessed 11-year-old rookie driver on the junior circuit and one of the few girls competing, which makes her an attractive prospect to sponsors. She and the other junior drivers struggle to catch up with 12-year-old Josh Hobson, who looks primed to capture the junior circuit title. He and his family are from Michigan, and their Midwestern accents stick out amid all the Southerners.
Director Marshall Curry shapes this into a pretty decent sports documentary that leads up to a breath-stealing climax when the unthinkable almost happens to one of our drivers during the last race. There's plenty of off-track drama as well, though that's considerably more angsty. Brandon lives with his grandparents, and his turbulent home life is captured in a painfully awkward scene at a dinner table when his drug-addict and small-time criminal dad Bruce makes a reappearance. Brandon's paternal grandfather says of his son, "He has good intentions, but I worry when he shows up here," which turns out to be a pretty accurate assessment of Bruce's character.
In racing, the investors ponying up the money for cars and crewmembers need a driver who's also a pitchman. As a result, all these kids are learning to schmooze and scrap for sponsorships at a disconcertingly young age. Their families spend large amounts of their own money on their kids' careers, and by the end, one of our drivers — who's good enough to continue racing — will be forced to give up the sport because it's too expensive. With all this grown-up stuff going on around them, these kids still find time to be kids. Annabeth obsesses over boys, Brandon finds relief from his family drama by fishing, and they talk to each other by phone in a giggly fashion while sitting at their respective homes watching Talladega Nights. (Of course!)
Curry intersperses the documentary footage with flashy graphics highlighting our drivers' ever-changing positions in the standings, for example, or showing a race in black and white while our main characters' cars are in color. These break up the visual monotony, and one illuminating animated sequence accomplishes more than that, with two blips representing cars racing around a track while Annabeth narrates the strategies that drivers employ in negotiating turns. I suspect that it's elementary stuff to racing fans, but I came away with a better understanding of what racers do. Speaking of bells and whistles, the movie's soundtrack is decorated with a bunch of songs by the upcoming indie-roots band The National — music supervisor Brooke Wentz deserves a gold star for landing them.
The movie never matches the insane highs or the epic scope of Jeffrey Blitz' Spellbound or Steve James' Hoop Dreams, two authentically great sports documentaries about kids. However, the mere fact that Racing Dreams inspires these comparisons tells you that it's a pretty good movie. It observes auto racing with a good deal of healthy skepticism, as witnessed by Josh's unsatisfying encounter with Jeff Gordon at a NASCAR event, where the famous driver is too busy furiously signing autographs to pay the kid much attention. Yet if racing has disappointments in store, it also has primal joys. Josh is being wooed to purchase a stock car and move up to the next level even before he's secured his karting title, and we see him being allowed to sit in the driver's seat of a stock car and rev the engine. As the noise washes over him, the awed look on his face speaks volumes.