Comedies from both ends of the spectrum opened the Fort Worth Opera Festival last week at Bass Performance Hall: Don Giovanni, Mozart's dark look at amorous dalliance, and Donizetti's frothy The Elixir of Love. Both productions were stylish and showcased exceptional young talent.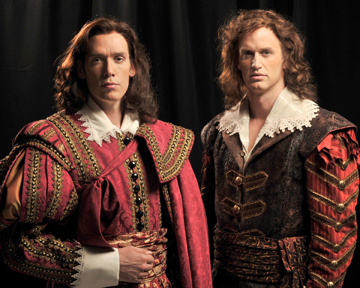 Baritone Michael Todd Simpson, who won the 2006 Fort Worth Opera Guild's Marguerite McCammon Voice Competition, has probably exceeded expectations and is already a memorable Don Giovanni. His voice is strong and flexible, and his portrayal had the subtle nuances normally associated with a veteran performer. He made his Metropolitan Opera debut this season as Hermann and Schlemil in Offenbach's Tales of Hoffmann and already has other engagements scheduled across the country.
Most of the other principals were equally attractive. The Don's servant. Leporello –– handsomely sung by baritone Tom Corbeil –– was a contemporary here rather than an old retainer. The dynamic pointed up the class frictions touched on in the libretto and helped make Leporello's impersonation of the lady-killing Don Giovanni more believable. Soprano Susanna Phillips, winner of the $50,000 Beverly Sills Award last month as the "most promising young performer" at the Met, was a splendid Donna Anna, entering with a scream after the don breaks into her bedroom. She declares undying vengeance upon him after he kills her father, the Commendatore, who has shown up to defend her. Phillips filled the house with her plush, velvety voice and floated some breathtaking pianissimos along the way.
Tenor David Portillo, as Donna Anna's fiancé, made the most of his two arias, delivering some agile, lyric singing in what must be one of the most thankless roles in the repertory. The don's bitter castoff, Donna Elvira, emerged here as something of a frump. Soprano Holli Harrison didn't know what she wanted to do with the music at times, settling for belting out notes, which was a shame, for she has a lovely voice. Two members of the Fort Worth Opera Studio, soprano Ashley Kerr and baritone Matthew Young, rounded out the cast as the peasant couple Zerlina and Masseto, and while Young held his own, Kerr sounded anemic in these surroundings.
After a tentative overture, conductor Joe Illick kept the Fort Worth Symphony moving at a crisp tempo and was right there when singers chose to spin out a phrase or hold onto a note. Richard Kagey's stage direction did wonders in integrating formal arias into a steady dramatic flow –– until the final scene, which fizzled rather than flared. The dead Commendatore's statue, with narrow shoulders, full pantaloons, and oversized metal boots, looked more clownish than sinister, especially in Chad R. Jung's bright lighting. Also, as the ghost of the Commendatore demanded the don's repentance, the chorus that was supposed to be thundering was so far away you could barely hear it. The opening of hell's gates could have used some heavy-duty smoke and flaming red lights –– Fort Worth Opera's version consisted of a piffle of steam from a couple of holes in the stage and bright white light. (And why did the Commendatore go down with Don Giovanni?) Kagey did do away with the frivolous epilogue, which preserved the impact of the don's damnation –– Mozart had added the part to appease censors who found the ending too powerful for public taste.
The Elixir of Love presented a lighter look at the intrigues of love and was beautifully housed in a bright, fresh-looking gazebo updated to an American village square circa World War I. Tenor Michael Fabiano was the engaging dolt Nemorino, arriving in a Curley's Ice Cream truck to sell his goodies and yearn after the beautiful Adina. His voice was rich and full and in the plaintive aria "Una Furtiva Lagrima (One Furtive Tear)" wonderfully expressive. He also had comic flair, which added greatly to the performance.
Adina was sung by soprano Ava Pine, a bright young singer who looks as good as she sounds. (She returns here for a real workout next season as Cleopatra in a revival of Handel's Julius Caesar, the vocally fiendish role that launched Beverly Sills to the big time at the New York City Opera years ago.) Christopher Bolduc was a suitably self-centered Belcore, and Rod Nelman gave us a stylish Dr. Dulcama, who showed up in a motorcycle sidecar to sell his elixirs to the unwary townsfolk.
The orchestra was led ably by Stewart Robinson, and Jennifer Nicoll did a commendable job in giving the chorus and array of extras all something individual to do to make the stage picture look natural.
The festival continues with the world premiere of Before Night Falls on Saturday.
Fort Worth Opera Festival
Before Night Falls. Sat and Sun, June 6. • Don Giovanni. Sun and Fri, June 4. • The Elixir of Love.
Fri and Sat, June 5. Bass Performance Hall, 525 Commerce St, FW. 877-396-7372.