Every once in a while, Chow, Baby feels a little guilty that it spends a disproportionate amount of its time and dining dollars in South Arlington — to take a wild guess, probably three or four times what it should based on relative area and population. Though this makes sense, because South Arlington has three or four times its fair share of Tarrant County's great dives and indies: If you're looking for a good burger, taco, or gyro, South Arlington is a safe bet. Still, Chow, Baby is supposed to be a tad more adventurous than "safe."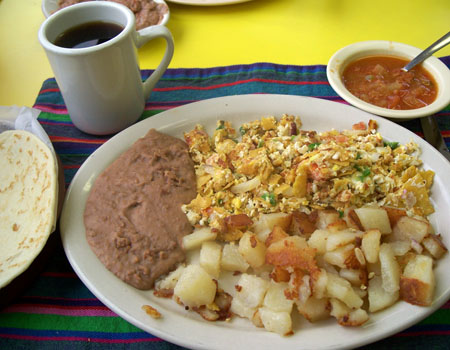 So last week Chow, Baby braved South Arlington's polar opposite: North Arlington. As all excursions must, this one began with a hearty breakfast: huevos con chorizo (with potatoes and refried beans, $5.25) at the delightful Ké Riko (2280-B N. Collins St., Arlington). Ké Riko is pretty new — on Chow, Baby's visit the sign over the door still read Magnolia Café — but it's also quite familiar, in a simple but clean strip-mall space with exciting Spanish-language TV and calm, friendly service. The menu has many recognizable items (burritos, tacos, tortas), but also some relative rarities that made Chow, Baby glad it crossed I-30: chicharron en salsa verde (pork skins in housemade tomatillo green sauce, $5.99); pozole, a rich chicken and hominy soup ($4.50); and custardy, not-killer-sweet flan napolitano ($2.50). Ké riko — a slangy spelling of que rico, how rich & delicious — indeed.
Not a surprise to find that Al's Hamburgers has been around since 1957, though not always in its current location (1101 NE Green Oaks Blvd., Arlington): For one thing, the great grill flavor of Chow, Baby's old-school-slider cheeseburger ($3.19) is the kind that takes decades to build up. The single small patty was plenty filling, as Chow, Baby was still stuffed from breakfast, though a real Texan would have gone for a double or triple anyway ($4.29-$5.39), or possibly the chicken-fried steak ($7.19) or Frito pie with no-bean chili and lots of onions ($5.99). Al's isn't fancy, but the staffers' friendliness to strangers (Chow, Baby) and regulars (everybody else) gives it a wonderful small-town feel.