Shhhhh! Top-secret stuff is happening in Weatherford. But Static isn't afraid to dig up confidential info on the down low if it pleases regular readers of this snarkfest. Blogging Project Runway, a fan site that tracks the popular TV show, revealed last week that designers Austin Scarlett and Santino Rice were going cross-country to do makeovers of women for a spin-off TV show.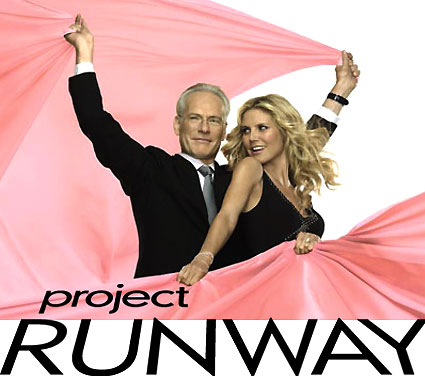 Now, just consider these two characters — Scarlett, fey, blond, wafer-thin, and androgynous, a mere wisp of a fellow, and Rice, all swagger and sleaze, looking like an overgrown Jesus who's decided to use his superpowers for evil — landing at the local chicken-fried steak joint, or perhaps amid the peaches at the downtown farmers market in that fair burg to the west of us, and you see why Static is getting the giggles.
The conversations that followed could be even more fun. Designers on Project Runway tend to have mouths that match their their appearances. Rice peppers his constant chatter with scatological references and lewd observations, while Scarlett swans about, sheer scarves fluttering. They're both way talented; we're just sayin' it's tough to envision either of them wearing caca-covered cowboy boots, wiping rib sauce from their mouths with pearl-snapped shirtsleeves, or drinking warm Keystone Light from cans.
However, you're not supposed to know about Scarlett and Rice. The designers' identities, the new show's title, its exact air date, and other information are supposed to be kept hush-hush for now.
A woman at the Weatherford Chamber of Commerce, who was mentioned in that original blog post, spoke in a near whisper when Static inquired about the show. Coming across like a shadowy character in an Alfred Hitchcock movie, the woman said a TV crew came to town and filmed the All-American Cowgirl Chicks rodeo trick-riding team. But she revealed no specifics, provided only robotic responses about the show (example: "I think it will be good") and refused to reveal even her job title at the chamber. "I just don't want to be quoted," she said. One gets the feeling that if she had revealed much more, she would have felt compelled to track down and kill Static (and it's possible that after watching this show Static will save her the trouble).
Trish Lynn, founder and coach of the All-American Cowgirl Chicks, was also guarded but at least she was engaging. She revealed as much as she could without spoiling the show. The two designers (Lynn wouldn't name them) stayed in Weatherford for eight days, followed the team to several performances, got to know the women, and selected one to outfit in a custom gown for an annual banquet and ball held last Saturday. (Is anyone else envisioning lots of red sequins in wagon-wheel patterns on a gaudy purple dress worn with ropers and a Stetson?)
The designers purchased all their materials in local stores. "They didn't bring anything with them," Lynn said. "They sewed and designed a dress right here in Parker County."
The show airs in July, she said. Static is, pardon the pun, on pins and needles.