OPENING:
Killers (PG-13) Katherine Heigl stars in this action-comedy as a woman who discovers that her new husband (Ashton Kutcher) is actually a secret government agent being targeted by assassins. Also with Catherine O'Hara, Tom Selleck, Katheryn Winnick, Kevin Sussman, Lisa Ann Walter, Casey Wilson, Rob Riggle, Alex Borstein, Martin Mull, and Usher. (Opens Friday)
Marmaduke (PG) The havoc-wreaking dog from the comic strip gets his own live-action movie and Owen Wilson's voice. Also with Lee Pace and Judy Greer. Additional voices by Emma Stone, George Lopez, Christopher Mintz-Plasse, Kiefer Sutherland, Sam Elliott, Marlon Wayans, Damon Wayans Jr., Steve Coogan, and Fergie. (Opens Friday)
Please Give (R) The latest comedy by Nicole Holofcener (Friends With Money, Lovely & Amazing) stars Catherine Keener as a Manhattan furniture dealer who struggles with prosperity when poverty and homelessness are all around her. Also with Oliver Platt, Amanda Peet, Rebecca Hall, Sarah Steele, Ann Guilbert, Scott Cohen, Thomas Ian Nicholas, and Kevin Corrigan. (Opens Friday in Dallas)
Solitary Man (R) The screenwriting team of David Levien and Brian Koppelman (Rounders, Ocean's Thirteen) direct this film starring Michael Douglas as a formerly successful car dealer trying to make his way back after self-destructing. Also with Susan Sarandon, Mary-Louise Parker, Jenna Fischer, Jesse Eisenberg, Imogen Poots, Richard Schiff, and Danny DeVito. (Opens Friday in Dallas)
Splice (R) This sci-fi/horror film by Vincenzo Natali stars Adrien Brody and Sarah Polley as rogue scientists whose experiments with genetic manipulation lead to a new species of creature. Also with Delphine Chanéac, Brandon McGibbon, and David Hewlett. (Opens Friday)
Babies (PG) Too cute, really. Thomas Balmès follows four babies (in Tokyo, San Francisco, Mongolia, and Namibia) through their first year of life. Following the lead of other French documentarians, he treats this like a nature documentary, presenting his subjects with no interviews and no narration to explain what we're seeing. This highbrow approach might convince some people that this is really deep, but really the lack of context prevents the movie from commenting on different cultures and how they raise children. This movie isn't about anything, which is why I left feeling like I'd spent an hour and a half looking at someone else's baby pictures.
The Back-Up Plan (PG-13) Jennifer Lopez gives it a game try, but this romantic comedy vehicle is too rote and too similar to her other movies to offer much. She plays a successful but lonely small business owner who meets the guy of her dreams (Alex O'Loughlin) shortly after becoming pregnant through artificial insemination. The film has a nice supporting cast, some stray funny bits, and one really good scene at a New Agey birthing ceremony. The rest is just tired neurotic agonizing about abandonment issues and anxiety over raising kids, with O'Loughlin being outacted by his washboard abs. Also with Michaela Watkins, Linda Lavin, Eric Christian Olsen, Anthony Anderson, Noureen DeWulf, Melissa McCarthy, Maribeth Monroe, Tom Bosley, and Robert Klein.
The Bounty Hunter (PG-13) This dreary, demoralizing action-comedy stars Gerard Butler as an ex-cop-turned-bounty hunter who's called on to arrest his reporter ex-wife (Jennifer Aniston) after she jumps bail because she's found dirt on crooked cops. The two leads may or may not be a real-life couple, but they have zero chemistry with each other regardless. The action and the comedy are both toothless, and the movie seriously bogs down during an interlude when the two hide out at the bed-and-breakfast where they spent their honeymoon. Terrible stuff. Also with Jeff Garlin, Jason Sudeikis, Matt Malloy, Dorian Missick, Carol Kane, Cathy Moriarty, and Christine Baranski.
Clash of the Titans (PG-13) Demigod Perseus (Sam Worthington) goes on a quest to avenge himself against Hades (Ralph Fiennes) for the death of his family in this rote remake of the Ray Harryhausen effects-filled 1981 epic. Updated effects can't enliven the story, with Worthington slaying any investment in Perseus with his signature blandness and action scenes that are only passable, save for a good giant scorpion battle. Too bad, because Neeson and Fiennes are great as Zeus and Hades, and the look of the film, especially Olympus, is impressive. You're best off watching the original and playing God of War. Also with Jason Flemyng, Mads Mikkelsen, Gemma Arterton, Izabella Miko, Ashraf Barhom, Alexander Siddig, Nicholas Hoult, Polly Walker, Elizabeth McGovern, Jane March, Danny Huston, and Pete Postlethwaite. — Cole Williams
Date Night (PG-13) Steve Carell and Tina Fey are believable as a married couple, but as a comedy team, they only deliver in fits and starts as a couple who are hunted down by gun-toting mobsters when they try to shake up their routine by going to a fancy Manhattan restaurant. The stars provide enough stray wisecracks to keep this thing watchable, but the only time the movie sustains the laughs is during a predictable but effective pole dancing bit. Elsewhere, the momentum sputters, and director Shawn Levy never establishes the right tone as the material veers between marital comedy and action. The leads are charming, but between their talents and those of a high-powered supporting cast, this movie should have come to more. Also with Mark Wahlberg, Taraji P. Henson, Mark Ruffalo, Kristen Wiig, James Franco, Mila Kunis, William Fichtner, Leighton Meester, and an uncredited Ray Liotta.
---
Death at a Funeral (R) Marginally less annoying than the 2007 British farce on which it's based, Neil LaBute's comedy stars Chris Rock and Martin Lawrence as brothers who are preparing for their father's funeral when the father's secret gay lover (Peter Dinklage) blackmails them with sex photos. The movie works somewhat better because the leads are understated and the gay subplot has a charge in this African-American setting that it didn't have in the original. There's too much dead weight in this large supporting cast, though, and too many of the jokes and situations are easy to see coming even if you haven't seen the original. Also with Zoë Saldana, Tracy Morgan, Luke Wilson, James Marsden, Regina Hall, Loretta Devine, Ron Glass, Columbus Short, Kevin Hart, Keith David, and Danny Glover.
Hot Tub Time Machine (R) With a title like this, the movie's either going to be brilliantly dumb or just dumb. This movie is both, but the ratio runs about 60-40 in favor of "just dumb." John Cusack, Rob Corddry, and Craig Robinson play three friends who are transported by a ski-resort Jacuzzi back to 1986 as their teenage selves, along with a 23-year-old nephew (Clark Duke) who stays 23 in the '80s but is in danger of ceasing to exist. Although some of the gags score in a major way, the dopey premise needed an even wilder, more over-the-top treatment to live up to its title. Neither director Steve Pink nor his actors are quite able to take the plunge. Also with Lizzy Caplan, Sebastian Stan, Lyndsy Fonseca, Collette Wolfe, Jessica Paré, William Zabka, Crispin Glover, Chevy Chase, and an uncredited Thomas Lennon.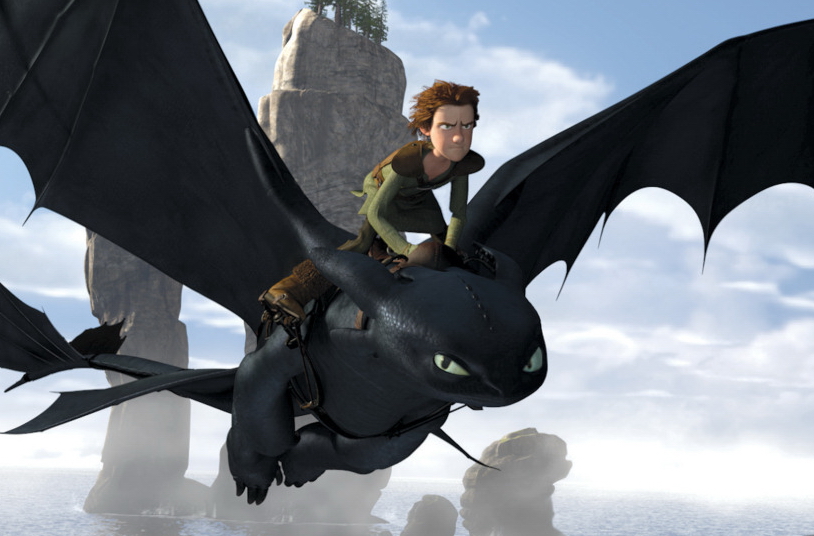 How to Train Your Dragon (PG) Cressida Cowell's series of whimsical and occasionally gross kids' books becomes this animated film that's more grown-up and less interesting than its source. The movie is about a Viking kid (voiced by Jay Baruchel) who has to prevent his clan from going to war with the dragons that raid their village, after discovering that the animals are basically large, scaly, fire-breathing housecats. The movie's an allegory about the Iraq war, which is okay as far as it goes, but it turns the dragons into passive beings that are too easily domesticated. America Ferrera is counterintuitively well-cast as a badass Nordic girl, but the characters are thin and the comic material wastes a talented supporting vocal cast. Spectacular as this movie frequently looks, it still falls short. Additional voices by Gerard Butler, Craig Ferguson, T.J. Miller, Kristen Wiig, Christopher Mintz-Plasse, and Jonah Hill.
Iron Man 2 (PG-13) Robert Downey Jr. returns for this worthy sequel, playing Tony Stark as a superhero who turns into a self-destructive tabloid celebrity when his superpower renders him terminally ill. This overstuffed movie wastes Mickey Rourke as a Russian baddie, and it can't recapture the original's once-in-a-lifetime alchemy between the character and the newly sober star. Still, it has a great sequence with an attempted assassination on a racetrack, and some terrific additions: an unexpectedly badass Scarlett Johansson and Sam Rockwell as a wonky rival arms manufacturer who thinks he's cooler than he is. More, please. Also with Gwyneth Paltrow, Don Cheadle, Clark Gregg, John Slattery, Jon Favreau, Garry Shandling, Kate Mara, Leslie Bibb, and Samuel L. Jackson.
Just Wright (PG) What a terrible pun! The chemistry between rappers-turned-actors Queen Latifah and Common rescues this romantic fantasy from complete mediocrity. She plays a physical therapist, and he plays an NBA star who needs her services after tearing up his knee. The material is second-rate, and the stuff with the therapist's prettier cousin (Paula Patton) coming between the two is clumsily handled. However, things never get so bad that the lead actors' charm can't fix things. The movie features a bevy of cameos by real-life NBA stars; Dwight Howard has some genuine screen presence. Also with Laz Alonso, Mehcad Brooks, James Pickens Jr., Phylicia Rashad, and Pam Grier.
Kites (NR) Anurag Basu's Bollywood musical about an Indian man (Hrithik Roshan) who illegally crosses the border from Mexico to the United States to pursue the woman he loves (Bárbara Mori). Also with Steven Michael Quezada, Luce Rains, Kabir Bedi, Kangana Ranaut, and Nicholas Brown.
The Last Song (PG-13) Miley Cyrus makes a brave attempt at playing an alienated, sarcastic teen who'd probably have an allergic reaction to Hannah Montana. It doesn't work, but it's brave. She plays a piano prodigy-turned-adolescent troublemaker who's packed off to live with her estranged dad (Greg Kinnear, doing the best he can) for the summer. Cyrus has the character's slouchy walk down, but her line readings are flat and she has no chemistry with the lead actor (Liam Hemsworth) despite the two of them being a couple in real life. It's okay, though. Based on a Nicholas Sparks novel, this sodden drama is beyond the power of any actor to save. Also with Kelly Preston, Bobby Coleman, Carly Chaikin, Adam Barnett, Kate Vernon, and Nick Searcy.
Letters to Juliet (PG) Amanda Seyfried stars in this overcooked romance as an aspiring journalist who, while traveling in Italy, discovers a decades-old letter from an Englishwoman (Vanessa Redgrave) and helps her track down the man she failed to run off with 50 years ago. The romantic plot between Seyfried's character and the Englishwoman's overprotective grandson (Christopher Egan) is supposed to drive this, but the actors have little chemistry, and there's more going on between Seyfried and Gael García Bernal as the wrong guy. Meanwhile, Redgrave plays this wispy material as if her life depended on it, giving perhaps her finest performance since Howards End. Too bad the rest of the movie isn't worthy of it. Also with Luisa Ranieri, Marina Massironi, Milena Vukotic, Franco Nero, and an uncredited Oliver Platt.
---
MacGruber (R) Despite its massive potential to be either awesome or horrible, this movie is neither. Adapted from the series of Saturday Night Live sketches, this movie stars Will Forte as the mulleted, incompetent action hero who's out to take down a supervillain (Val Kilmer) with a nuclear warhead. Forte's too lightweight to carry a movie by himself, but first-time director Jorma Taccone shows a decent sense of comic timing, and enough of the jokes hit home to just barely compensate for the ones that drag on and on. Also with Kristen Wiig, Ryan Phillippe, Maya Rudolph, Powers Boothe, and Chris Jericho.
A Nightmare on Elm Street (R) Chalk up yet another needless, creatively bankrupt reboot of a vintage horror series. This one stars Jackie Earle Haley as Freddy Krueger, the school groundskeeper wrongly accused of child molestation who's now taking revenge on his killers by snuffing their teenage children in their dreams. Or some such crap. First-time filmmaker Samuel Bayer tries to make the dream sequences surreal and beautiful as well as scary, but he fails on every front. It's a shame, because Haley could have made a genuinely frightening Freddy. Also with Kyle Gallner, Rooney Mara, Katie Cassidy, Thomas Dekker, Kellan Lutz, Clancy Brown, and Connie Britton.
Oceans (G) Disney's foray into the water world of morays, stonefish, and elephant seals is a gorgeous though soporific sea life sampler. Moments of majesty (the blanket octopus! ribbon eels!) quickly give way to the same old dolphins, sharks, and clownfish you've seen before. Pierce Brosnan intones the usual message of the oceans' universal importance with the gentle gravitas reserved for reading Horton Hears a Who, and the narrative never focuses on any subject long enough to satisfy. While sea turtles struggle to preserve their species, audiences will struggle to stay awake. — Steve Steward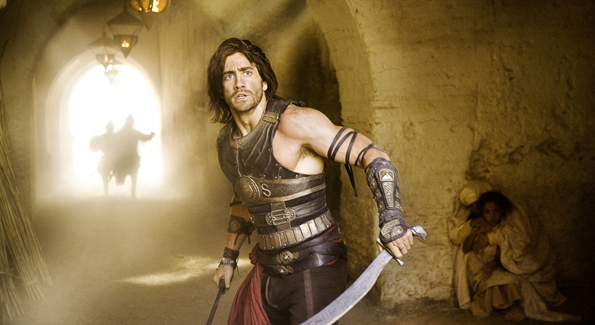 Prince of Persia: The Sands of Time (PG-13) Jake Gyllenhaal portrays a prince of the Persian empire who's forced to flee along with a dethroned princess (Gemma Arterton) after they're drawn into political intrigue involving a dagger that can turn back time. Based on a popular video game, this movie would be fine if it simply concentrated on the action, which involves the prince doing acrobatic leaps in high places. Instead, it forces us to sit through a lot of blather about time and destiny and an infantile romantic subplot with no chemistry between the leads. Also with Ben Kingsley, Steve Touissant, Toby Kebbell, Ronald Pickup, Richard Coyle, Reece Ritchie, and Alfred Molina.
Robin Hood (PG-13) Like all of Ridley Scott's movies in the last 10 years, this is intelligent, engaging, and not much fun. The movie reimagines the origins of the famous story, telling how a common archer (Russell Crowe) returning to Britain from the Crusades leads an uprising against the king and becomes the legendary outlaw. Giving his least interesting performance to date, Crowe turns Robin Hood into a nostril-flaring bore and displays zero chemistry with Cate Blanchett as Maid Marian. The action sequences are no match for the ones in the 1938 Errol Flynn movie, still the gold standard for Robin Hood films. Also with William Hurt, Mark Strong, Oscar Isaac, Kevin Durand, Scott Grimes, Alan Doyle, Eileen Atkins, Mark Addy, Matthew Macfadyen, Simon McBurney, Danny Huston, and Max von Sydow.
Sex and the City 2 (R) Carrie Bradshaw and her gal pals (Sarah Jessica Parker, Kim Cattrall, Kristin Davis, and Cynthia Nixon) go to Abu Dhabi to deal with their issues and dress fabulously. The movie stays true to the show's focus on friendship, but the movie runs about 700 years and features tons of bad writing and self-congratulation about its feminist accomplishments, which aren't as significant as the movie seems to think. Even the acting is off. This is for Carrie completists only. Also with Chris Noth, David Eigenberg, Evan Handler, Mario Cantone, Willie Garson, Jason Lewis, John Corbett, Kelli O'Hara, Alice Eve, Lynn Cohen, Ron White, Omid Djalili, and Penélope Cruz. — Cole Williams
Shrek Forever After (PG) More satisfying than the second or third Shrek movies, this concluding film isn't as invigoratingly weird as the movie that started it all. However, it recovers some of the first movie's mojo. The big ogre (voiced by Michael Myers) is conned by Rumpelstiltskin (voiced by Walt Dohrn) into an alternate reality where everything is as if Shrek never existed. The film has a few dead spots and wastes a talented supporting voice cast, but Shrek's midlife crisis is handled lightly enough and Puss in Boots (voiced by Antonio Banderas) is hilariously reimagined as a coddled, morbidly obese kitty. The laughs are sustained better than in the previous sequels and give our jolly green friends a warm sendoff. Additional voices by Cameron Diaz, Jon Hamm, Jane Lynch, Craig Robinson, Kathy Griffin, Lake Bell, and Meredith Vieira.
DALLAS EXCLUSIVES:
Exit Through the Gift Shop (R) The reclusive street artist known as Banksy directs this documentary about French amateur documentarian Thierry Guetta and his futile attempts to meet Banksy. Also with Rhys Ifans and Shepard Fairey.
The Girl With the Dragon Tattoo (NR) Before the inevitable Hollywood version, this Swedish adaptation of Stieg Larsson's best-selling mystery novel stars Michael Nyqvist and Noomi Rapace as a disgraced investigative reporter and a computer hacker who must team up to solve a decades-old series of murders linked to a powerful family. Also with Lena Endre, Sven-Bertil Taube, Peter Haber, Peter Andersson, Ingvar Hirdwall, Marika Lagercrantz, Björn Granath, and Ewa Fröling.
Harry Brown (R) Michael Caine stars as a retired British soldier who goes vigilante after his best friend is murdered by local thugs. Also with Emily Mortimer, Charlie Creed-Miles, David Bradley, Ben Drew, and Iain Glen.
Mid-August Lunch (NR) Gianni di Gregorio stars in his own drama as an Italian man who discovers a sense of purpose while taking care of his elderly mother (Valentina de Franciscis) and her friends. Also with Marina Cacciotti, Maria Calì, Graziana Cesarini Sforza, and Alfonso Santagata.
The Secret in Their Eyes (R) The winner of last year's Oscar for Best Foreign Film, Juan José Campanella's drama stars Ricardo Darín as an Argentinian former cop-turned-crime novelist still obsessed with an unsolved 25-year-old rape-homicide case. Also with Soledad Villamil, Carla Quevedo, Pablo Rago, Javier Godino, Mariano Argento, and Guillermo Francella.