Time for your weekly Music Awards update. The lineup for our free all-day, all-817-local festival on Sun., June 27, keeps getting stronger. In addition to The Orbans, The Burning Hotels, Calhoun, Dove Hunter, Whiskey Folk Ramblers, Chatterton, Stella Rose, Josh Weathers and the True+Endeavors, KatsüK, Goodwin, Rivercrest Yacht Club, Fate Lions, The Dangits, Titanmoon, Jason Worley, The Will Callers, Browningham, Pinkish Black, The Vatican Press, and Jefferson Colby, we've just added Rabbit's Got the Gun, The Phuss, Stoogeaphilia, Keegan McInroe, Phantom Caste, Cityview, and My Wooden Leg.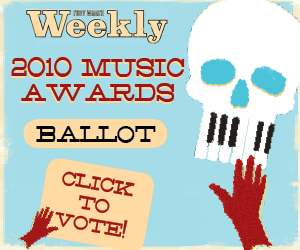 There will be several more to come, to give us 36 artists in total and possibly make our 13th Annual Fort Worth Weekly Music Awards Festival the biggest celebration of Fort Worth music of all time. Six artists will perform at each participating venue: The Backyard at Capital Bar, Fred's Texas Café, Lola's Saloon-Sixth, Poag Mahone's, 7th Haven, and The Pour House. All 36 performers will be nominees –– the ballot is available here. Mark your calendars now.
Of course, a lot of nominees will be gigging up until then. On Wednesday, Nathan Brown's solo project Browningham (nominated for Songwriter, Vocalist, and R&B/Rap/Funk) is performing at The Cavern (1914 Greenville Ave., Dallas, 214-828-1914) with The Dim Locator, Clay Stinnett, Hammertimez on the Double, DJ Bad Holly, and D. Wayne Grubb, the Southern-gothic solo project of Daron Beck, a nominee for Male Vocalist who was part of the recently dissolved prog-metal outfit The Great Tyrant (Artist of the Year nominee) and currently of Pinkish Black (nominated for New Artist). On Friday at The Cavern, catch Exit 380 (a Rock nominee) with Secret Ghost Champion (an Experimental nominee), and Boomin' Gen Mills. On Thursday, smoove sax man Quamon Fowler (a Jazz nominee) will be playing at Scat Jazz Lounge (111 W. 4th St., 817-870-9100). On Saturday, Lola's Saloon-Sixth (2736 W. 6th St., 817-877-0666) will host Stella Rose (nominee for Hard Rock, Rock Song of the Year ["Everybody's Looking for Love"], and Rock Album of the Year [Drag]), not to mention Shapes Stars Make, and Fort Worth-Austin-New York's The Frontier Brothers. And on Friday at Lola's, there'll be a CD release party for the new one by Whiskey Folk Ramblers (an Americana/Roots-Rock nominee), with Salim Nourallah.
In a couple of weeks, we'll be celebrating the release of a new CD of our own. On Wed., June 23, all of us good-lookin' Weekly staffers will be at Love Shack So7 (817 Matisse St., 817-348-9655), selling copies of our 13th Annual Fort Worth Weekly Music Awards compilation CD fresh off the presses –– the price of the disc is $5, and all proceeds will go toward our 2010 Music Awards charity sponsor, the Tarrant Area Food Bank. The CD features fresh material from several nominees, including Whiskey Folk Ramblers, Pinkish Black, Ginny Mac, Titanmoon, Chatterton, Christian L. Williams, Alan: The Universal Answer is Both, The Dangits, Browningham, Jason Worley, and Clint Niosi with The Theater Fire's James Talambas. Everything was recorded over a two-day period at Eagle Audio Recording on the South Side. We're planning on inviting some nominees to swing by the Love Shack So7 and play a couple acoustic tunes for us. Check back here next week or watch Blotch for more updates on the shindig.
Contact HearSay at hearsay@fwweekly.com.