A buddy of mine recently asked for suggestions for Sunday brunch. I started to rattle off my usual list, starting with Reata. (I've never actually been for brunch but have heard good things and have been there often enough for lunch and dinner to know whereof I speak.) Next up: Lambert's (excellent), Button's (especially if you're in need of some soul-uplift), Blue Mesa (convivial), and Mac's (which I'm not particularly crazy about, but my mom is).
He mumbled something about not wanting to take his mom anywhere and not wanting to, y'know, dress up. I looked at him. He was wearing what can only be described politely as his cleanest dirty shirt, a pair of ripped khaki cargo shorts, and flip-flops. And then I realized: He didn't want a place to eat brunch. He wanted a place to drink brunch.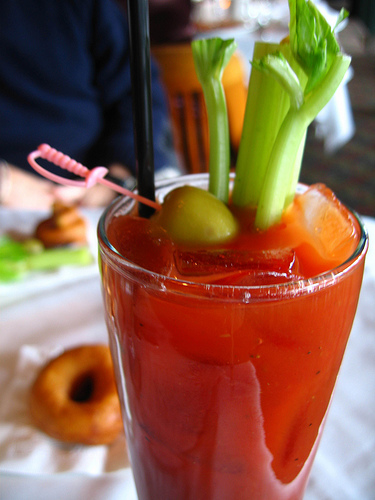 And so I had to think about places where it's more about the booze than the food on Sundays and where my certainly hungover friend and his certainly hungover friends would not only be tolerated but also welcomed (quietly, of course). The first place that came to mind: Eight-O, home of the "Sunday Blunch," with what I hazily recall as a rockin' Bloody Mary bar. Belly up to it, and you're handed a glass full of the vodka of your choice: more hooch than one sane person could drink at one breakfast sitting, but my friend would not necessarily fit into the "sane" category. At the front of the restaurant, there's a table full of tomato juice, horseradish, celery, little pearl onions, pretty much anything a body could ever need for full-contact Bloody Mary action. The "blunch" food offerings aren't as ambitious as those on Eight-O's regular menu, but does that even matter?
I also remembered Baker Street Pub and Grill has a Bloody Mary bar on Sundays from 11 a.m. 'til 3 p.m., along with happy hour all day. My buddy wouldn't even have to pretend he was interested in brunch-type food, although there is food there, good food, in addition to the snacks (OK, garnishes) from the cocktail bar. Domestic drafts are $2, house wine is $2.50, and a big ol' pitcher of domestic brew will run $7. That's enough for him and what the cat dragged in, I thought.
I stood by my pick of Lambert's, only because on Sundays from 11 a.m. 'til 3 p.m., there are bottomless mimosas in addition to really delicious food. Although the average diner ought to be wearing a cleaner pair of khakis and a shirt with a collar, I'm sure Lambert's folks aren't all that picky about dress code. As long as you're dressed. And, yes, mimosas are kind of a cheerful, girly drink, especially when delivered by super-server Scotty B., who's always quick to say (in his soothing baritone), "Here, hon. Drink up. You need your vitamin C." But hooch is hooch, and bottomless anything — especially in a five-star restaurant — is hard to beat.
Of course, I told my buddy he could blunch old-school and just go to Fred's. The party gets started at 10:30 a.m., which is much earlier than most brunch-y places, and the food is, as always, outstanding. The venerable West 7th Street corridor ice-house/restaurant also features mimosas in fishbowl-sized schooners and, at noon, live music, for folks whose aural sensitivity has returned to normal. And the last time I was on the patio, chef/owner Terry Chandler and staff had done a tidy job of providing a bit of much-needed shade.
The newest entry to the Sunday blunch scene in the West 7th Street corridor is The Pour House. There's a Bloody Mary bar, and there are $2 man-mosas and man-settias (large, manly, iced-tea type glasses full of your choice of fruit juice and booze). The food's good, and if you hang around long enough, you'll run into Sunday happy hour, which includes, among other things, $11 domestic buckets of beer and $4 Jägermeister shots. Overdo blunch at your own peril, however. As far as I know, Monday brunch has yet to be invented. — Laurie Barker James
Contact Last Call at lastcall@fwweekly.com.