Since so many locally produced films are cheap horror flicks, it's refreshing to see something like David Patrick Lowery's St. Nick, a drama about two runaway children that aims for gentle lyricism and achieves visual beauty despite its low budget and use of natural light. The film, which was shot largely in Fort Worth, premiered at the 2009 SXSW Festival to rapturous reviews and soon afterward screened at the Modern.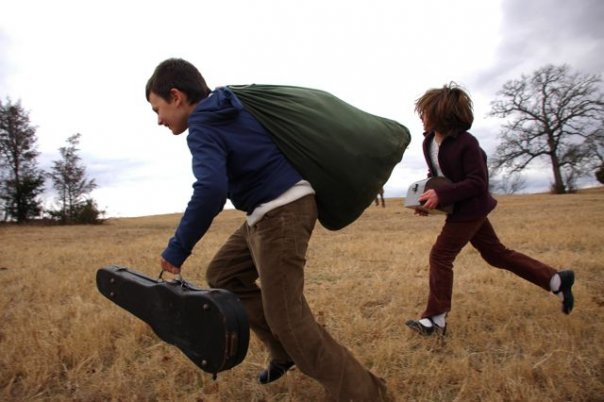 The 30-year-old Dallas filmmaker, unassuming in appearance except for his prominently thick mustache, makes a living editing corporate videos and directing the occasional music video. Born in Milwaukee, he moved to Texas at age 7 and eschewed film school, dropping out of the University of Texas at Dallas' English lit program to work on film crews. "It's the classic story," he said. "I had a camcorder when I was seven, and I just learned by doing."
St. Nick sprang from a planned web series that became a feature film after Lowery obtained a grant from the Austin Film Society. The movie has relatively little plot, and we never find out why the brother and sister main characters have fled home. "I knew how the movie would begin and how it would end," said the filmmaker. "I left [the rest] purposefully vague because I work best that way." Most of the film was shot in February 2008 in an abandoned house in Fairmount, which Lowery and his producer and close friend James Johnston found by walking around the neighborhood. The house, where the kids hole up for an extended period, forms an integral part of the movie's setting. "I always thought of Fort Worth as rural," said Lowery, who lived here for a year but didn't see downtown until one of his short films played at the now-defunct Fort Worth Film Festival. "I wanted the feel of the Wild West," he said. "I love the sense of texture and history here. If I have a reason to shoot in Fort Worth, I'll do it."
Lowery couldn't afford celluloid, so he shot on HD video, which presented challenges. "Many movies shot on HD look modern, but I wanted something timeless," he said. The look of St. Nick, frequently compared to Terrence Malick's Badlands, was created by cinematographer Clay Liford, one of several filmmakers working on the St. Nick crew, along with Johnston and "mumblecore" director Joe Swanberg. "There's always a risk of egos clashing when you work with other filmmakers," said Lowery. "I'm lucky that everyone I work with is selfless. It's nice to know that people believe in you."
Boutique distributor Watchmaker Films has bought St. Nick, and Lowery hopes it will be released by the end of the year. In the meantime, he's editing Johnston's upcoming feature film, Knife, and is planning to shoot another short film in September. He's also writing his second feature. (He's coy on the story details.) On top of that, he writes on his blog, where he explains why his bio lists him as dead since 2007 and also discusses the films of intellectually compatible artists such as Apichatpong Weerasethakul and Lynne Ramsay.
His passion for the medium drives him forward. "It's so difficult to make money," he said. "The only reason to go into the film business is because you love it."