Mi Chula's looks like a chain restaurant. It's not. But the Southlake restaurant has a familiar feel to it, even if you've never been there before –– chalk it up to slick avocado-green and brown paint and brightly colored menu boards, reminiscent of several other Mexi-chains. The similarity could also be due to restaurant genetics: Company president Joey Shasy opened the Uncle Julio's restaurant chain in Dallas in 1986.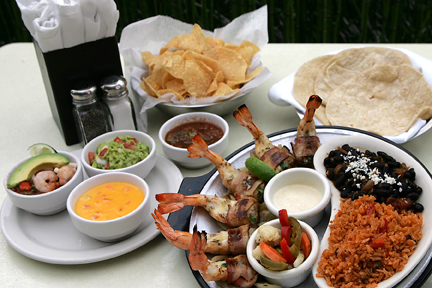 Mi Chula's facilities manager and founding partner Jerry Green cut his teeth in the Pappas Brothers group of restaurants before managing at Uncle Julio's. But if you can get past all that, you'll discover some amazingly fresh, tasty, and unique recipes. The day we visited, Green was on site, and he did what he does best.
"Have you been in before? No? Well, welcome!"
Green was masterful in his rundown of the fairly extensive menu, which is broken into Mexican and Tex-Mex sections. Almost everything is homemade. And he made everything sound incredibly good. Order at the counter, take a seat, and complimentary chips and salsa will magically appear at your table.
The salsa itself is on the warm side of spicy, with a lot of lime, cilantro, and chipotle. The guacamole starter was fresh and simple: just avocado, onion, maybe a little garlic, and lime. It was a fairly generous serving for $5.95, although two of my guests needed to add salt. The Southwest salad was fairly standard: a variety of greens mixed with black beans, plus corn and tortilla strips. But it was accessorized with jicama for extra crunch, flavorful fajita chicken, and a honey-lime dressing that added a summery, slightly Asian kick to the greens and spices.
From "Mi Chula's Best" list of items, the guisada proved to be a fancified version of Mexican stew. Your choice of chicken or beef comes sautéed with onions, large pieces of mushrooms, and green peppers and swimming in a tomato-wine-butter sauce. Out-of-this-world yummy, it was tart and creamy without being overwhelmingly heavy. The entrées come with the traditional Mexican rice (we noticed fresh chopped carrots adorning the rice, as opposed to the cubed, processed veggies) and your choice of black, borracho, or refried beans. The black beans were tasty and heavy with spices and cilantro. My dining companion noted that she tasted beer and a lot of cumin in the refried beans, so we asked. Without giving too much of the recipe away, Green said the refried beans are made by cooking the borracho beans a little further and that, yes, the mix includes dark beer.
Green said the mahi mahi tacos are the most popular item on the taco menu. We opted for the New Mexican chile pork tacos, though, and weren't disappointed. Lovely, fresh flour tortillas barely contained the soft, spicy, falling-apart meat. From the Tex-Mex side of the menu, we tried the handmade tamales, which come in your choice of chicken or pork. They were well-spiced but a little dry –– unusual, especially since all of the other items sampled were juicy.
Save room for dessert: All three of Mi Chula's offerings are homemade and delicious. You might consider consuming your body weight in the creamy, caramel-rich, vanilla-tinged flan. The cinnamon-sugary churros were fancied up with a dose of sweet strawberry purée, and the sopapillas had been dusted with cinnamon and powdered sugar and were served with real honey. If you have to limit yourself to two, choose the churros and the flan –– they were the best, although the sopapillas were comfortingly homey, and there were enough of them in the order to feed a soccer team.
The menu is full of small, nice touches. The kids' items come not with a starch but fruit. The only glitch was the apparently new guy at the register, who got our order wrong. Twice. But that didn't take away from the fact that the food was really good. Not necessarily "addictive" like Mi Chula's web site says. But way above average.
Mi Chula's
1431 E Southlake Blvd, Ste 551, Southlake. 817-756-6920.
11am-9pm Sun-Thu, 11am-11pm Fri-Sat.
All major credit cards accepted.
Guacamole $5.95
Guisada $11.95
New Mexican pork tacos $9.50
Southwest salad $8.95
Churros, flan, or sopapillas $4.00