Chow, Baby weighed the evidence before it. On the one hand, it was in North Richland Hills, which is not the first place you think of for real … well, real anything. On the other hand, the restaurant sign overhead had "Authentic" right in its very name, and since when do signs ever lie? Plus, right next to the sign was a cartoon drawing of a señorita hand-making tortillas. Hmm. Hmm. "What the hell," said Chow, Baby, and it entered Malli's Authentic Mexican Restaurant (5340 Rufe Snow Dr.).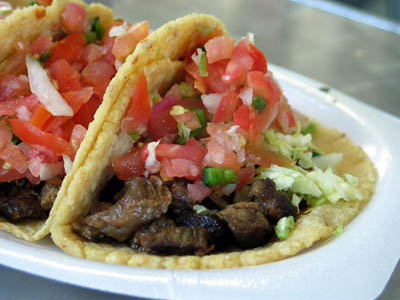 What a schizoid place — and of course, as with all mental-illness references, Chow, Baby means that in a good way. The menu of huevos (all day), carne asada, tamales, enchiladas, and chile relleno is like any you'd find on Hemphill or North Main streets. And the food is cooked and served by real authentic native Mexicans, as proved by adroit querying on Chow, Baby's part — "Hey, you have cactus on the menu! Are you from Zacatecas? I love Zacatecas!" (They're from Zacatecas.)
But, but … Malli's lunch tacos ($5.85) are the crunchy-shell kind with (wonderfully spiced) ground beef. Chow, Baby had to beg for some gorditas ($3) fillings to build itself an authentic taco plate of rich barbacoa, crunchy chicharon (pig skin), and pot-roasty carne deshebrada, plus fluffy rice and lardy beans ($4.65). Mex to the max, except that the tacos came topped with lettuce, tomato, and two colors of shredded American cheese. So Malli is adding on here and there for her suburban American clientele (Exhibit B: Dr Pepper burger, $6.95), but she's never dumbing it down. That's pretty cool.
Oh, and the tortillas are indeed made in-house. The sign didn't lie.
Juicy, With Help
Chow, Baby isn't being hypocritical about its position on added burger juice so much as, um, refining it. True, a few months ago it sorta bashed the Jakes chain for making Chow, Baby obsess over how their thin little burgers could be near-burnt yet still chin-drippy, only to find that they were totally faking it by adding the drippy part after cooking ("Juice Lost," March 3). But see, there's a difference between added juice as plastic surgery — a completely phony and evil misrepresentation of the truth — and added juice as artfully applied makeup, merely an enhancement to natural beauty.
And the latter is what Chow, Baby found at Pop's Burgers & Grill (4400 Benbrook Hwy.). Here your cheeseburger (basket $6.59) begins with a fresh-never-frozen half-pound (very thick) patty. Theoretically Pop will cook it to your requested temperature, though Chow, Baby's medium rare came out a little on the well side. No matter, as the burger was still tender, great-tasting, and chin-drippy-juicy … well, wait, this is a bit too juicy, given the lack of pink inside. Pop's Son 'fessed up right away — "Yeah, we add a little bit of juice after cooking" — leaving Chow, Baby in an ethical quandary: It's on record as being against phony added burger juice. But it really likes Pop's burgers. But liking Pop's while bashing Jakes seems so — what do you call it? — yeah, unfair.
Chow, Baby could think of only one way out of this predicament: Come up with some silly stance-elucidation babble five minutes before deadline, complete with absurd analogy, and for now just enjoy this fine, juicy burger. Yeah, that'll work. Yum.
Contact Chow, Baby at chowbaby@fwweekly.com.