If you missed it on Sunday, the 13th Annual Fort Worth Weekly Music Awards Festival was pretty awesome. As I left the Stoogeaphilia show at 7th Haven to catch the end of The Burning Hotels' set at Lola's, I saw a throng making its way across West 7th Street to The Pour House, which meant that exactly two spots at the Haven's bar counter might have opened up. In other words, there were a lot of people. In fact, in plain American, I'd say there was a shit ton. Which begged the question: Where the hell are all of you when these bands play every weekend?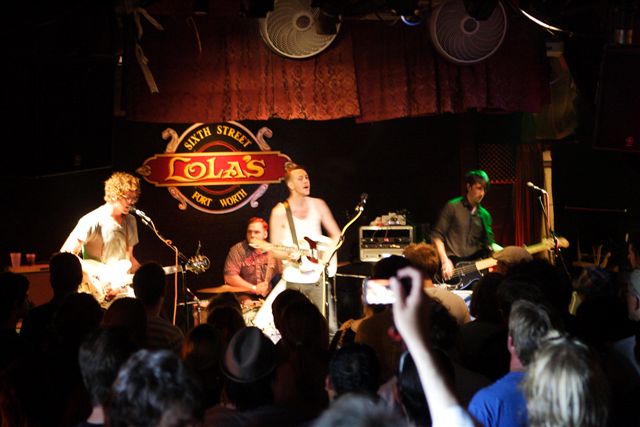 Now I know that's not totally fair: Josh Weathers and Hotels shows are almost always packed, and even the greenest band has a good night once in a while. But, man, there is so much good music in this town, it drives me crazy that the only time most people hear it is when it's free and almost impossible to avoid.
But whatever. I'll take a win for local music when I can get it, and maybe the bands that played netted a few new fans to boot. Almost as much as I appreciated the crowds, I liked the fact that places like 7th Haven and Poag Mahone's hosted bands when they normally don't — I've seen some solo performances at the Haven before, but I'd never been impressed until I saw a full band on the floor, rocking a packed house (and, in the case of Stoogeaphilia, sweating to the oldies).
I can't say I was surprised, though. Crowds are self-propagating, and the crowds on Sunday were at every bar. I didn't go down as far as Chimy's (which apparently didn't host any performers), but I remember a couple summers ago when I walked there from Pop's Safari Bar, on my way to watch The Lifters play at Lola's. It was right before The Wreck Room was destroyed but before construction began in earnest on the upscale spaces for lease near Fred's. I imagined that street crowded with people and lined with bars and clubs, each one pumping out loud music and sweating, haggard drunks. In the balmy perspective of my mind's eye, I saw it like a carnival scene in a movie, minus any Stephen King stuff or coming-of-age tropes.
Nowadays, The Lifters are called The Orbans, and all of that upscale construction is finished. Since I don't like frozen yogurt or movie taverns a whole lot, I have little interest in most of the retail/restaurants along those blocks, but I do acknowledge that the area provides some loose connective tissue in a nightlife circuit running east from the Capital Bar to The Pour House; north to the Shamrock, 7th Haven, and Poag's; and west to Lola's. If you're too drunk to drive, it's a nice walk. If you went to Sunday's festival from start to finish, you might have even found out for yourself.
As an entertainment district, the West 7th Street corridor is pretty rad. If you remember First Fridays in Deep Ellum (in which an $8 wristband got you into a bunch of clubs on the first Friday of every month), well, that was the potential I saw. I even imagined a Cowtown attempt at a music fest, like that one that happens in Austin every year. I mean, why not? We even have a 6th Street, and if Sunday was any indication, Fort Worth has a lot of drunks who will come see bands.
A Cowtown music fest would be great and all, but for the time being, I'm happy to see people getting out of the house en masse and mostly for the music. I'm sure some people came out for the crowd last Sunday, but every drunk becomes a listener at some point — and some even become fans. So good work, bands, bars, and drinkers. That was a pretty fun Sunday. We should all get together and do it again soon. — Steve Steward
Contact Last Call at lastcall@fwweekly.com.