At some point years ago, after I'd grown tired of music –– all I'd known was arena rock and some fusion –– I thought I'd get all arty-smarty and get into jazz of the straight-ahead hard-bop variety. I tried on Miles (too sweet). I tried on Monk (too percussive and angular). I tried on Hancock (too pop). And then I tried on Coltrane, specifically A Love Supreme, an album released in 1965 and about which I'd read a great deal but knew very little –– and I was hooked.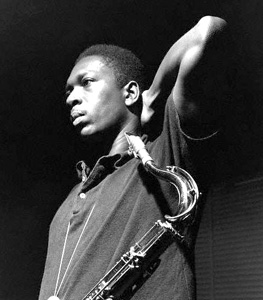 Composed of four long songs or suites, the album became the soundtrack to hours spent watching the tree outside my bedroom window rattle off fall leaves and longing for transcendence of any kind. In other words, I was totally depressed, and the spiritual longing that infuses the album with melancholia played to my blue mood, which is not to say the album is bluesy. Far from it. It is a graceful, quiet storm of Coltrane's mostly melodic, sometimes dissonant sax and mostly jaunty, sometimes languorous playing by his backing musos (his greatest assemblage, IMHO): pianist McCoy Tyner, drummer Elvin Jones, and bassist Jimmy Garrison. Though intimate and best heard on vinyl via headphones, A Love Supreme is going to be recreated in its entirety live on Thursday at Scat Jazz Lounge (111 W. 4th St., 817-870-9100) by a killer group of local musos, including Fort Worth Symphony Orchestra bassist Paul Unger and Houston/UNT sax-man Shelley Carrol. Cover charge is $5. Visit www.scatjazzlounge.com.
Fort Worth rapper Smooth Vega is recovering from and celebrating a pretty tumultuous past year. Having already lost a child, he and his wife had just learned that they were having another when Vega's mother passed away in December. But the new baby arrived healthy and beautiful and was named Maria Teresa Zenteno, after Vega's mother. On Thursday, Vega and several other local hip-hoppers will perform at Ridglea Theater (6025 Camp Bowie Blvd., 817-738-9500). Tum Tum, Louie Evol, Soul Native, Style & Grace, SNS, Cynikal 3000, D-Rich, Kay Won, and more are on the bill. Vega and Evol also are planning to play an acoustic set with guitarist Larry Ladale. Cover charge is $13 for 18 and under, and $10 for everyone else. Doors open at 9:30. Visit www.myspace.com/smoothvega.
Saturday will mark a return to the Fort for Brooklynite Frank Garcia, who, before relocating about three years ago, had spent nearly three decades as a lively part of the local hardcore scene. An ex-member of both Garuda (a band that broke up several years ago but reunited recently) and Tolar (a band that's been going strong for a few years now), Garcia now is bassist for Wizardry, a throwback metal trio along the lines of Celtic Frost and Motörhead. Joining Wizardry on Saturday at Lola's Saloon (2736 W. 6th St., 817-877-0666) will be touring act Bezoar and local stalwarts Magnus. "I was an active member of the heavy music community in the area and am very much looking forward to coming home for a couple of shows," Garcia said. Cover charge is $8-12. Visit www.myspace.com/wizardrylives.
Contact HearSay at hearsay@fwweekly.com.