Arlington is not short on Vietnamese restaurants. There are several authentic places in South Arlington alone. And then there's Sprout's Spring Roll and Pho in North Arlington near Cowboys Stadium. The sleek avocado-and-brown-hued décor seems more apt for a fancy fusion restaurant than a pho joint, although Sprout's menu offers quite a bit of fusion (in deference perhaps to old-school authenticity).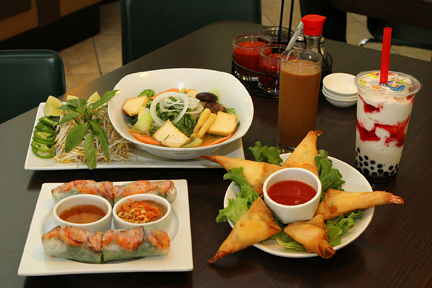 Sprout's features 10 different kinds of rice-wrapper spring rolls, ranging from the very basic (pork, shrimp, lettuce, and mint) to the semi-exotic (duck and mango, grilled tilapia). Although described as containing mint, lettuce, broccoli sprouts, pork, and shrimp, the plain spring roll had no discernible mint, nor were broccoli sprouts noted. This development was fine for the diner who loves spring rolls but loathes mint and cilantro, another herb that features prominently in most spring roll construction. The unadorned duck rolls came with a slightly spicy ginger sauce, which featured actual minced fresh ginger! Both sets of spring rolls had a uniformly smooth, fine outer layer, and the rice paper wrappers were blissfully fresh, not chewy or gummy. Helpfully, each table has a condiment tray. More helpfully, the sriracha and hoisin sauces are labeled so you can tinker to your heart's desire.
If you're eating at a Vietnamese restaurant, then you must order the ubiquitous soup, no matter how warm the early summer day might be. Although warm temperature-wise, the beef noodle soup deluxe was actually fairly mild, so it didn't overheat you from the inside out. The soup featured unremarkable clear broth, along with fresh (not soggy) glass noodles and veggies. The deluxe version features brisket, tripe, and tendon in addition to the beef eye of round and meatballs. We opted to skip the tripe and tendon, to no noticeable detriment. The meat, which can sometimes have the texture of shoe leather, was deliciously tender and flavorful, although I couldn't identify anything that looked like a real meatball in my bowl.
Another dish that seems to suffer the curse of leather texture is the Korean-style barbecue beef ribs. Ordering ribs anywhere involves the risk that they'll be tough or too chewy. But not here. The dish came as several large slabs of ribs, not "thinly sliced" as the menu describes. The rub on the meat was redolent of soy and maybe lemongrass. The generous portion was cooked medium rare, which meant that the meat was still tender, if a little fatty. The plate came with a nice mixed green salad and a dish of what we thought was cilantro-and-soy-laden dipping sauce but was actually salad dressing. The beef, though, didn't actually need any additional flavor. It was delicious just as it was.
The only modest disappointment was the grilled pork vermicelli dish. The noodles were thick and a little bloated, and the meat was more baked than grilled in appearance. However, the accompanying fried eggrolls were delicate and not too greasy.
We made the rookie mistake of ordering boba tea and smoothies first. This mattered only because the drinks were exceptionally tasty and filling. The boba were perfect (not mushy, not rubbery), and the Mocha Madness was far superior to any other frozen chocolate-coffee beverage in town.
Sprout's features amazingly fresh food that may be a touch dumbed-down to the palates of the neighborhood –– the place sits near a Jason's Deli, a Marble Slab, and a Simply Fondue. But if you're looking for simple, no-fuss Vietnamese food or for a quick bite before launching off to Jerry World, Sprout's might just do the trick.
Sprout's Spring Roll and Pho
780 East Road to Six Flags, Ste 238, Arlington. 817- 860-ROLL (7655).
10:30am-9pm Mon-Sat, 10:30am-5pm Sun.
All major credit cards accepted.
Spring rolls $3.95
Duck and mango spring rolls $5.95
Beef noodle soup deluxe $6.95
Grilled pork vermicelli w/eggroll $7.95
Korean barbecue beef ribs w/rice $7.95
Boba tea $3.25