Once chicken feet have become part of a building's history, they seem to be there forever. Arc-En-Ciel and Empress Palace have gone, but the "Dim Sum" banner is up again at the high-turnover anchor of this Little Asia strip mall, below the newest occupant's sign: A-1 Super Buffet (2208 New York Ave. at E. Pioneer Pkwy.). It's not really dim sum by Chow, Baby's definition, which requires cart ladies to bring the weird (steamed chicken feet) and/or yummy (pork dumplings) Chinese small plates right to your table.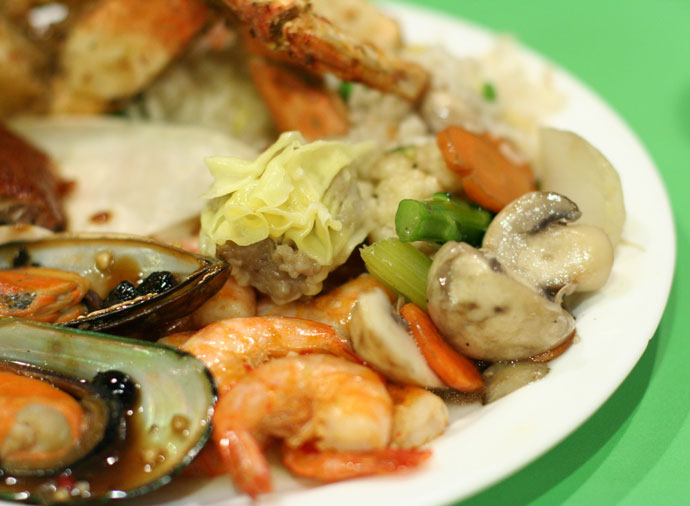 Lacking table service, A-1 Super Buffet is "merely" an incredibly super-duper buffet ($12.99 on weekends), with so much great and/or weird foodstuff we almost didn't mind fetching it ourselves.
A dozen buffet steam tables take center stage in the huge, glowy, Asian-modern room, which also serves as a disco and a wedding venue. Here's some of what Chow, Baby sampled: six kinds of dumplings, cheese-covered mussels, barbecue duck, steamed pork bun, sesame chicken, crab balls, three kinds of chicken feet (if by "sampled" you mean "looked at"), baby octopus in green sauce (ditto), beef and broccoli, sushi, pork ribs, and more dumplings. From the eight-soup station, Chow, Baby picked one that it dubbed "A Day at Galveston Beach" for its overpowering aroma of crusted salt, seaweed, and long-dead fish. That wasn't too pleasing, so on to desserts: fresh fruit, orange and rainbow sherbet (if there was red bean or green tea ice cream, Chow, Baby missed it), and those addictive mini egg custard pies. And that was about a tenth of what was there. If you don't mind getting exercise during a meal, this super buffet is well worth the effort.
Positive Chain Reaction
Two of Chow, Baby's deeply held beliefs: (1) Chains suck. (2) Restaurant-recommending readers are always right. The inevitable conflict finally arrived in Chow, Baby's in-box: Loyal reader Rick insists that Rockfish (several locations, because it's a chain) is a great restaurant. Chow, Baby let Google pick a location (3785 S. Cooper St., Arlington) and cringed all the way over.
Ooh, what a surprise for a chain restaurant: whimsical signs. The one over the bathrooms says "2-P"; har har. Stupid appetizer names? Check: Very Gouda Spinach Dip ($7.47) — get it? get it? — huh, it really is gooey-good, dotted with chunks of artichokes and sun-dried tomatoes. Well, let's knock ditzy chain waitresses — nope, can't. Server One-n Jenifer was not just nice and attentive, she also knew the menu and the board specials inside and out — not really an issue for Chow, Baby, who can read, but the next table over couldn't stump her with even the stupidest question. Dumbed-down chain food? Chow, Baby's board special, Copper River salmon ($16.99), was thick and gorgeous, perfectly cooked, with a nice crispy edge and great fresh flavor. A side of "wild rice" was mostly white rice with a few black grains, but planks of roasted sweet potatoes were quite satisfying.
Chow, Baby wound up being so charmed by Rockfish that it didn't even order a "New Orleans po-boy" (oyster $8.96) so it could bitch about the bread. Rick, you were right, of course: Rockfish belongs in Chow, Baby's teeny Chains That Don't Suck category, joining Whataburger and, oh, what was that other one? Chow, Baby was pretty sure there was another one. Eh, a reader will know.
Contact Chow, Baby at chowbaby@fwweekly.com.