Chow, Baby was uncharacteristically indecisive at Lone Star Bar-B-Que (6320 N. Beach St., in the Fossil Creek suburbs of Haltom City). For broad-sampling purposes, Chow, Baby's usual barbecue order is a three-meat plate (nicely priced here at $10.75) — but which three of Lone Star's 10 succulent-looking meats? Ooh, a lunch special of meat-and-two was a bargain at $5.99; maybe two of those?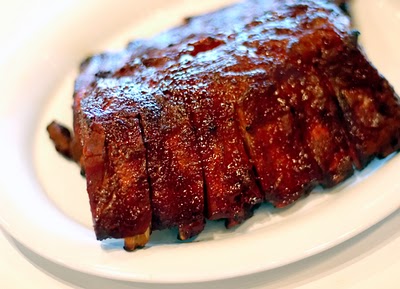 No, because the lunch special is "meat (except ribs)," and Chow, Baby's tipster had specifically praised the fall-off-the bone pork ribs. Feeling the pressure of the ever-building hungry line behind it, Chow, Baby went back to Plan Three-Meat Combo and randomly pointed at mains and sides.
Similar how-to-choose problem at the end of the counter: peach cobbler, berry cobbler, brownies, cookies, all looking too delicious. Co-owner/cashier Targ came to the rescue, recommending the housemade banana pudding ($2.10) — like banana-flavored Cool Whip, it was, dotted with bananas and crunchy Nilla wafer, with an extra dollop of banana flavor and a hint of vanilla. Admittedly, Chow, Baby gets more excited about banana pudding than most people, but seriously this was the best ever in the pantheon of Southern mousses. As Chow, Baby ate that first, the rest of the meal had a lot to live up to. Sides of non-gooey mac & cheese and bland pinto beans weren't even trying. If you like your brisket lean rather than fatty, this is the one for you; Chow, Baby found it tender and beautifully smoke-ringed, yet unpleasantly dry and crumbly. (Lovely sweet, clingy sauce helps a lot.) Sausage was fantastic: smoky, crisp-skinned, highly hearty.
And then there was the amazing chicken, each piece of which Chow, Baby had to hold with two or even three hands, it was that fall-apart. With a light rub, a marvelous smoky flavor, and plenty of natural juiciness, this was definitely the finger-licking-good winner among the tasted meats. Whoops — Chow, Baby completely forgot to try the heralded pork ribs. Well, it won't mind making another trip to Lone Star, not at all.
North Main Classic
Nothing newfangled about Cattlemen's Steak House (2458 N. Main St.), founded in 1947 and not changed a whit since. It's what you call not just old school, but (leaning back in the not-too-comfy dining chair, eyes rolling a bit) omigod this place is so oooooold schoooool.
In truth, this Stockyards stalwart was updated in 1996, when a restaurant group bought it from the original owners, but you can't really tell. The main room is dim and low-ceilinged, with no booths and no decoration other than the slightly creepy portraits of 1950s prize-winning cattle. The house salad is mostly … iceberg! With, natch, slivers of carrots and red cabbage, doused in the quintessential steakhouse dressing (blue cheese). Our traditionally cordial and professional server, Joy, next delivered Chow, Baby's Heart O'Texas rib-eye (11 oz, $29.95), a perfectly seared-and-pink hunk of well-aged, highly marbled beef. No grass-raised this, no free-range that, just timeless, robust corn-fed flavor. Of course the baked potato came with the classics: cheese, sour cream, bacon, and chives. Chives! Chow, Baby's retro blast was capped with cinnamon-buttery apple pie ($6.25) a la mode ($1.50). Cattlemen's prices may have kept up with the times, but Chow, Baby left feeling 60 years younger.
Contact Chow, Baby at chowbaby@fwweekly.com.