Before her starring turn on America's Top Chef on Bravo in 2007, Casey Thompson was building her profile by dishing out Asian fusion at Shinsei in Dallas. She had worked her way up to the executive chef spot there after years of sous-cheffing at the Mansion on Turtle Creek.


She left Shinsei in 2008 and recently opened her own place, Brownstone Restaurant and Lounge, in the West 7th Street corridor, with business partner Sam Sameni, who owns a couple of Dallas nightclubs. Now a celebrity chef in cahoots with a Big D nightlife impresario is enough to make a Fort Worth food critic a tad queasy. But keep an open mind when you step into Thompson's Southern-inspired eatery.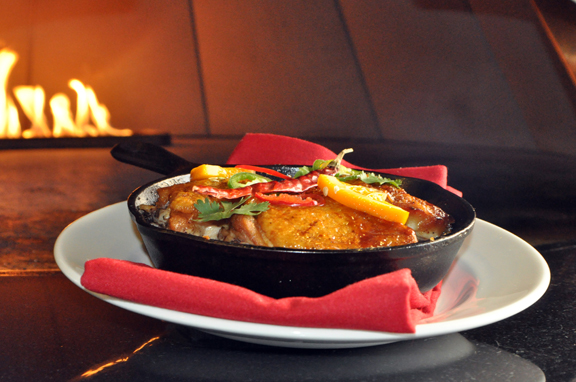 The restaurant looks beautiful, a combination of feminine-sexy and down-home comfortable: floor-to-ceiling gold curtains, lush brown, gold, and red décor, comfy chairs, and, in the front room, an "intimate library," according to www.brownstonerestaurants.com. The color, décor, and layout combine to make the place look like a great chick restaurant, and I was glad I'd brought along one of my favorite chicks to enjoy it with me. Unusually for a restaurant open only a few weeks, the staff seemed well-trained about the menu and the beverage list. It's almost like Disneyland: All of the blue oxford-shirt-clad employees seem to have bought into the vibe and the "chef's vision," as our server said. And it's a place where they keep your tea glass full.
The menu, which will evidently alter slightly with the seasons, features both simple dishes fancied up and some fancy, technique-heavy stuff. There's also a drink menu full of Prohibition-era cocktails that, sadly, are too confusingly described to seem appetizing. Opt for a smaller plate meant to be shared if you're only nibbly, or go for the more robust, "dinner-size" plates if you actually want, well, dinner.
We started with the smoked beet and chickpea purée, on the recommendation of our server, who said I'd barely be able to taste the beets. He was right — the dish was basically a pink hummus with a lovely, salty, mildly garlicky flavor. We gushed about the oh-so-pretty presentation of olive oil-dabbed heirloom tomatoes, scallions made to look like flowers, and the cute pink dish itself, which came with crusty brown bread for dipping.
The Kobe beef cheeks over spoonbread were also a delight. The dish was a super-deluxe pot roast, and the meat literally fell apart at the touch of a fork. The tart cherry sauce all around the dish was sweetly spicy. The custardy spoonbread was a homey cornbread with whole corn kernels, and it was delicious, especially for soaking up the brown gravy.
The chicken-stuffed chicken featured a salty, savory chicken breast stuffed with dark meat and seasonings over smooth, not-too-spicy grits. Again, the dish looked as good as it tasted, accompanied by a beautiful microgreen garnish and roasted pearl onions. The grits were fine, although in Fort Worth, when a menu says "grits," you assume that perhaps the grits will come with more chili pepper-infused flavor.
For dessert, we settled on the vanilla cheesecake custard and again cooed at the imaginative presentation –– the dish is homey-fancy, served in a mini-mason jar. And it's inventive: a crust-less cheesecake topped with berries and served with a lemon sugar cookie. The custard was thicker than a regular custard but thinner than cheesecake filling and not too sweet, which made it a perfect mix for the sweet blueberry topping. Although we didn't see chef Casey, sous chef Ian made several rounds to see if we were happy with everything. We were. He waxed poetic and political on the state of fresh food and the problems restaurants are now having getting seafood from the Gulf of Mexico.
Fort Worth is not short on female chefs who pride themselves on using local or regional organic ingredients to create seasonal menus. To that list — which includes the Modern Art Museum of Fort Worth's Dena Peterson, Nonna Totta's Donatella Trotti, Bistro Louise's Louise Lamensdorf, and relative newcomer Molly McCook of Ellerbe Fine Foods — we can now add Thompson, whose Brownstone stands on its own as a quirky, charming new place.
Brownstone Restaurant and Lounge
840 Currie St, FW. 817-332-1555. 5-10pm Tue-Thu, Sun, 5-11pm Fri-Sat.
All major credit cards accepted.
Smoked beet and chickpea purée $7
Chicken-stuffed chicken $22
Kobe beef cheeks $24
Vanilla cheesecake custard $7