After a six-month absence, Metropolitan Classical Ballet is back with a four-ballet program Saturday at Texas Hall on the campus of University of Texas at Arlington. Guest dancers and returning principals from previous years will highlight the program.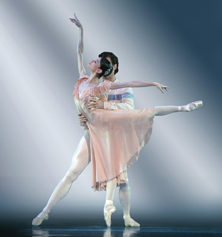 Co-artistic director Paul Mejia will revive two ballets from the company's repertory, his Brahms Waltzes for 13 dancers from the composer's Op. 39 collection, and Café Victoria, with music by the popular Argentine composer Astor Piazzolla. Both ballets feature Vilia Putrius and Mindaugas Bauzys, who left the company to join the Boston Ballet and currently perform with Festival Ballet Providence in Rhode Island. The ballets will have live accompaniment by pianist Gleb Ivanov, who for the Piazzolla piece will be joined by violinist Eric Grossman and bandoneonist Hector Tito Castro.
Mejia has also created a new ballet, Valse Scherzo, set to the piano music of Tchaikovsky, for company regulars Marina Goshko and Andrey Prikhodko, accompanied by Gelb.
Rounding out the program will be a revival of Leonid Lavrovsky's Walpurgis Night, originally choreographed for the Bolshoi Ballet using Gounod's music and staged here by company co-director Alexander Vetrov, who danced the ballet as a principal with the Moscow company some years ago. Guest principal Evgeny Lushkin will join the full company of 14 in the ballet. –– Leonard Eureka
MCB performs at 8pm Sat at Texas Hall, 701 S Nedderman Dr, on the UTA campus, Arlington. Tickets are $10-30. Call 817-275-0598 or 817-465-5655.