Devin Leigh's twisted, curvy career path has taken him miles from his Fort Worth hometown. In 2000, after a brief stint at Texas Tech University, Leigh began playing guitar for such marquee artists as Bleu Edmondson and Becca Dalrymple, both of whom toured all over creation. But a few months ago, after years of living out of a suitcase, he felt the pull to come home. Maybe he's here because his daughter, Maddy, is at that age when Dad should be around to meet potential boyfriends. But it may also have something to do with the music in Leigh's head.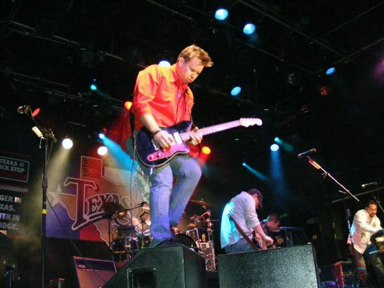 Leigh has always written his own material, and since coming home in mid-May, he's been writing at a feverish clip, hoping to record soon or at least be able to add a lot of his own music to his sets: Since May, he has played close to 100 shows, from Fort Worth to Austin to Colorado. Although he plays mostly solo, he has occasionally joined forces with Austinite-via-Fort Worth Jason Eady. Doing the solo thing, Leigh has had to adjust his perspective a little. "It's easier to play for 2,000 than it is for 20," he said. But Leigh's not shy. He's funny, and his unrehearsed banter keeps the times between the songs interesting.
Leigh's inaugural foray into professional music was Hillbilly Café, a band that he formed with brother Jason Steinsultz on drums and bass player Ed Cannon in 1997. Their influences were of both the rockabilly revival variety and punk. "The bands I got into were influenced by the wild, raw basics of rock music, the three-chord stuff," he said. "It's not complicated music to make."
By the end of its first year, Hillbilly Café had received accolades from Fort Worth Weekly readers, who voted the band both best country and best rock band of 1998 in our annual Music Awards.
And then swing music exploded. Between Brian Setzer's cover of "Jump, Jive, and Wail" and those annoying, ever-present Gap commercials, swing was all over the place. Hillbilly Café was lumped in with other swing bands, even though the band offered a lot more. It rocked and rolled just as often as it jumped, jived, and wailed. "Then one day, it just all ended, and swing was yesterday's news," Leigh said. "At that point, everyone went their separate ways. I started exploring roots music outside the rockabilly realm."
He played with Stephenville's Dalrymple, whose traditional bluegrass was a world away from his cowpunk style. He found himself at a place where hardcore country and jump blues intersect, and he liked it. Leigh also journeyed back musically to the Delta and Chicago blues musicians who influenced rock 'n' roll's white originators.
In 2005, Leigh joined forces with Dallasite Edmondson, who was at his own kind of crossroads, not having released a studio album for several years. Leigh and Edmondson's collaboration, 2007's Lost Boy, sounded different from anything either had produced before. The CD also gained a level of success outside Texas. Although Leigh's edgy, rock-driven riffs were the furthest thing from traditional country music, Nashville came calling. When corporate music gets involved, Leigh said, it changes the way the music gets made. "Someone tells you, 'I really like what you're doing!' " he said. "But then they want you to do it a different way. You lose a lot of what made you interesting in the first place."
Leigh became the only constant in Edmondson's band, and the two toured for five years supporting Lost Boy and a Live at Billy Bob's CD.
Over the past year, Leigh was traveling so much that it was difficult for him to write. In April, Leigh and Edmondson amicably parted ways. "Devin is an incredible guitar player, and I feel lucky to have had him in my band for as long as I did," Edmondson said.
Leigh believes that freedom from the road and the uncertainty of his next move have kick-started him. Songs by Bob Marley and Lyle Lovett mingle with his originals, many of which were written over the past couple of months.
When he's asked to define his music, he shakes his head. Having been down that road, he's reluctant to confine himself, at least for the time being.