Acoustic guitar virtuoso Darrin Kobetich has traveled quite a few miles –– both figuratively and literally –– since he first mixed folk and bluegrass with his metal back in the early aughts as a member of Amillion Pounds. Starting out as a weekly Friday evening happy-hour ritual at the late, lamented Wreck Room, his solo act has become a fixture at Fred's Texas Café and Hip Pocket Theatre, and he's toured all over Texas, Colorado, and Louisiana.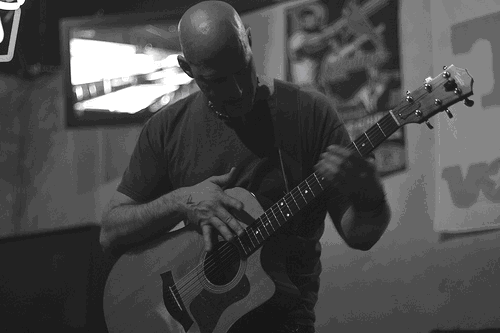 His playing has evolved as well. Proceeding from a foundation of Zep III-era Jimmy Page, 6 & 12 String Guitar-era Leo Kottke, and Breakfast in the Field-era Michael Hedges, he has incorporated more ragtime and old-timey influences to his blend of breakdowns, blues, and raga. For proof, see his new disc, Songs for a Muse Meant, specifically the opener, "In the Fort" (the title refers to Fred's fenced-in patio). Two other cuts, "That Day" and "Eyes For Miles," roll like lazy rivers, conjuring images of evenings spent around Kerrville campfires, and rank among the loveliest pieces their author has ever recorded. Other tunes (like the meandering "Quiet in the Valley" and the 12-string showcase "One Night in Niwot") feature surprising tonal and rhythmic shifts. The flatpicked "Blurred Vision" charges ahead with a demented Eastern European vibe, while "Similar Creatures" employs an unusual percussive attack and atonal sounds.
A home recording of exceptional presence and clarity, Songs for a Muse Meant places its creator in the first rank of contemporary practitioners of the solo guitarist's art. — Ken Shimamoto
Heavenly, ascending group-sung harmonies, romantic escapism, working-class ballads sung with a poet's grace — groups like Whiskey Folk Ramblers remind us that some things never go out of style. On … And There Are Devils, the band's latest release, those timeless qualities are polished to a brilliant sheen. Merging ragged, Prohibition-era folk with the gunslinging guitars of a gritty Ennio Morricone spaghetti Western, this is the most assured material that Whiskey Folk has released yet.
The band has always had a talent for sounding out of time and place. Songs like the gypsy heel-stomping of "Pies of Old Kylene" stand as further testament to that. Frontman Tyler Rougeux whips up an infectious, dance-worthy frenzy purely through his playful delivery of the chorus, displaying the group's distinct, intimate knowledge of rhythm: As the players begin to rapidly shift the tempo, you're whisked away by their charming romance, absorbed into their weary, lonesome, and moving world. On "Easy Climb," Rougeux is backed by wheezing accordion and sunset-streaked horns. All of the songs here bloom subtly, their choruses burrowing inside you.
Whiskey Folk has a knack for using every instrument to its fullest potential without cluttering its sound in the process, finding virtue in beautiful simplicity. On the midnight highway ballad "Concrete Bed," gloomy group harmonies conjure up imagery of wandering in solitude. As lone piano keys are struck, the sound of each individual plink hair-raising, the guitar chords glisten, gracefully coming to life like a rare desert flower touched by moonlight. Other songs, such as the instrumental closer "Night of the Indian Man Morning," glide confidently on the strength of their evocative moods, guided through the darkness by Spanish-inflected horns and sparse string arrangements.
… And There Are Devils' depiction of a mournful, haunting West is so potent, you may find yourself cherishing the dust. Songs this homespun and charming are rare antiques. — Cole Garner Hill
Like vampires, thrash metal can't seem to stay buried. Established more than two decades ago by godfathers Anthrax, Testament, and Exodus, the genre blends metal's grand schemes with punk's hyperactivity, along with a healthy dose of (gasp!) melody. As with all genres, thrash eventually splintered off into a million sub-genres (death, speed, rap), sending original thrashers to the shadows of obscurity –– until now.
Straight outta Texas and in the footsteps of Pantera comes Warbeast, featuring ex- members of legendary North Texas thrash bands Rigor Mortis, Gammacide, and Demonseed. Produced by former Pantera frontman Philip Anselmo and released on his record label, Housecore, Warbeast's subtly titled Krush the Enemy is 10 tracks of busting heads, exploding eardrums, and rhythms meant for only one thing: loosening your teeth. The flash comes in the form of former Rigor Mortis vocalist Bruce Corbitt, whose vocals are still strong and thicker than six feet of gravel, and also twin guitarists Rick Perry and Scott Shelby, both formerly of Gammacide. The rhythm section of former Demonseed drummer Joe Gonzales and Gammacide bassist Alan Bovee is tighter than a leather noose and capable of pounding like a two-ton wrecking ball or galloping like a jackhammer.
The band's ability to create nuances, especially in a stylistically constricting genre, is rare. The players pinball between traditional machine-gun thrash tempos and brutal stomping but never give the listener whiplash. The record also is finely produced. Anselmo, who's helmed albums by Pantera, Down, and Superjoint Ritual, among many others, keeps the mid-range clean and the low and high ends syrupy, guaranteeing a formidable punch.
Krush the Enemy doesn't reinvent the thrash genre. But the disc is a welcome addition and a must for old-schoolers.
— Justin Press
Simply put, Elizabeth Wills is a woman who plays acoustic guitar and sings country folk songs. Without any bells and whistles, without any flashy guitar solos, and without pretenses of any sort, Wills relies on her heartfelt voice to transform an ordinary kind of music into a timeless balm for common heartache.
Eight of the nine songs on Love Comes Home contain the word "love," but they're not necessarily romantic. Rather, they're about the kind of love that a woman can offer the world. In songs such as "Highway 82," Wills expresses gratitude for the good things in life. In a voice simultaneously mundane and divine, she sings, "But every day, she wakes up thankful for the sun / Thankful for the moon / And every day, she wakes up she knows that love will be coming soon." Wills' voice also conveys a gentle hope in the midst of heartbreak. In the pretty, finger-style guitar song "In the Broken," she sings, "There's peace in the broken / There's peace in the fall / But if your heart is open, it's not empty at all."
The tunes from Love Comes Home are unmarked by time. Producer Mark Hallman, who works for the nonprofit Bugle Boy Foundation in the Texas Hill Country, did an excellent job filling in the gaps of Wills' acoustic and piano compositions without distracting from her sublime, everywoman voice. In addition to doing the production work, Hallman plays most of the other instruments on the album, including bass, Hammond B-3, and accordion. Several talented chanteuses, including Sara Hickman and Betty Soo, contribute angelic harmonies. In the end, however, nothing steals the show from the simple truths that Elizabeth Wills has a real gift for telling. — Caroline Collier