Just up the escalator from the main entrance of La Gran Plaza is what has to be the most unusual food court of any mall in Fort Worth. You won't find a Chick-fil-A or an Orange Julius or any of the other staples of mall cuisine. What you will find is a restaurant whose menu features all of the various parts of pigs and cows that would scare away your average Anglo.


Salsa Limón is not your average taqueria. Besides its obscure setting (obscure to pale-skins, anyway), it serves what owner Ramiro Ramirez describes as "Mexico City street food": a concept that was born as much out of frustration as out of a passion for the cuisine.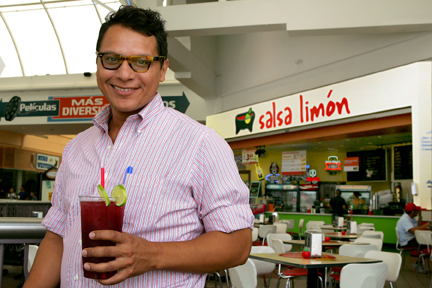 "I was born and raised in Mexico," he said, "and the idea that there was no high-quality Mexican taqueria [in Fort Worth] drove me crazy."
Hanging above the cash register at Salsa Limón is a pig with wings –– fitting, considering the staff's almost religious devotion to the ingredients.
After a brief stint at Southern Methodist University, Ramirez opened the restaurant about five years ago with a simple concept: Respect the ingredients. He hired a third-generation taqueria chef (or taquero) and immediately established street cred among area Hispanics. The food is a mix of simple "Mexico City" spices (achiote, chile de arbole, cumin, tomatillo, chile de piquin) and Oaxacan-style cuisine, which emphasizes fresh vegetables.
"We don't want to ruin something as good as a taco," by complicating the recipe, he said.
The tacos are served open-faced on a corn or flour tortilla with cilantro, onions, and your choice of salsa verde or habanera sauce. All six tacos on the menu on a recent visit were superbly cooked and evenly spiced. The cachete (cow's cheek) was a highlight. The meat was tender and fatty and had a fois gras quality to it. On recommendation of the staff, we ordered the carne asada (beef), served in a flour tortilla and topped with melted shredded cheese. The sweetness of the meat meshed wonderfully with the salsa verde.
The tripita (tripe) was crunchy and a stark contrast to another taco, the melt-in-your-mouth lengua (tongue), which made the idea of French-kissing a dead cow seem appealing. For the squeamish, the menu also includes marinated pork (pastor) and chicken breast. In addition, Salsa Limón offers tortas and quesadillas and quite possibly the best flan ever served in a mall.
The mall setting has its benefits, Ramirez said –– and its drawbacks. On one hand, being in a Mexican mall has helped him establish credibility and a loyal following among Hispanic customers.
"I'm really famous with the Mexican consumer, but that's how it should be," he said. "If you go to a Vietnamese restaurant, and it's full of Vietnamese people, then you know you have something."
On the other hand, Ramirez has been mostly a secret to gringos. But that may change. Ramirez intends to take Salsa Limón on the road. He is currently renovating a taco truck, which he plans to park next to the Chat Room Pub on West Magnolia Avenue at lunchtime and in the TCU area for late-night diners.
Salsa Limón
4200 S Fwy in La Gran Plaza, Ste 1099, FW. 817-921-4807.
10am-9pm Mon-Thu, 10am-2am Fri, 9am-4am Sat, 9am-12am Sun.
Taco (chicken breast, cow's cheek, pork)         $1.50
Taco (beef, tongue, tripe)          $1.75
Flan      $2.50