Chow, Baby's not clear exactly how, but surely butterflied shrimp are part of the global marketing conspiracy, the one that brought us Certified Angus Beef™ and "dried plums," formerly prunes. And the new, all-sexed-up "Clue" game, with hip backstories for the characters ("Kasandra Scarlet, star of screen and tabloids").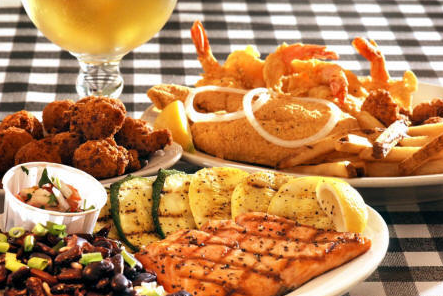 They all prey on our human need for love, excitement, and big food, and all ultimately — that is, after we've handed over our money — disappoint. You look at a butterflied shrimp — "Omigod how ginormous! Yummy!" but then pick the thing up and turn it sideways — "Wait, where'd it go?" Another score for marketing.
Other than the bait-and-switch, though, Chow, Baby's shrimp & oyster combo basket ($13.99, with tons of fresh fries) at Flying Fish (2913 Montgomery St.) was mighty fine. Butterflying increases surface area and thus the batter-to-shrimp ratio, but with Flying Fish's light, magically grease-repelling cornmeal coating, that's not such a hardship. The oysters tasted perfectly normal to Chow, Baby, probably because on its last two trips to New Orleans it's had to eat Texas oysters anyway (thanks a lot, BP).
Speaking of New Orleans, Chow, Baby was chauvinistically required to be offended by the whole-bean, non-creamy "red beans and rice" (side $1.99). But merely by mentally renaming the "BBQ shrimp po-boy" ($7.99) more accurately as "shrimp sandwich," Chow, Baby greatly enjoyed the several big (un-butterflied) shrimp on a squishy roll with lettuce, tomato, and pinkish sauce. Thankfully, Flying Fish's gooey, not-too-sweet bread pudding ($3.29) — note lack of snarky quote marks — is one Creole-inspired dish that needs no marketing hype: It's delicious from every angle.
Old Folks Home Away from Home
Chow, Baby didn't realize how much it misses its late grandmothers — one an aficionada of culture, beauty, and taste, the other a hypercritical penny-pincher, both great influences — until it had Sunday brunch at Le Peep (2113 Harwood Rd., Bedford). Grandmas at every table! (And parents and kids, but they didn't spark any fond feelings.) Le Peep looks like a big, comfy, Southern-gracious back porch, made airy by fans with leaf-style blades; the decorating theme is ivy, spilling from planters and printed on wallpaper and tablecloths. It looks like where good grandmas go when they die.
These grandmas were still kicking, though, as were the grandkids, often at the back of Chow, Baby's chair. Perhaps the young'uns were frustrated at the impenetrable six-page menu, featuring sections like "Mollycoddles" (egg dishes) and "Cockledoodledos" (egg dishes). Highly attentive waiter Pepe couldn't comprehend a non-regular visitor's struggle, advising Chow, Baby to "Just get what you usually get." OK, uh, the "Yankeedoodledo" ($6.95), a.k.a. a normal breakfast of two eggs, regular ol' sausage patties ("They're spicy," Pepe automatically warned; they weren't), grits, and a heated-up roll. Except for the name, the dish was satisfactory.
Others weren't as pleasing. "Grilled Great Grazing" ($7.95) featured a largish but overcooked chunk of salmon atop a salad of unripe tomatoes and ribby romaine. Seafood crepes ($7.95), chosen for their unusually non-whimsical name, were a mushy and remarkably flavorless blend of krab, mushrooms, and diced tomatoes under a purported hollandaise sauce. Is this how we treat our revered elders now? With every dish, presentation and taste were lacking and satisfaction was much less than the price. Rocking chairs and conscientious service aside, Chow, Baby can't imagine either of its grandmas liking Le Peep.
Contact Chow, Baby at chowbaby@fwweekly.com.