If you missed the one-week run of Joan Rivers: A Piece of Work at AMC Grapevine Mills, don't despair. Ricki Stern and Anne Sundberg's documentary portrait of the standup comic/TV talk show host comes to the Modern Art Museum of Fort Worth this week.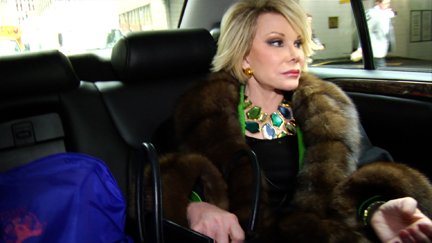 The filmmakers spent a year following Rivers, during which time she turned 75, starred in an autobiographical play of her own writing in Britain, competed on The Celebrity Apprentice, and tried to get any gig no matter how small (cruise ships, tiny New York-area clubs, a TV commercial for a penis-enlargement drug). A cynic could say her unquenchable appetite for work comes from a need to fund her lavish lifestyle — as the camera takes in her Manhattan apartment, she cracks, "This is how Marie Antoinette would have lived if she had money!" Yet there are clearly deeper issues in play. She obsesses about raising her profile and frets about the gigs she's lost to Kathy Griffin (who's also interviewed for the film and expresses genuine respect for Rivers' work as a trailblazer). Through it all, her insecurities are prominently on display, as tepid reviews in London stop her from taking her play to Broadway. She's really a frustrated actor who lacks the confidence in her abilities to brave negative press. Her dysfunctional relationship with her daughter gets aired too. Stern and Sundberg don't ask enough tough questions of Rivers, but this 75-minute film still gives you an extensive glimpse of the mind behind that surgically ruined face.
Joan Rivers: A Piece of Work runs Fri-Sun at Modern Art Museum of Fort Worth, 3200 Darnell St, FW. Tickets are $6.50-8.50. Call 817-738-9215.