Resort to Failsafe is an Aledo band that's going places, a statement that I freely make not because I just read a glowing article about the band in some national magazine or because I just heard one of the band's songs on the radio but because, basically, I listened to some tracks off the band's debut outing, an eponymous EP recorded at Fort Worth Sound, and thought, "Hmm. This band's really good. They'll be going places."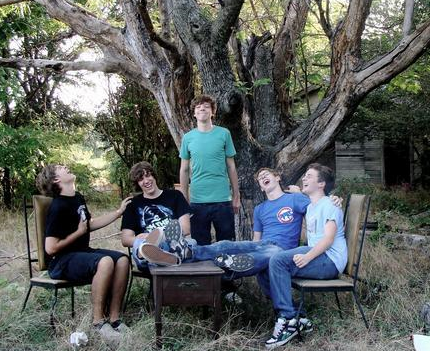 Thus spake HearSay! Seriously, though, the songs are well-structured and full of the stuff of radio-ready metalcore: twin guitars that are alternately crunchy and airy, machine-gun double-bass drumwork, catchy melodies, and vocals that go back and forth between sweet, my-balls-haven't-dropped-yet plaintiveness and gravelly in-your-face screamo. Incredibly, Resort to Failsafe doesn't seem to be too busy. The band has only one show coming up, though it's a good'un: opening for the biggest metalcore band to ever come out of Fort Worth, Sky Eats Airplane, on Sunday at Ridglea Theater (6025 Camp Bowie Blvd., 817-738-9500). Also on the bill are For the Fallen Dreams (Michigan), Upon a Burning Body (San Antonio), Fit for a King (Tyler), Dear Creator (Dallas), Set Fire Set Sail (Dallas), and We the Fearless (Crowley), among others. Resort to Failsafe is tight, super-professional, and proficient, and, even though I know that the music biz –– nay, life itself –– is unfair, Resort to Failsafe is going places. Hopefully not to Splitsville anytime soon.
Nothing says, "Back to school" like a little surf-punk, right? Remember all of that Beach Blanket Bingo-ing that you used to do before the end of summer every year? Twistin' in the sand until your soles were raw and all that? No?! Well, I do. And you looked pretty damn silly. Anyway, Icicle & the Kid remember those days, which is why the Ventures-ish Fort Worth outfit is playing on Friday at the Aardvark (2905 W. Berry St. by TCU, 817-926-7814), on the very weekend before the purple people starting piling into town to prepare for the fall semester. Icicle & the Kid, whose lineup includes members of the legendary '60s-era teen scene band the Fort Worth Cats, churn out mostly instrumentals full of rapid-fire guitarwork, everything wholly reminiscent of "Pipeline," "Diamond Head," and "Wipeout." Also on the bill are two up-and-coming 817 acts: Webbed (a jam band with strong pop proclivities) and the Dirty Dandies (a little Stones-ish, a little The Band-ish).
Loda Dimes isn't a great band, but the Fort Worth trio has its moments, and the best are usually full of twangy, meandering guitarwork and strong vocal harmonies. Judge for yourself on Friday at The Grotto (517 University Dr. in the Cultural District, 817-882-9331), when Loda Dimes plays with two other Fort Worth acts that err on the side of pickin' and a-grinnin': roots-rockers Braker Lane and 3 Rivers Alice.
An Arlington power trio about which we raved last week ("Killer or Filler?" Aug. 4), God's Joke is performing on Friday with Neptune Locals and an out-there Fort Worth outfit called The Bible Fire at Liquid Lounge (2800 Main St., Dallas, 214-742-2336). (The Bible Fire is also playing on Saturday at The Bandwagon in the Stockyards.)
Contact HearSay at hearsay@fwweekly.com.