Have you been by Finn MacCool's lately? Well, hurry it up, and when you go, be sure to say something nice about the bar's new addition — Finn's has expanded into the recently vacated storefront next door on 8th Avenue, moving the pool tables and dartboards from the back room to this newly renovated lounge area.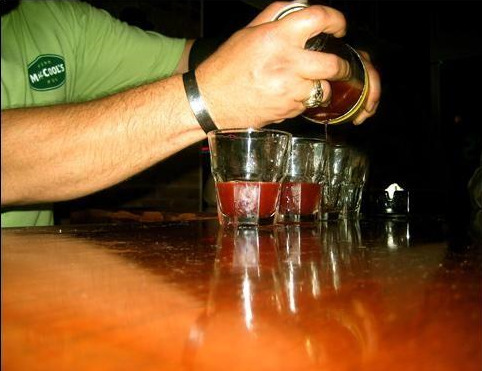 I say "lounge" because the bar's new "wing" has a conversation pit of sorts. You might see little more than a low circular table surrounded by some chairs, but half a wall separates this intimate area from the bar sports. And if you use your imagination, it's easy to see how a '70s-style key party could have its genesis there.
OK, OK, that's probably kind of gross, but it's nice to see this classy Irish pub in the Hospital District broaden its square footage. But that's not all: Finn MacCool's is also broadening its horizons. Used to be that you'd walk in past the long bar and find the old lounge, where you could shoot a game of Cutthroat or Nine Ball and marinate in a comfortable chair. This area, however, is currently inaccessible to the public, at least until the fall rolls in, when it becomes a sandwich shop connected to the pub.
I know. I love sandwiches too, and they go great with beer, which I also love. Finn MacCool's will be serving sandwiches from lunch until the early evening, and you can bet that the joint will be a happy-hour favorite. I don't know what the food or drink specials will be, but I had a Miller Light draft for $2 the other night, so I am eager to find out. –– Steve Steward
Too Cool For Cheap Drinks? Neither Are We
Speaking of specials, if you're thirsty for cheap beer, go to the Wild Rooster. I gave the bar another try on Thursday (see: "Bright Lights, Big Rooster," Aug. 4), and I had a good time. The room was dimmer, and the music was, well, the music was fine, I guess. At least it was live and performed by capable hands: JZ and Dirty Pool played an acoustic set consisting largely of covers. I'd say they played to the crowd –– if I never hear "Oklahoma Breakdown" again, it will be too soon, but JZ and company made for decent background music (too bad they couldn't plug in and play loud). What really made my night, however, was the Rooster's beer special: Cans of PBR and Lone Star were only $1.50. Better still, that's the all-day, every-day price, and the bartenders are quick to offer you fresh ones.
Of course, like television and Guitar Center, there is always someone who will go lower. If cheap drinks aren't enough for you, then you need to go where they're practically free. Spencer's Corner often offers $1 wells, and sometimes you can get a well drink there for 50 cents. I've heard people complain that Spencer's is cheesy, what with its disco ball and checkerboard dancefloor and all. But you know what? I watched Jefferson Colby and Pablo and the Hemphill 7 there on Sunday night, and I had a blast. For one thing, the sound is great. Sure, the sound guy, when he's announcing, sounds like a DJ at a topless bar (and given the assorted bikini-bod contests regularly held at Spencer's, he kind of is), but damned if he doesn't get a good mix. For another, the bartenders whom I've encountered there have all been top-notch, and Spencer Jr. is a good host. Throw in oddball, between-bands contests like turtle races, and a night at Spencer's Corner is pretty fun. –– S.S.
Contact Last Call at lastcall@fwweekly.com.