Back in 1992, Jubilee Theatre artistic director Ed Smith saw a Los Angeles production of Sheldon Epps's jazz and blues revue Blues in the Night. Although it starred his friend, the soul singer Freda Payne, he wasn't much impressed by the staging. What did wow him was its collection of 26 standards originally made famous by legendary female singers like Bessie Smith, Alberta Hunter, Ella Fitzgerald, and Ida Cox.


"The songs in this show have been a part of my life for a long time," Smith said. "My two favorite songs in the world are 'Lush Life' and 'Willow Weep for Me.' And the raunchiness of some of the material is wonderful. When I was growing up, you'd listen to Dinah Washington sing about searching for her 'long, tall daddy.' They wouldn't play it on the radio. You'd have to hear it on the jukebox."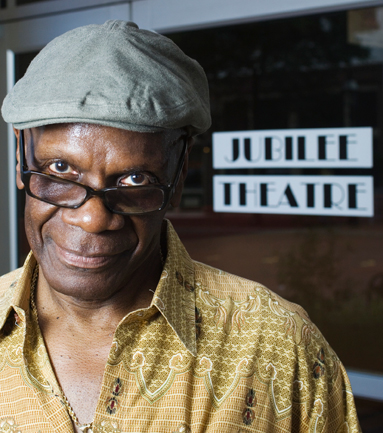 The current Jubilee production of Blues in the Night is meaningful to Smith for another reason –– it's his final bow as artistic director for the company. He announced his resignation from the post back in March. His final day in the office will be Aug. 31. Smith took the job in the summer of 2006, about a year after Jubilee's much-loved co-founder and artistic director Rudy Eastman died unexpectedly.
"This has been a very mystic journey for me," Smith said of ending his tenure by directing a show of such personal significance. "The four years at Jubilee have been wonderful. I had a chance to work with a theater that's moving in a direction of excellence that I hope will continue. I just felt it was time to move on and tackle other projects."
Jubilee board president Joy M. Thomas said in a statement, "We have enormous respect for Ed, and we're thankful for his work on behalf of Jubilee Theatre. He helped the theater remain stable, and even grow, after the difficult loss of founder and artistic director Rudy Eastman. We look forward to Ed returning as a guest director in the future."
Smith is an author, a longtime jazz radio DJ, an academic with a resumé of university positions at UCLA and State University of New York at Buffalo, among others, and a founder or co-founder of theaters in Canada, Alabama, and Buffalo. He has long espoused the theory that theater is the closest of any art form to jazz music, with actors comparable to musicians in their complicated use of live improvisation, harmony, rhythm, and counterpoint. Whatever the explanation, there is little doubt that Smith kicked up the professionalism and artistic daring of Jubilee Theatre's productions by several notches. He increased the use of Equity actors to three or four a season. He brought in artists from Texas Christian University, where he continues to work as an adjunct professor, as collaborators. (TCU has created an Ed Smith scholarship, which is awarded to one African-American theater student each year.) He introduced a Monday night series at Jubilee that included jazz, gospel, and spoken-word performances. And he has consistently staged the emotionally complex works of the legendary black playwright August Wilson.
"I wanted to familiarize the community with Wilson, so we started off [my first season] with Joe Turner's Come and Gone," Smith said. "Later on, when we did A Lesson Before Dying" –– Romulus Linney's grim but beautiful adaptation of Ernest J. Gaines's novel about a young man wrongfully sentenced to the electric chair –– "I thought, 'Let's see if I get run out of town for doing this type of show.' But I was impressed with the audience turnout and the response. After that, I knew I could get away with The Bluest Eye," Lydia R. Diamond's lyrical adaptation of Toni Morrison's even grimmer debut novel.
After the current Blues in the Night closes on August 22, Smith will hang around Fort Worth for a while. In addition to his TCU gig, he's got two freelance directing jobs coming up. One is out of state, and one is in Dallas, a city whose much-ballyhooed downtown performing arts complex makes him think that North Texas is an excellent place for theater artists to make a permanent home. And he may do just that. Although he insists that his experiences in Fort Worth have been on the whole positive, a clue to why he's leaving his Jubilee post might be found when he discusses what it was like to step into the late co-founder Eastman's shoes.
"Someone told me, 'This would make an interesting case study: A new artistic director takes over from the man who founded the company,' " Smith said. "It's like a step-daddy trying to take daddy's place in the household. Some of the children like what he's doing, and some of them don't."
Blues in the Night
8pm Thu & Fri, 3 & 8pm Sat, and 3 & 7:30pm Sun thru Aug 22 at Jubilee Theatre, 506 Main St, FW. $12-23. 817-338-4411.