A festival favorite at Sundance, SXSW, and Tribeca, Get Low finally comes to our theaters this week (specifically, to a regular run at several local theaters –– the film is already playing at the Modern Art Museum of Fort Worth and in Dallas). This nostalgia-heavy period drama is supposed to be a farewell vehicle of sorts for Robert Duvall, who turns 80 in a few months and here portrays a character who is near the end of his life. Said character is also a recluse who's seen as a bogeyman by the nearby townsfolk, and for an actor whose very first film role was as Boo Radley in 1962's To Kill a Mockingbird, it feels like coming full circle.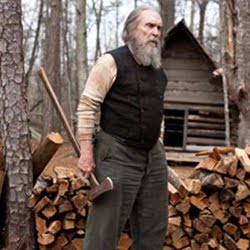 Despite all that, I haven't really bought into the idea that we're seeing Duvall's valedictory performance. Maybe that's because the actor appears to be in good health or because his Oscar-nominated drama The Apostle was supposed to serve that same purpose all the way back in 1997. Whatever the reason, I don't think we've heard the last from Duvall, which is perhaps why I seem to be somewhat more resistant to this movie's charms than most. Then again, Duvall's films in the past decade or so have wasted his powers, even the good ones like Thank You for Smoking and Crazy Heart. (One exception: Kevin Costner's 2003 Western Open Range.) Get Low reminds us what a magnificent actor he is, and it's good to be reminded of these things every once in a while.
The film is set in the 1930s in Tennessee's fictitious Caleb County. That is where old Felix Bush (Duvall) starts to feel his health failing, so he hitches up his mule, rides into town, and puts down a big wad of cash to enlist the services of Frank Quinn (Bill Murray), a funeral home director transplanted from Chicago. Felix tells him, "I reckon it's time for me to get low." The catch is that he wants a huge funeral party thrown for him while he's still alive. Since no one else is dying in their neck of the backwoods, Frank is desperate for business and takes the job.
Even if you haven't seen the movie's trailer (which gives away most of the best jokes, by the way), you can pretty much guess how everything's going to go: sepia tones on the screen, fiddle and banjo music on the soundtrack, a dark and long-buried secret in the main character's past that's revealed at the story's climax. Much of the film's first half is built on the comedy of Frank and his put-upon assistant Buddy (Lucas Black) trying to accommodate a client who says very little when he's not making unusual requests. At times almost drowning in homespun Americana, the movie plays like O Brother, Where Art Thou? at a slower pace and with much cutesier jokes. There really isn't enough material to fill out the 100 minutes of running time here. The movie would have been better off as a 40-minute short film. If there were worse actors playing the roles, we'd easily see how slender this thing is.
All this isn't to say that there's nothing here. The film is exquisitely photographed by cinematographer David Boyd, whose experience has mostly been on TV shows (Deadwood, Firefly, Friday Night Lights). He works magic with kerosene lamps and natural sunlight, dwelling lovingly over the burnished surfaces of Frank's caskets and the woodwork that Felix does in his spare time. First-time feature director Aaron Schneider is himself a former cinematographer, and he demonstrates a finely honed sense of composition and framing. Their contributions make this film a constant pleasure to look at.
The acting remains the best reason to see this film. The early scenes between Duvall and Murray are delicately underplayed for comedy, while the later ones between Duvall and Bill Cobbs (as an old preacher who knows about Felix's past) generate some high-powered drama. The supporting players are fine, but it's the star who owns the show. The movie builds toward Felix's speech at his funeral, a lengthy monologue that references a house fire seen at the very beginning. Duvall weaves it into a spellbinding story. How many actors would think to tell such a traumatic story while making sound effects ("Whsssh! Aaaah!") to describe what it felt like to be inside the fire, and how many would have the skill to pull it off? I'm still not sure whether Duvall elevates Get Low or outclasses it, but this scene and his expert performance as a whole are worth seeing all on their own.