Stage West has never been afraid to set up unique theatrical challenges for its actors. The company's 2007 production of Marie Jones' Stones in His Pockets featured two performers playing 15 Irish characters of different genders, ages, and education levels. 2009's The Norman Conquests was an Alan Ayckbourn domestic epic featuring three full-length plays set in different parts of the same house –– the actors performed the whole trilogy in repertory during one run.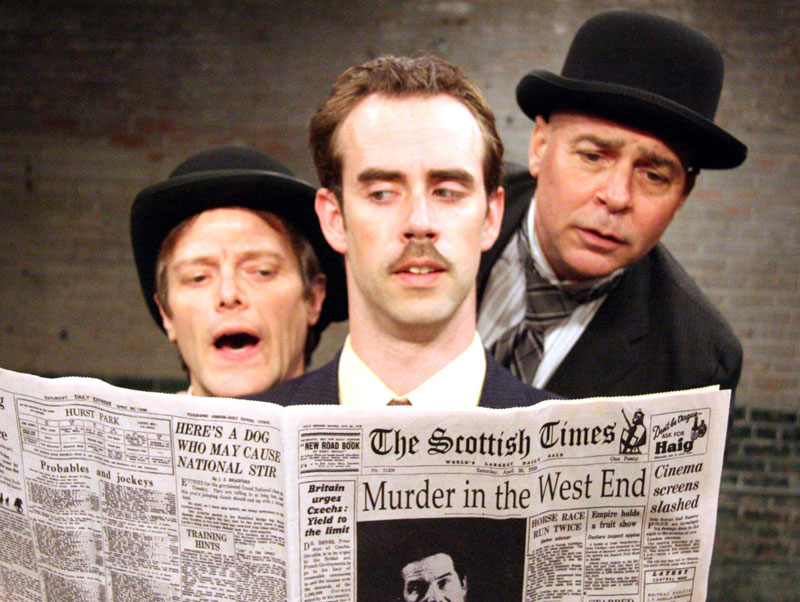 This weekend, the company is set to open Alfred Hitchcock's The 39 Steps, a comic and frenetic stage version of Hitch's reputation-making 1935 spy flick of the same name. Patrick Barlow's adaptation calls for three of the four cast members (played in Fort Worth by Lee Trull, Mark Shum, Michael Corolla, and Cheryl Lowber) to play more than a hundred characters embroiled in an elaborate German plot to steal English military secrets in World War I-era Europe. Costumes and accents are donned and doffed at a fever pitch. Numerous shadow, light, sound, and fog effects are accompanied by a barrage of punny references to other Hitchcock movies.
So what does Stage West enjoy more: thrilling its audiences or torturing its actors? According to Jim Covault, the show's director and the theater's artistic director, the challenge of mounting Alfred Hitchcock's The 39 Steps has been as much technical as anything else.
"We have minimal backstage space," he said, referring to a tiny area where stagehands must help the performers with nonstop costume and prop changes. "So what goes on back there is kind of like the game Tetris –– when something leaves, something else fills that space. All those props and set pieces have to endure a good deal of stress during the run."
Stage West built the framework of the play's set with its own designers but borrowed the moving pieces from their friends at Oklahoma City Repertory Theatre, who'd previously staged the chaotic show. Oklahoma City Rep, in turn, had used many of the same pieces from another production at The Repertory Theatre of St. Louis. Before becoming a U.S. regional favorite, The 39 Steps was a box office smash in London's West End in 2006 and on Broadway in 2008. And before that, Covault notes, the show originated at a tiny English theater in an even more stripped-down form with some very specific, somewhat obscure influences.
"The two actors [who play most of the quick-change roles] are referred to as 'the clowns' in the script," he said. "The structure of their dialogue is like a comedy routine you'd see at an English music hall in the 1930s; sort of like vaudeville but not quite. The audience doesn't have to know this to enjoy the show, but the cast has been extremely receptive and flexible in researching these things."
As director, Covault has been interested in watching the actors balance their duties as stagehands –– wheeling in a door or a window or carrying a table and chairs from backstage –– with their frequent, often lightning-fast character changes. Of course, that's where most of the high-wire comedy comes from and what makes Alfred Hitchcock's The 39 Steps the ultimate "meta" theater piece: The rickety mechanics behind theatrical illusion are on full display, and each performer must find a way to coexist with them onstage while keeping the intricate plot decipherable and the many roles distinct from one another.
Needless to say, the rehearsal process for this production has been longer and more intense than usual –– an extra week was added just to master all the technical demands. Covault said the experience has been a mostly happy one because the actors checked their egos at the stage door and were open to trying almost anything that would benefit the production. The director, in turn, was more receptive to suggestions from his performers.
"This show gave the actors a wide scope to have fun," he said. "Someone would suggest something, and my first instinct was, 'Oh, that might be too much.' And in another play, it would be too much. But in this show, it might turn out to be just the thing we needed."
Alfred Hitchcock's The 39 Steps
7:30pm Thu, 8pm Fri & Sat, and 3pm Sun thru Sun, Sept 26,
at Stage West, 821 W Vickery, FW. $26-30. 817-784-9378.