Chow, Baby didn't really — maybe a little bit, but not really — expect its Taco Bell Cantino Tacos ($1.49 each) lime segments to talk out loud, like on the commercials. Sure enough, once again Chow, Baby had to do all the vocals for its food, and this time in a cheesy smarmy-Mex accent that would be humiliating to replicate here.


"Buenas," said the lime segment when Chow, Baby freed it from its foil wrapping. "Just so you're warned, I — ripe, good-sized, apparently recently sliced — will be the high point of your snack today."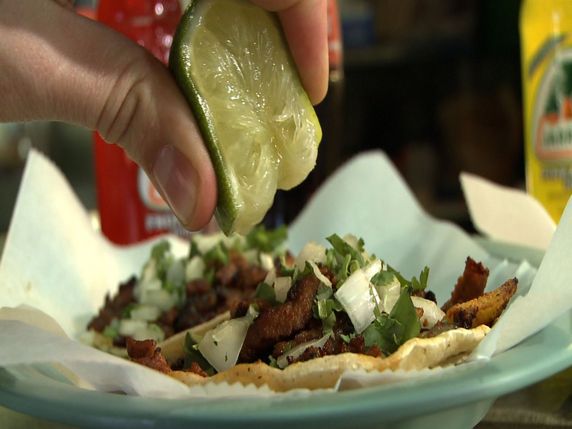 The lime spoke the truth (limes never lie, in Chow, Baby's experience). The rest of the order gets the Catskills Complaint: "The food is really terrible — and such small portions!" The scant couple of tablespoons of filling were two-thirds cilantro-onion mush, one-third mystery meat ("steak," "chicken," or "carnitas") with unconvincing grill marks. They didn't look like the commercials at all. What a rip.
Of course, you don't go to Taco Bell for real Mexican food; that's what Jack in the Box is for. Hah! No, but you should get a look at what Jack calls tacos — the amusement value alone is well worth the price (two for 99 cents). Best Chow, Baby can tell, they put meat paste into a tortilla and deep-fry the whole thing, step on it, pry it open to shove in some lettuce, then step on it again. At the Jack on East Lancaster Avenue, the lips of Chow, Baby's tacos were sealed shut from the frying and stomping, but one of them was clearly trying to say, "Dios, I'm so embarrassed to be insulting a noble heritage," and the feistier one mumbled, "If these idiot customers knew any better, they'd be eating at one of the half-dozen real taquerias just a few blocks down the street." Taking his imaginary advice, Chow, Baby threw him away and went for a real taco, with luscious, slow-cooked carnitas ($1) and no evidence of stomping, at El Chilango (4620 E. Lancaster Av.).
Well, what about San Antonio-based Taco Cabana, the "real Mexican food" chain? Gonna get a good taco there, right? No. But at least at the North Beach Street location, you do get un-fast-food-like table service, Patron Silver floats ($2.50) on your margarita ($3.75), and a salsa bar (ranging from "rancho" for the wimps to not-very-"fuego" for the tough guys). A nice place to hang out, but not to eat at; Chow, Baby's "steak" fajita taco ($1.99), dry, funny-tasting meat blanketed with a compensatory spice mix, shamefully pointed eastward. Five minutes later but in a vastly different culinary dimension, savory barbacoa juice was dripping down Chow, Baby's chin at Moreno's taco truck (5600 Elliott Reeder Rd.). Now this is a taco ($1.25).
Given that tacos are the original Mexican fast food, Chow, Baby isn't bitching about fast-food chains making them — only about them making really bad ones and then lying about them in ads. And it doesn't have to be that way, dammit. Case in point: At any of El Pollo Regio's four Tarrant locations, check out the monster taco regio ($4), a burrito-sized handheld of shredded charcoal-grilled chicken with guacamole and a bright jalapeño cream sauce. Chow, Baby will translate for the king: "Look at me! The convenience of a fast-food place and tasty, real food!" Straight from the taco's mouth.
Contact Chow, Baby at chowbaby@fwweekly.com.