Known to his biker buddies as "Picture Pete," Peter Feresten was an incomparable photographer and teacher. After his death in 2007, there was some concern over the fate of his archives: innumerable negatives, prints, and audio recordings. But now most of them have found safe harbor, divided among three institutions: the Amon Carter Museum, the central branch of the Fort Worth Library, and the Photographic Archives Lab Gallery in Dallas.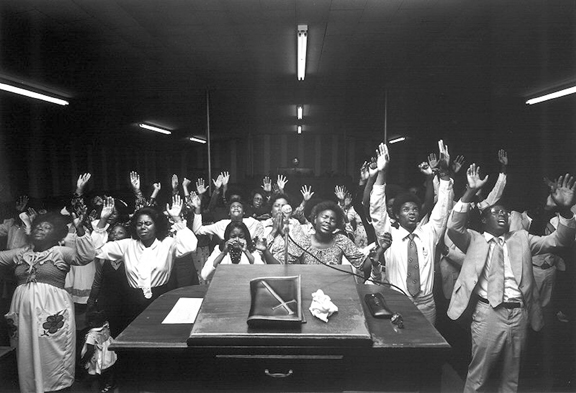 Cassandra Bartol, Feresten's stepdaughter, said the Library of Congress is also interested in obtaining some of Feresten's audio recordings of spirituals and blues music by the likes of Big Ronnie Bivens and Lady Pearl Johnson. The Library has also expressed interest in other parts of Feresten's archives, particularly a small selection of KKK-related photographs. "It was Peter's dream to get his work in the Library of Congress," Bartol said.
Feresten focused mainly on Fort Worth's African-American community. "Poor people's lives are not glamorous, but they are what many historians long to see and study," Bartol said, noting that many mainstream popular-culture trends begin in impoverished communities. She also said that many of Feresten's audio recordings from Fort Worth's African-American community have captured a dialect that is no longer in use.
Feresten grew up in Massachusetts and studied at Columbia University and Rhode Island School of Design (RISD), where he earned his MFA. In the mid-1970s, not long after he had moved to Fort Worth to teach at what was then Tarrant County Junior College, he met Tom Kellam, city archivist and senior librarian for the Fort Worth Library.
The two formed a friendship that would span three decades, and in 2005 Feresten presented an exhibition of photographs at the library. After the show Feresten graciously donated some of his work to the library. "He wanted them to be in a library so they would be accessible to the public," Kellam said.
Kellam describes Feresten as a technical genius, praising his ability to master the use of black-and-white film. He said the preservation of Feresten's work is essential both artistically and historically. (Fort Worth Weekly ran a cover story on Feresten and a photo essay of his work in 2002.)
Local artist Christopher Blay, who was a student of Feresten's at TCC's Northeast campus, agreed. "The significance of Peter's work is tremendous," Blay said.
Blay said Feresten's dedication to photography, his students, and the city of Fort Worth speaks volumes about the man behind the lens. "There is an urgent imperative to have his work preserved and promoted," Blay said. "It's vital and irreplaceable."
Long-time friend Luther Smith met Feresten while they were both graduate students at RISD. Smith said Feresten was one of the most dedicated art photographers he has known and was influential as both a teacher and artist. "He wanted to contribute to the body of knowledge," Smith said.
He'd like to see Feresten's work used in future exhibitions and books.
Bartol said the rest of Feresten's work will either be donated or sold to other collections or museums. She said the family is also looking into having some of his most popular prints professionally scanned and reproduced for sale.
Bartol said she finds joy in knowing that her stepfather's legacy will not soon be forgotten.
"He was told once that his audience hadn't been born yet," Bartol said. "Peter created his work to last."