While most of North Texas is well on its way to getting cleaned up after the floods caused by the remnants of Hurricane Hermine in early September, for Mary Kelleher the work hasn't begun.


She believes a natural gas pipeline has dammed up the floodwater on her property in East Fort Worth — just the latest in what she says has been a nightmare series of problems since construction on the line began in February.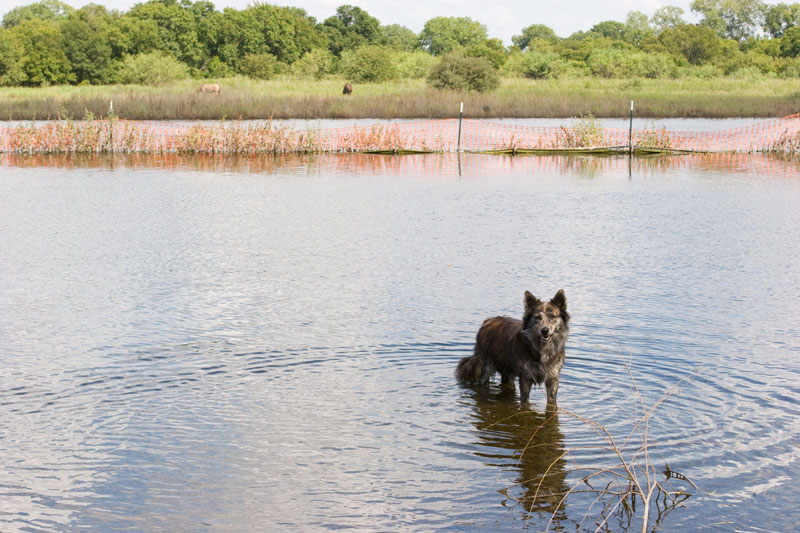 About half of Kelleher's 12 acres on Randol Mill Road along the Trinity River remain under water. It's a problem she attributes to the pipeline that Houston-based Enterprise Products Partners recently completed along her property's eastern boundary. She believes the pipeline is preventing the water from draining, which means the hundreds of animals she raises — llamas, horses, peacocks, sheep, and others — are in jeopardy.
"I already lost a llama, two rams, a lamb, and four rabbits and other animals to the initial flooding, and I don't want to lose any more," she said.
Enterprise spokesman Rick Rainey denied that work done by the company has had any effect on drainage from Kelleher's land.
But Jerry Lobdill, a retired Fort Worth physicist who has studied the environmental issues associated with natural gas fraccing, inspected Kelleher's property and said there is no question that the pipeline is responsible for Kelleher's problems.
"The land along the entire length of the pipeline has been raised two to three feet higher than it was in its natural state. And that has created a dam, leaving the water nowhere to drain off," he said. "So instead … it's just going to sit here until it evaporates."
Kelleher said that when Enterprise first began laying the 30-inch pipe located just inside her neighbor's property line, "they fueled their heavy machinery about five feet from my stock pond. And within a couple of days there was an oil slick, a sheen on my pond."
In that instance, Enterprise ponied up $14,000 for damages.
That wasn't the end of it. "Part of the pipeline was laid through a closed municipal landfill," Kelleher said. "I watched them put that pipeline into the ground, and while they were excavating, they were pulling out huge pieces of trash. They said they removed and containered and disposed of it all properly, but they didn't."
Rainey says there was no municipal landfill but that his company's crews did run into what looked like a place where a landowner had buried a few tires and some barbed wire. "We eliminated that, told the city and TCEQ about it, and put in good fill to support the pipeline," he said. "We were not fined for that because we didn't know it was there."
Kelleher said that, in the process of trenching along her property line, Enterprise workers "compromised my pond, and my pond water began leaking into their trench where the trash was."
She said she came home from work one day shortly after the pond was breached to discover that Enterprise workers had put a pump in their trench and were pumping the water back into her pond. "I told them to get it out of there, that it was contaminated water that would kill my animals. So they removed the hose from my pond and disposed of [the water] on my neighbor's property."
She's convinced that the flooding, the most serious and most recent problem, isn't going to go away until the pipeline company addresses the problem of changed water-flow patterns.
Fort Worth flood management official Clair Davis has been out to Kelleher's property to look into the problem but was not available for comment for this story.
Enterprise responded to questions by providing a prepared statement: "Throughout this project, Enterprise has worked closely with numerous state and local agencies to comply with all appropriate regulatory requirements and obtain the necessary permits," the statement said. "There is no evidence to suggest that the company's activities or facilities are responsible for drainage issues on nearby property."
Kelleher, 47, a juvenile court supervisor for Tarrant County, described Enterprise's response as heartbreaking.
She bought six acres with frontage on the Trinity River in 2002 and began designing her stone-and-brick house. Then she started collecting animals and later bought another six acres. "I got those [animals] little by little," she said. "I got a llama from someone who didn't want it, and now I have six. Well, five because I lost one in the flood. And then someone gave me a miniature donkey, and she's had three babies. And I got a Vietnamese pot-bellied pig, and she's had three piglets."
There are also about 40 sheep, dozens of chickens and ducks, calves, horses, dogs, barn cats, and peacocks. "I was planning on making this a petting zoo, but now I just don't know if I can," she said. The property was so beautiful that MTV has been out to film on location on two occasions, she said.
"I knew when I bought the first six acres what I was getting into. I knew this was a floodplain," Kelleher said. She'd seen the Trinity flood once before, prior to her house being built. But she also knew how long it usually takes for the river to rise when it floods. When her brother called on Sept. 8 to say the river was rising, she left work to move the animals to high ground.
"Normally I would have 45 minutes to get them there, but this time the river came up so quickly that I didn't have that time. The current just swept a lot of them away," she said. Fortunately, it didn't reach her house, which was constructed on a built-up piece of ground.
The flood was no one's fault, but it wasn't until the waters failed to recede that she realized the pipeline construction had exacerbated the problem, Kelleher said. And it's not only her land that drains across her property, she said. "All the water from my neighbors' flows through my place on the way to the storm sewer."
Lobdill, who has opposed urban gas drilling for years, said the re-grading that Enterprise did for the pipeline has prevented the water on Kelleher's property from reaching a storm drain to which it previously flowed.
"What we're looking at is land that's been raised as if someone landfarmed it and graded it out over a width of about 90 feet," Lobdill said. "Enterprise simply changed the elevation of the land along the length of the pipeline. Where Mary Kelleher had a pond, she's now got a giant pond, acres of it."
Lobdill said he doesn't understand why Enterprise raised the land. "There's no reason for it," he said.
Rainey said he could not comment on the re-grading because "I've not seen the property."
Enterprise is not new to controversy. The company was recently fined by the Texas Railroad Commission for a pipeline explosion in Johnson County on June 7 that killed one person and injured eight others. In that case, the commission determined, Enterprise failed to mark the location of a pipeline where Brazos Electrical Cooperative was putting in new utility poles. The dead man and injured workers were employees of a company that had contracted with Brazos to dig the utility pole holes.
"I just wish that Enterprise and the City of Fort Worth, which gave them permission to do this work, would take responsibility and fix this mess," Kelleher said. "But I don't think that's going to happen."