Feeler is the lost Toadies album, recorded in 1997 and meant as the follow-up to the Fort Worth quartet's widely acclaimed platinum-selling album Rubberneck. But the band's former record label, Interscope, thought the album wasn't good enough and didn't release it. The album reached an almost urban-myth status, with multiple tracks leaked on the internet. Many national observers wrote the band off as a one-hit wonder. Locally, Toadies devotees just wanted to hear what their rock demi-gods had created.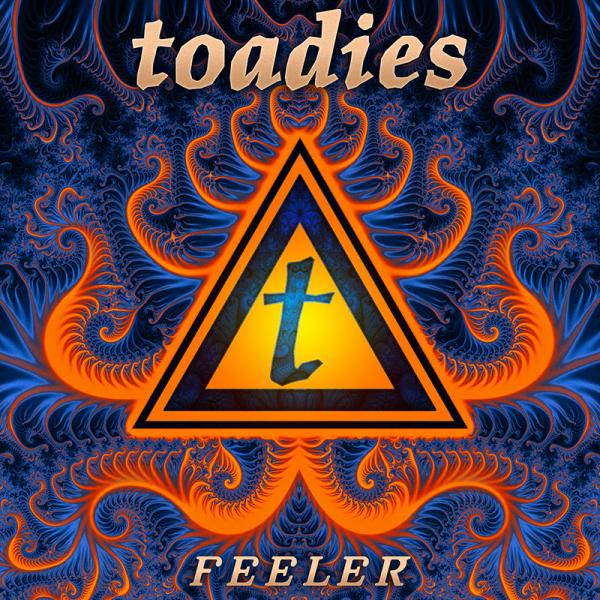 Finally, 13 years later, the album has been released. The Toadies hooked up with Rob Schnapf, who co-produced both Rubberneck and the band's 2001 release, Hell Below/Stars Above, and reworked nine of the 20 songs recorded for Feeler — as opposed to just releasing the versions that were recorded over a decade ago.
The songs easily stand the test of time. The album doesn't sound like a relic of grunge-era angst but rather a collection of songs by a band that was just hitting its stride. Feeler is uniquely Toadies. The songs are tense, driving, and dynamic, accentuated by singer/guitarist/songwriter Vaden Todd Lewis' smart, dark, and catchy vocals.
Feeler opens with the deceptively mellow "Trust Game," a song about the dark undercurrents of a relationship gone bad. Lewis' vocals match the droning intensity of the music, and the song builds into a furious mingling of rhythmic gut punches and yelled vocals: "I want the fire / I want the love / We tried to make it / But it wasn't enough / When did it happen? / We got jaded / You got lost / And I got wasted."
One of the album's best moments is "Dead Boy," harkening back to Rubberneck-era Toadies and highlighted by tight, volcanic rhythms and Lewis' high-register scream. Another highlight, "City of Hate," is a paranoid song about living a lie. The sinister, pop-y music has an almost Stepford Wives quality — beneath the uptempo glitter is an ominous, dizzying vibe accented by the refrain "I'm a model citizen."
Feeler is more of an EP than an LP. There are only nine tracks, and the album clocks in at just over 28 minutes. But what it lacks in length, it makes up for in quality. The songs are mature, smart, and well-crafted. The album is anything but a shadow of a forgotten moment in time. Instead, it's a messenger of good things to come from Fort Worth's most acclaimed band, one that's currently working on another new album, with no scheduled release date. — Eric Griffey
Three years after the release of his debut album, To This Point, singer-songwriter Sean Russell has produced a sophomore effort that, thankfully, doesn't feel burdened by too much time in the studio. Mystery of the New features 14 songs that bounce, hum, pirouette, and percolate with carefully crafted guitar pop that frequently uses the personal as a springboard into the spiritual. It would be inaccurate — or at least, incomplete — to describe Russell as a Christian musician, but there's no doubt that he's preoccupied with ultimate meaning and purpose beyond the daily grinds of romance, friendship, and the road.
Russell has a soft, modest voice that conveys yearning far beyond his limited vocal range. It benefits greatly from the sparkle that producers Todd and Toby Pipes have applied at their studio, Bass Propulsion Laboratories, where Mystery of the New was recorded. They frequently double-track or add echo to Russell's pipes, lending them a bubblegum friskiness, most notably on the infectious opener "Raincloud" and in the velvety heartache of "You're the One."
The rest of the album is equally invigorating. "Letting You Go" finds a great melancholy middle ground, between the catchy and the contemplative, that defines the album's sonic scope. The extraordinarily tender "Bag of Bones" features gorgeous harmony vocals and a consoling message about the despair of meaninglessness. "Vivian," about a small-town girl coming to the big city, is the closest thing to filler on the otherwise solid CD, which suggests that Sean Russell the songwriter has developed a personal sense of quality control. That's half the battle for any artist who trades in such intense, even existential subject matter.
— Jimmy Fowler
As a three-piece of just guitar, bass, and drums, Young Indian Outlaw can't be anything other than gritty and raw. The band's debut EP, Wild Hearts, trades off between soulful rock numbers and more acoustic reveries, but it never rises above that dreaded "band-next-door" feel.
With its intentionally lo-fi production, courtesy of Fort Worth Sound's Bart Rose, this album could have been recorded 30 years ago –– or last week. Blues and classic-rock throwback bands such as the White Stripes and My Morning Jacket have made a comeback in recent years. Both acts have gained success thanks to clever melodies and aggressive guitar perfection. While Young Indian Outlaw singer and guitarist Colton Codgill does come up with some catchy solos and drummer Madison Cotton holds a nice, steady beat, each guy needs to put some umph and practice into his individual part.
The overall effort doesn't come across as the work of amateurs, but Young Indian Outlaw drops hints along the way that it hasn't been doing this for very long. The guitar parts could have used some expanded chord selections and less repetition. The songwriting influences (Kid Rock, anyone?) could have been a little less obvious. Other than the sad, reflective "Tell Me," the lyrics don't point to any real-life experiences. Instead, the band seems to be striving for that raucous, arena-rock ideal.
But there is hope. Codgill's voice is pleasantly sandpaper-y, and the guys obviously have a lot of passion for what they are doing. If Young Indian Outlaw is truly a young band, it has nowhere to go from here but up. –– Caroline Collier
For most high school students, band class means 20 minutes of tuning horns, then another 20 minutes rehearsing boring, overdone music. At Fort Worth's Southwest High School, however, teacher Marco Petrilli recently established the Contemporary Music Academy and Media Tech Program, whose band is far more exciting than the name. Last year's trio of Petrilli's kids put out the program's first CD, a five-song instrumental collection in a classic-rock vein. Going by the name the Rowdy Raiders (referencing the school's mascot), they sound much more like veteran arena-rockers than just high-school kids.
From the opening notes of "In a Rowdy Way," these guys establish that they can play with the big boys. Guitarist Marcos Martinez, who has since graduated, flies all over the neck of his guitar. The guy picked up a six-string only a few years ago, but he already plays with more skill and authority than most guitar-toting adults.
While bassist Patrick Hunter keeps the rhythm throughout the disc, Martinez and drummer Kevin Marchabeyoglu (who drums on all but one song) go buck wild. Petrilli encourages students to improvise and learn to play as ensembles, and the Rowdy Raiders excel at both. At times, the disc sounds like an out-of-control jam band that solos for far too long, but at other times, especially in "5th of Joy," the guys lay down solid, thought-out sounds that almost cry out for vocal melodies.
Like the music itself, Petrilli is full of optimism. Fort Worth will turn into an open-enrollment district in 2011, and rock-inclined students from all over the city can audition to be part of the group, which has not only the instruction but the technology to kick out the jams. –– C.C.