So I missed the big Hentai Improvising Orchestra/Breaking Light show at Doc's Records and Vintage last Sunday. However, each band lives on through the miracle of digital technology. For some Breaking Light, visit alonetone.com/breakinglight, where, if you like, you can also download the one-man band's new album, Proto-Sapien, for free.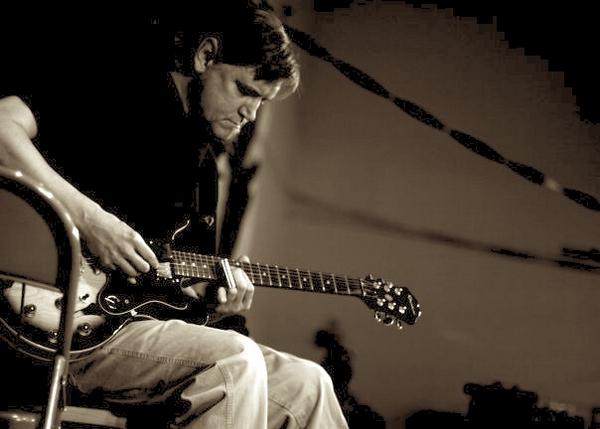 What you may notice is that the album lies at that bloody crossroads of experimental and New Age — "bloody" because while we applaud experimental (Kraftwerk, Tangerine Dream), we look down upon New Age (Yanni, John Tesh, Vangelis). Who cares about labels, though, right? Listen without prejudice, and you'll find that Breaking Light (né Kavin Allenson) creates music that while atmospheric is highly durable and pleasing. He achieves his sweeping, airy sonicscapes merely via guitar and some sampling wizardry. Quite a trick.
On Halloween, Sun., Oct. 31, at Lola's Saloon (2736 W. 6th St. in the West 7th Street corridor, 817-877-0666), catch the debut of Elf-Men, an Oingo Boingo tribute band fronted by Velvet Love Box bassist/vocalist Neil Schnell and rounded out by bassist Matt Hembree (Goodwin, HIO, Pablo and the Hemphill 7), guitarist John Stevens, guitarist (and Best Of 2010 critic's choice for best bartender) Carey Wolff (ex-Woodeye), keyboardist Alan Davis, drummer Brandon Bumpas, trumpeter Jason Kabakoff, saxophonist Chris Bellomy, and trombonist and co-host of The Good Show (9pm-12:30am Saturdays on KTCU) Tom Urquhart. Of forming such a tribute act, Schnell said, "I had been kicking the idea around for a long time and finally just decided to jump in. Fortunately, there were eight other masochists with the same love of Boingo and [frontman] Danny Elfman. But mostly it just sounded like fun." Opening up for Elf-men will be The Rueffer Brothers, featuring Chad and Reggie Rueffer. Cover is $6-8. … Oddest bill o' the week: Holy Moly and Pinkish Black on Saturday at The Grotto (517 University Dr., 817-882-9331). I can't think of two more disparate groups. While Holy Moly is raucous and rowdy –– most apropos for beer drinkin' and hell raisin' –– Pinkish Black is orchestral, dark, and deadly serious. Alas, the bands will unite as part of a Fanged Affair, a vampire-themed burlesque and fashion show put on by Madame Fiery Couture, a local pin-up/rockabilly-inspired clothier.
From 2 to 4 p.m. on Friday at Lander's Machine Shop (207 E. Broadway St., 817-291-8672), there will be an opening for artwork inspired by or relevant to rapper Dru B Shinin's forthcoming album, Dirty Money Painting. Food, drinks, and music will be provided. No cover.
Johnny Mac's (3933 Benbrook Hwy.) is now Johnny Mac's Rhythm & Blues, offering live blues music six nights a week, with jams on Wednesday and Friday nights and Sunday afternoons. Recent sitter-inners include Paul Byrd, Rusty Burns, Bobby Counts, Neal Drennan, and Kevin Traylor. On Thu., Oct. 28, Johnny Mac's welcomes Groove Shaman, a Fort Worth super-group of sorts consisting of Pete Thompson, Michael Dimitri, Buddha Long, Charlie Stephens, and Doug Myerscough. Mucho pedigree: The guys have played in the backing bands of Robin Trower, Robert Plant, Stevie Ray Vaughn, and Wilson Pickett, among others. (Thompson is currently touring Europe with Trower.)
Contact HearSay at hearsay@fwweekly.com.