At Conduit Gallery on Saturday, Fort Worth multimedia artist Christopher Blay will offer Time Machine Beta, a piece that's one part site-specific installation, one part performance art, and one part "relational art," according to Blay –– Time Machine Beta requires active audience participation to be fully realized. "The purpose of the time machine is to explore (conceptual) space/time through mechanical means" similar to a camera's, Blay writes in his artist's statement. "Where would you like to go?What experiences would you like to revisit or create? These same questions are asked by the camera."


Blay also asks that each time-travel candidate bring a photograph that represents a specific time and place. Photographs will be returned and not altered. (Preferred size is 5×7 or smaller.) What will actually happen to them is part of the mind-fuck.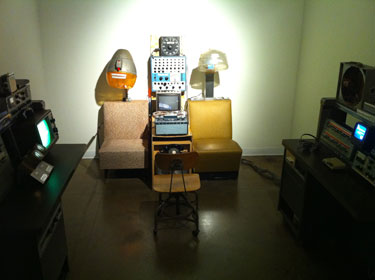 The piece/installation, true to its "beta" appellation, is an augmented version of a similar "time machine" that Blay introduced several years ago. Consisting of assorted gadgets (typewriter, dials, telephone, two salon dryer chairs!), Time Machine Beta is run by three assistants, who will take Polaroids of candidates, interview them for about a minute, type up an "interview card," and escort them through a darkroom door and into the module. Dossiers –– which will include pre- and post-travel photographs, graphs of travelers' locations, interview summaries, and "Beta badges" –– will be created and made available for purchase.
Blay also shot and edited four related films (all available at http://vimeo.com/user4894815). Justin Sherburn of Okkervil River provided the music and sound effects, and the "Time Machine Beta" video was directed by Leah Lovise, whose motion-graphic credits include A Scanner Darkly and the theatrical productions of The Red Balloon and Circus Salome.
Time Machine Beta will be up through Sat., Nov. 13. A sign-up sheet will be available at the gallery for visitors who miss Saturday's opening and want to schedule a trip.
Time Machine Beta opens Sat, 6-8pm, at Conduit Gallery, 1626 Hi Line Dr, Ste C, Dallas. Admission is free. Call 214-939-0064.