Rapper Dru B Shinin' used to take part in hip-hop battles but not anymore. While his insightful, intelligent lyrical flow might help him triumph over other rappers, Dru is not a competitive guy. Instead he is driven by a desire to interject reality and positivity into the world around him. A long-range thinker, he wants to bring the disparate elements of Fort Worth's hip-hop community together because he loves the artform and this city. To promote his upcoming album, Dirty Money Painting, Dru wants to film a video about the high life in his Berry Street neighborhood. He's proud of where he is and where he's been, and he's aiming to incorporate every little bit of his experience into his music.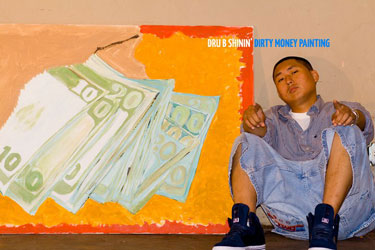 If things had transpired differently, Dru (né Andrew McCollough) might never have set foot in Fort Worth nor rapped into a microphone. The 28-year-old was orphaned in Korea and adopted at the age of six months by a liberal Disciples of Christ minister and his wife in Topeka, Kan. "I'm the fakest Korean," he said. "I don't even know how to say hello."
He identifies more with his grandparents, who are bluegrass musicians in rural Missouri. With high hopes, the couple gave him a violin when he was a child, but different musical forms were calling.
During his senior year in high school, hip-hop started "speaking" to him, he said. "I started trying to create something for myself."
As a hip-hop songwriter, he wanted to talk about it all –– the good and the bad. "I would be smoking and fighting at a party," he said. "The next day I would go to church. It was a good thing for me to have both of those experiences."
Dru moved to Fort Worth thanks to a church-sponsored scholarship to TCU and kept rapping. He wrote furiously, incorporating the diverse ideas from his liberal arts education into his music. He maintained a high level of inspiration until he entered office life after graduation.
But after a few years of trading stocks, Dru said sayonara to his day job. "I was losing myself sitting in that cubicle," he said. "I was not doing what I should be doing."
In 2008, Dru moved back to Topeka to make music with his producer/drummer friend Eye-Jay, who was peddling hip-hop beats as Sphere Music Group. The two enjoyed an intense creative spurt, but they didn't feel Topeka was any place for an aspiring rapper.
Topeka, Dru feels, is the exact opposite of Fort Worth. "It's a small town that thinks it's a big city," he said. "There are no outlets for expression."
After a year of studio time in Kansas, Dru convinced Eye-Jay to relocate to the friendly streets of the 817. Here they assembled a backing band that includes Greg Shark, who replicates computer-generated beats with a guitar and keyboard.
With band in tow, Dru joined the burgeoning Fort Worth Music Co-Op, which encouraged him to offer toned-down versions of his expletive-laced verses. He wrote songs that he could perform in front of anyone, including his parents. The trio captured the new material on last summer's Admission One, which, Dru said, is really an appetizer for Dirty Money Painting. A CD release party will be held at Shogun, a clothing retailer on South University Drive, sometime in November.
Although Dru calls Admission One "colorful and happy," it has those characteristically rough hip-hop edges, which are tempered by Eye-Jay's melodic backing vocals. In "Out of My Mind," Dru emulates a mind-set of violent insanity. On the album's opener, "Lace My Strings," he makes many references to illegal hustling activity. He's not ashamed to rap openly about the normally hush-hush parts of his experience. Making it from day to day is not always an ideal picture.
"That's exactly what I'm trying to get across," he said. "Dirty Money Painting is beautiful and intellectual, but it's also a picture of dirty money. … I've made a lot of that, and I want my music to be relatable. It would be a lie to walk around like I'm talking about heaven all the time, but it would also be a lie if I said my whole experience was hanging out with friends."
If Admission One is any indication, Dirty Money Painting will be a wild ride, full of thugging and loving and everything in between. In the meantime, the Co-Op (which probably appreciates Dru's flexibility about being a nice, positive rapper at times) has tapped him to host a hip-hop night at The Cellar on West Berry Street near TCU. He's inviting many lyrical artists in the hopes of building bridges to all sides of town. He sees this as step one for making hip-hop a big part of the indie-rock-heavy local scene.
For Dru, it's all about blending cultures, genres, life experiences, and geographical layouts. He just might know a thing or two on the subject. l