Calhoun has embraced pop. Not that the style was inherently anathema to co-songwriters Tim Locke and Jordan Roberts. But never before have they been as unabashed in their pop devotion as they are on Heavy Sugar, their forthcoming album produced by James Barber (Ryan Adams, Hole). A listen to an advance copy (the album won't be available until early 2011) reveals a band entranced by simple, smart songs performed well. "I'm not afraid to call ourselves a pop band," Roberts said. "There used to be pop music that was good. Then it turned into this shit you hear on 106.1.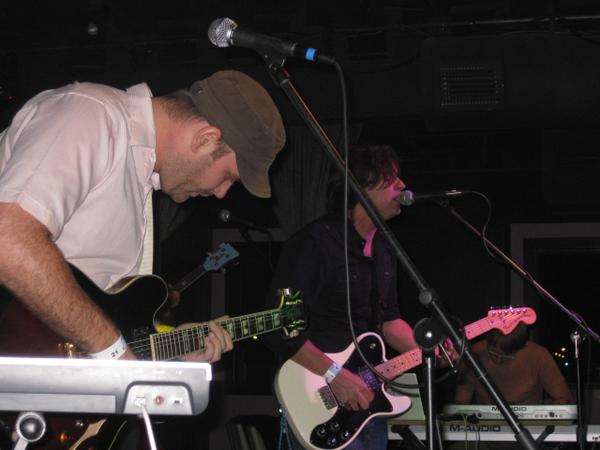 This record goes back to the old format. These are good pop songs the way it used to mean. Buddy Holly shit. Real simple. Verse, chorus, verse, the end." Getting older and ostensibly wiser is mostly the explanation for the band's newish direction "in the fact that we're not as full of piss and vinegar or at that age where you have to reject anything that's mainstream," Roberts said. Locke is worried that the album may be too un-cool for hipster ears. "It's so not what's going on right now in indie rock," he said, noting that what is going on in indie-rock is mainly weird for weirdness' sake: musicians trying to make records that sound shitty on purpose, writing a huge chorus but playing it only once, rejecting melody. "That ethic is so contrived and phony, and I think that's what our last record [Falter.Waver.Cultivate] fell into," Locke said. "It makes me nauseous. It's just gross." Frontman/lyricist Locke and multi-instrumentalist Roberts started writing Heavy Sugar about a year ago and went into the studio a few months back. The album, Locke said, is one part Fleetwood Mac, one part Grandaddy, one part The Smiths, and a little bit of Nada Surf. Roberts views Heavy Sugar as one of his finest artistic achievements. "I don't think I will ever not be proud of it," he said. "Tim and I are very critical about ourselves, but I was like, 'Holy shit, this is actually a really good record.'Every band feels that way when they get their record back. They're extremely proud of it. It felt, to me, more gratifying because it was just me and him" (aided by some stellar studio musos). In music, expectations "are hardly ever met," Locke said, but Heavy Sugar has proven to be an exception. "We set out a very specific goal: not just to make a record. It was really supposed to be [the way Heavy Sugar turned out]." The album is stylistically diverse though mostly electric guitar- and synth-based. Whereas a song such as "Don't Let Go" could be a Top-40 hit from the '80s, and "Indian Melody" could be remixed for the dance-floor, "Knife Fight" and "Horsefeathers" are rocking and gritty. "I know a lot of people are going to hate this record exactly for the reasons that we made it," Locke said. "But it's not for them." It is, he said, for smart music lovers who are feeling disenfranchised by the indie-rock establishment. "We wrote a record that we'd listen to," Roberts said, "and I don't feel like I listen to shit records." Visit www.myspace.com/calhoun.
Contact HearSay at hearsay@fwweekly.com.