What the Texas Rangers have done this year is nothing short of amazing. They won a playoff series for the first time ever and are now playing the New York Yankees for the American League pennant and a chance to go to the World Series. All done with one of the smallest payrolls in baseball; young, inexperienced players; and of course, the major distraction of the front office filing for bankruptcy.


However far the Rangers make it in the playoffs the best news for fans of this team is that owner Tom Hicks is gone. Gone is all that debt he piled on the team. Gone is an owner whose financial problems meant they couldn't even afford hats or balls for the team. And gone is a guy who blamed everyone else for the mess he created, while at the same time expecting fans to empty their wallets for the honor of watching a game in Arlington.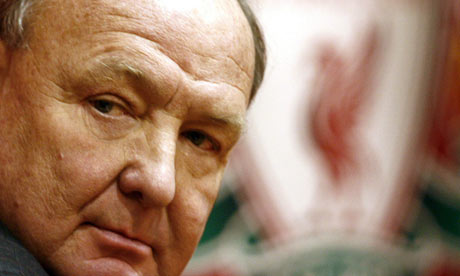 Soccer fans have experienced some of the same Hicks-induced mess in England. Hicks and a partner bought the Liverpool Football Club in 2007 on borrowed money and made all sorts of promises. A new stadium would be built, funds for signing great players would be available, and this tradition-rich team — it's been around for 118 years — would contend for the Premier League title.
But last week, Liverpudlians took matters into their own hands and ousted Hicks. He owed more than $500 million to a British bank, and the money was due in mid-October. Hicks had been trying to sell the team but wanted to make a huge profit. He was asking for about $1 billion, but there were no serious takers, based on all the team debt. The team's board of directors made the decision to sell to New England Sports Ventures (owner of baseball's Boston Red Sox) for about $500 million without Hicks' approval. A British court ruled the sale was legal.
Of course he didn't just lie down and admit that maybe he was to blame for the devaluation of this storied soccer team. Hicks actually went to state district court here in Fort Worth last week and tried to get an injunction to block the sale. After that failed, he has hinted that he will sue the team for up to $1.6 billion in damages.
Last week he called the move to sell the team to NESV an "organized conspiracy" based on an "internet terrorism campaign." (He said fans were using Twitter and e-mails to pressure banks not to refinance those big loans.) Hicks said he was "shocked" by the sale and "cannot understand the fans' anger."
It's not hard to understand the Liverpool fans' fury. This is a team with a history of winning: 18 Premier League championships and five European Cup wins. But this year they're in 19th place out of 20 teams in the league and could be bounced to a lower-level league if their woes continue on the soccer pitch.
In a letter to Hicks posted on a web site, Liverpool fan Rohan Kallicharan summed up the fans' feelings. "You drove us into debt, you drove good men out of the club, you made us a laughingstock to others who disparage us," he wrote. "However, you never broke our spirit, our commitment, and our love for Liverpool Football Club."
What Hicks did was use his sports teams — Liverpool, the Rangers, and the Dallas Stars — as collateral to borrow about $1 billion. There is little evidence that he spent much of that on his teams. What he did use the money for is not known, but he put his teams in financial disarray, and that usually leads to losing records. Sports fans can put up with a lot, but using their teams as the owner's personal cash cow isn't one of them.
The Dallas Stars hockey team is on the block now, and some of the same Hicksian problems are surfacing there as well. Reports say he is asking too much, and the team's heavy debt load is scaring off buyers. Local hockey fans are biting their nails as they wait to see how all this plays out.
But maybe Stars fans can look to Liverpool and Arlington for some hope. New owners for those clubs have supporters thinking that consistently wining teams might now a possibility. For Rangers fans, the irony is that the first playoff series win in their history came just months after they got rid of the guy who had been dragging the team down for years. Maybe all the courtroom sales drama and years of baseball on the cheap were worth it: Hicks was their cross to bear, and now that he's been lifted off their shoulders, it's a fine feeling.