This little box-shaped building on East Belknap Street has housed several businesses over the years, and this incarnation, like the rest, is a drinking establishment. A few weeks ago, when the place was rechristened Bourbon Street Blues Bar & Grill, the exterior was painted a bright yellow, which says "head shop" rather than "bar," but who's keeping score.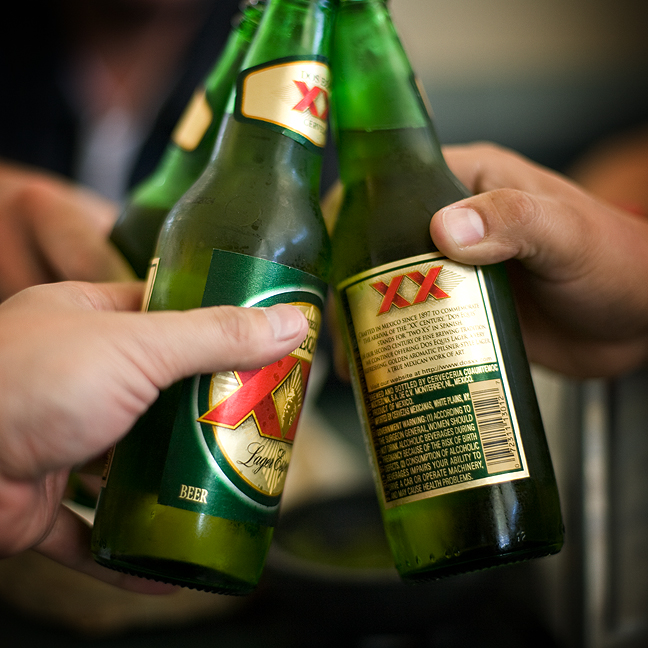 On the inside, I doubt much has changed. The red walls obviously got a new coat of paint, and the dark purple carpet seems new. Overall, though, the room could be exactly as it was in the 1970s. But don't look down on Bourbon Street for its retro décor, which includes musical paraphernalia on the walls and purple-and-green bathroom stalls, because the place is clean and welcoming in its own way.
Michelle, the bartender, explained that while Bourbon Street has been open for several weeks, the night of my visit just happened to be the grand-opening celebration. The owner, Rick, who also runs the kitchen, was passing out homemade chips and hot sauce to the dozen or so happy-hour visitors. While the sauce was on the mild side, it was fresh and, well, free. The bar specializes in fried food, including beignets and, according to Rick, the freshest catfish in town. Neither my friend Bill nor I were hungry, though, so I can't weigh in on that score.
Sometimes service industry folks are especially friendly for grand opening events, and this was certainly the case at Bourbon Street. All of the employees –– two cocktail waitresses, the bartender, and Rick –– seemed genuinely happy to be there. The service couldn't have been any quicker or better. At one point, I overheard Rick enthusiastically explaining Jägermeister to an older gentleman at the bar.
As far as the spirits selection goes, Bourbon Street's is on the limited side. The most exotic beers available were Shiner and Dos Equis. (I opted for the former.) MGD is the only beer on tap, and the beer menu includes "bitch beer" (horrible name), a.k.a. the common wine cooler. The extent of the liquor selection was about two dozen labels.
What looked like a vintage jukebox was spitting out Pink Floyd and Sade. The retro-looking red-light contraption, however, was a cleverly disguised digital model. Later at night, Bourbon Street hosts bands that lean toward "adult rock," according to Rick. For the grand opening, Big City Truckers were set to perform. For the following evening, the cleverly named Rock Blues Band was scheduled. Michelle promised she would be grilling hotdogs outside while listening to the racket.
For a new bar, Bourbon Street had at least a few regulars. When "Ray Ray" entered, everyone greeted him like an old friend. A group of four was kicking off the weekend in fine style with what looked like large Jell-O shots. The remaining customers were saddled up to the bar talking over the music, which was respectably loud, or zoning out looking at the television. To Bourbon Street's credit, there's only one TV on the premises, and it's very small –– even better, when Bill and I were there, it was on mute. No one was using the bar's lone pool table, which looked like it had just been refinished. Friday afternoons, after all, are for relaxing. Although Bourbon Street Blues Bar & Grill lacks the pizzazz normally associated with the Crescent City, its relaxing vibe ensures that it fits right into the spirit of Fort Worth. –– Caroline Collier
Free Parking?
One of the keys to the greatness of downtown Fort Worth is free parking after 6 p.m. This attractive feature helps keep the sidewalks packed and the businesses buzzing at night, which is something Dallas hasn't figured out yet. That's why the same well-heeled but fickle Big D demographic, willing to pay $15 or more for a spot, determines which relatively narrow downtown section is hot and which is dead in that glittery city to the east.
But what happens when valet parking slowly encroaches on Fort Worth's free downtown parking? That's the case on the west end of Main Street and other sections. Bars and restaurants there have claimed long stretches of the curb and populated them with tip-seeking valet attendants. People who wish to patronize these establishments wind up paying for parking. People who simply wish to patronize non-valet establishments –– as I did recently when attending a performance at Jubilee Theatre –– must park in a dark, distant corner of B.F. Egypt and walk past said attendants, who don't seem to be very busy. I thought valet was for swank joints anyway. Is it really necessary to surrender your keys before grabbing a burger or plate of enchiladas? –– Jimmy Fowler
Contact Last Call at lastcall@fwweekly.com.