Frozen food and fresh vegetables are a welcome sight to Mattie Purvis, who lives on a small income. Her house is not far from the newly opened Community Food Bank, and she drove her battery-powered scooter along Galvez Avenue on a recent afternoon to go get a box of groceries.


Her companion, Honey, sat in her lap. The 8-year-old mutt would soon be on the receiving end of some goodies as well. Don't Forget To Feed Me Pet Food Bank is under the same roof, and Mattie received two bags of Purina dog food.
"I'm getting food for my little Honey and food for my kitties too," Purvis said.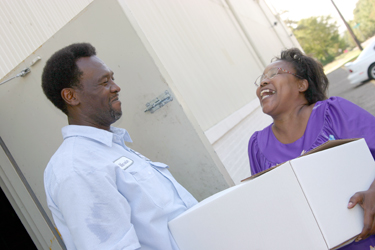 Community Food Bank is trying to shed its tarnished reputation, caused by the personal meltdown of former executive director Sharon Hogan in 2006. New executive director Regena Taylor and a new board of directors are helping founder Opal Lee to resurrect the food bank that began as Loaves & Fishes in 1982 and evolved into Metroplex Food Bank before crashing and — literally — burning several years ago.
Whether or not they can establish a working operating budget, convince donors to forget the nonprofit's troubled past, and figure out how to complement rather than compete with existing food banks and pantries remains to be seen.
Hogan's mismanagement; a series of fires, health code violations, and questionable expenditures; and a passive board eventually caused Metroplex Food Bank to shut down in the face of $500,000 in unpaid payroll taxes and penalties. But Lee and her volunteers continued to hand-deliver food to the needy families even while the food bank was hamstrung. Providing groceries to poor folks has been Lee's passion for decades.
"This food helps me with my family," said Alice Woodard, who was among the 100 people who stopped by Community Food Bank on a recent afternoon to ask for help. "This is my first time. I heard about it at the Salvation Army."
Word is out on the street: Lee and her bunch are in business again. The question is, can they survive long enough to latch onto bulk food donors and badly needed funding? They've got a huge building (and a sizable rent payment and massive electric bill) but little money in the bank.
Lee sold the six acres and warehouse that Metroplex Food Bank owned on Yuma Drive on the city's South Side for about $900,000. Once debts were paid, she was left with about $400,000 to start anew. Her search for a new building led her to the East Side, where a food manufacturing company was vacating its warehouse that included a whopping 23,000 square feet of refrigerated or freezer space. In comparison, the well-established Tarrant Area Food Bank has about 8,000 square feet of refrigerated or freezer space.
"Our freezer space is always full," Tarrant Area Food Bank spokesperson Andrea Helms said.
Food consumers these days are focused on fresh and frozen foods. The grocery industry meets this demand, and surplus makes its way to food banks. Finding food banks with ample freezer space isn't easy. Community Food Bank is a welcome addition to the local network of pantries, Helms said.
"There is a need for organizations like theirs to help feed people in the community," she said.
In a move that bodes well for Community Food Bank's survival, the new board of directors showed its independence by resisting Lee's insistence that they immediately buy the Galvez building for $1.3 million. Even at 84, Lee is a gung-ho go-getter. The board decided instead to move more slowly, leasing for five years with an option to buy. They are seeking to sublet some of the building's 44,000 square feet to offset costs.
"When you're rising from the ashes, we didn't know if we wanted to buy something this big," executive director Regena Taylor said. "We hope to do it before the five years is up."
Food donations are growing again as Lee and Taylor tap into grocery stores and other food distributors that they've long relied upon. Still, their warehouse shelves are lightly stocked for now, as the mostly volunteer crew strives to re-establish food sources. Meanwhile, proceeds from the sale of the Yuma Street building and land are dwindling fast.
"We're running on fumes now,"
Lee said.
So it's full steam ahead on the money trail, and Lee and Taylor are developing a campaign to raise capital. They have already solicited help from one of the most influential donors around, the Amon G. Carter Foundation, which has provided more than $335 million in charitable gifts since it was incorporated in 1945. Executive vice president John Robinson toured the new digs recently and suggested the food bank establish collaborations with other nonprofits and community organizations that the independent and elusive Hogan often avoided.
Robinson also suggested the food bank provide space to a local pet food bank that was looking for a new home. Don't Forget To Feed Me Pet Food Bank had been housed at Tarrant Area Food Bank but decided to go on its own this year, apply for nonprofit status, and conduct its own fund-raising campaigns. Taylor offered them space to operate, and Tarrant Area Food Bank has since been sending its pet food donations to Galvez Avenue.
"It became evident there was a large amount of support in the community to donate pet food, and they decided they wanted to go out on their own," Helms said. "At the same time, the Community Food Bank moved into that space and needed someone to share it with."
Forming alliances, particularly with the Carter Foundation, will go a long way toward easing the minds of charitable supporters who might still question Community Food Bank's leadership and direction, Taylor said.
"If the Amon Carter Foundation supports you, the rest will follow," she said. "They are highly respected in the philanthropic community."
That support isn't guaranteed. The foundation seldom contributes money toward a group's operating budget, which is Community Food Bank's most urgent need. The foundation typically gives money for things like one-time special programs and pilot projects.
Robinson also sees Lee's group as lacking a clear business model. Their current building is so spacious it might make more sense for them to serve as a storage and distribution center in alliance with local food pantries rather than to concentrate on being a stand-alone food outlet.
"Since they have all that freezer space, they could carve out another niche and become the provider of frozen food to the Tarrant Area Food Bank and other large distribution groups," he said. What he doesn't want is for Community Food Bank to cannibalize food sources from other food banks.
Taylor agrees that her group's huge warehouse and refrigerated spaces can make the food bank a valuable addition to the local food distribution scene. But don't count on them forgoing their work with individual clients.
"We want to feed people directly," she said. "People are not getting
enough food."
Meanwhile, clients are mostly unaware of the scramble for money and collaborations by food bank managers. Instead, they're focused on providing nourishment for hungry children and grandchildren under their roofs.
"Nowadays people need a little help," said Sherby Nixon, who had stopped by to pick up a box of food. "Whatever they give me, we're grateful for."